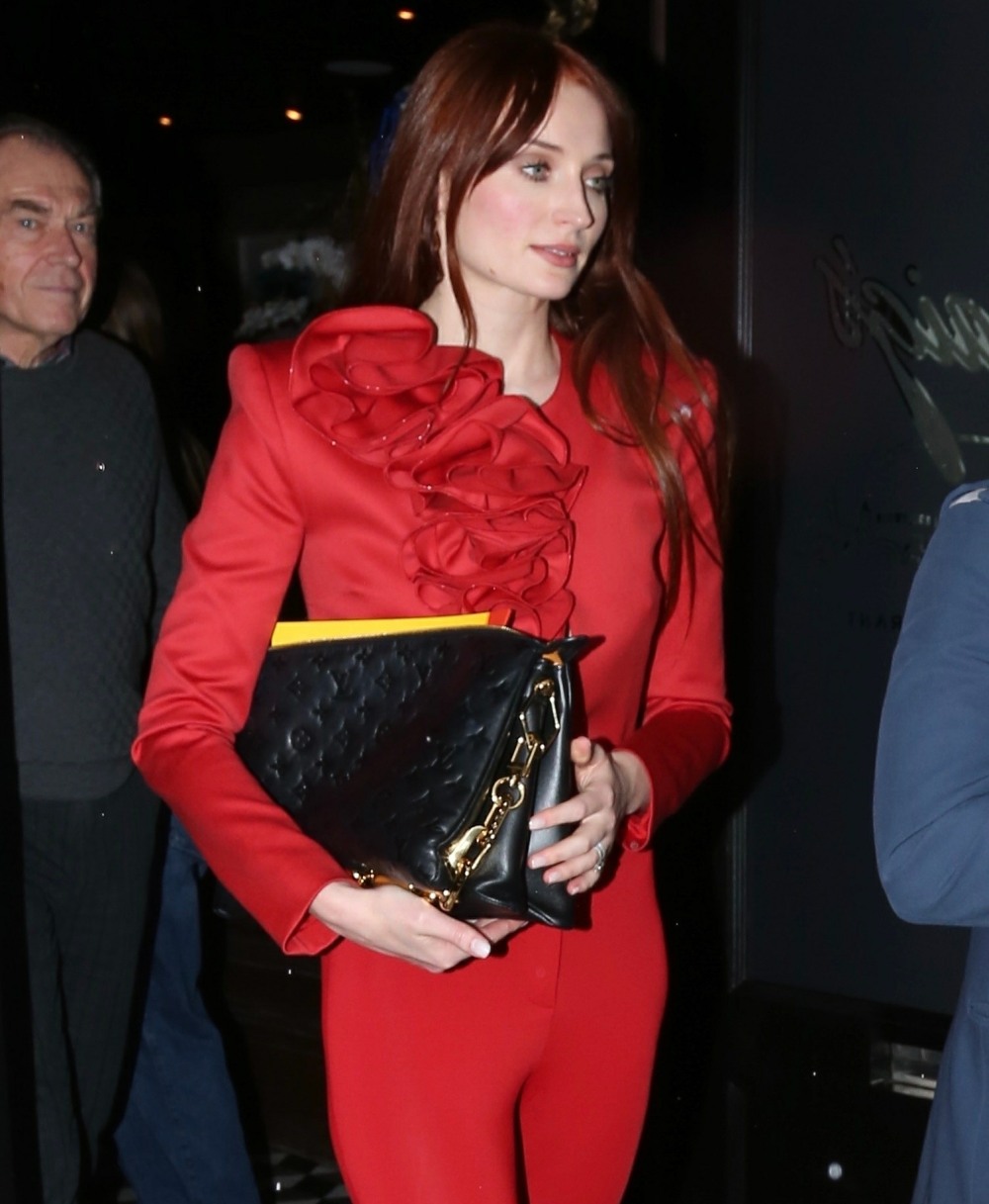 The Rugby World Cup final was held in Paris over the weekend, with South Africa (Springboks) beating New Zealand's All Blacks. The final saw so many celebrities in the stands, with Javier Bardem, Taika Waititi and Rita Ora, Luke Evans, Roger Federer, Novak Djokovic and Jason Momoa all in attendance. Royals were in attendance too (Prince Frederik, Princess Charlene and Albert) as well as President Macron. One of the weirdest celebrity moments came during the trophy presentation, when suddenly Sophie Turner appeared on the stage. Like, she was hired to be part of the trophy presentation for some reason. Well, as it turns out, Sophie was enjoying a "dirty weekend" in Paris with a very wealthy British aristocrat.
Game of Thrones star Sophie Turner shares a tender kiss with one of Britain's most eligible bachelors — who has just ditched a real-life princess. Sophie wrapped her arms around aristocrat Peregrine Pearson, whose family are said to be worth £224million, as he courteously removed his hat to snog her in romantic Paris.

After the smooch on Saturday, the pair parted in chauffeur-driven cars — before reuniting later at the city's Stade de France where Sophie unveiled the Rugby World Cup trophy.

Peregrine, 29, heir of the 4th Viscount Cowdray, split from King Charles's goddaughter, model Princess Maria-Olympia of Greece and Denmark, 27, in September.

X-Men sensation Sophie, 27, meanwhile, recently broke up with singer hubby Joe Jonas.

An onlooker who saw her with Peregrine — Perry to his friends — at the Gare du Nord railway station said the pair were "laughing a lot".

They added: "They arrived together at the chauffeur pick-up location outside of the station. It looked like they might have both come on the Eurostar from London. They stood there for a few minutes and were chatting and laughing a lot. He then took his hat off and leaned in to give her a big kiss. After the kiss they parted ways."

Perry, who lives in a £5million pad in Chelsea, West London, arrived home carrying a suitcase. Asked about Perry's trip to Paris with Sophie, a man at the property said: "He doesn't want to comment on anything."
[From The Sun]
That's very interesting about Peregrine's split from Princess Maria-Olympia. They had been together since 2020 and y'all know her mother wanted her to lock it down with a wealthy British aristocrat. And the timing too – at the very time Sophie Turner was in New York, dealing with her divorce drama, Peregrine was freeing himself from a Greek "royal." Anyway, it would certainly be fascinating if Sophie ended up seriously dating some aristo like this guy. Oh, and Joe Jonas has the kids right now – he got pap'd in New York with the kids this week.
I just now realized why Sophie presented the trophy at the Rugby World Cup – it's because she's sponsored by Louis Vuitton, and LV was one of the Rugby World Cup sponsors. Derp, I can't believe I only realized that at this moment.
Embed from Getty Images
Embed from Getty Images
Photos courtesy of Getty, Avalon Red, Backgrid.
Source: Read Full Article