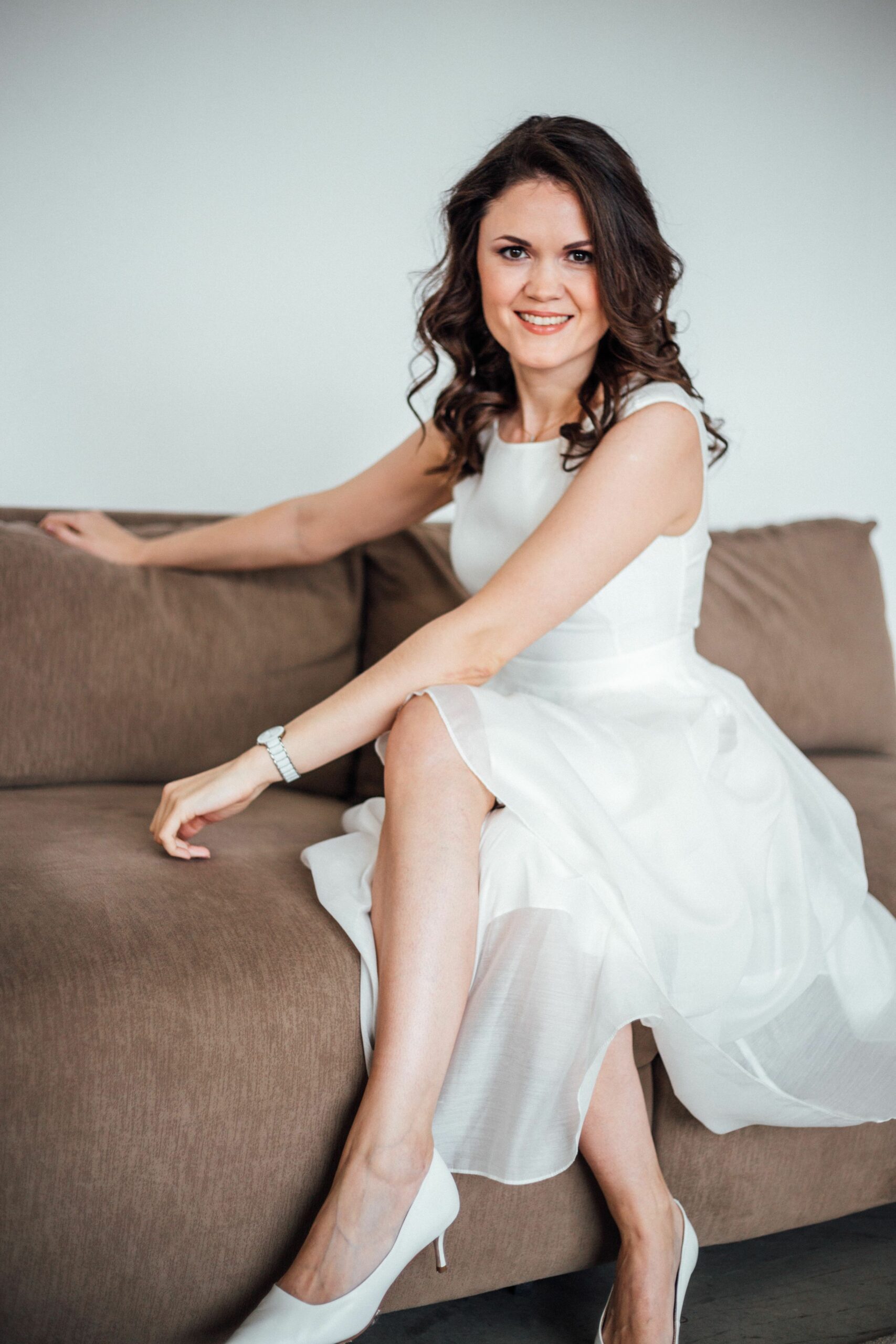 Dear readers!
Today we meet the founder of the international online vocal studio World of Voice – Elena Ryabchuk. We will build our meeting in the format of an interview.
Hello Elena, glad to see you!
Good afternoon, Ekaterina! Thanks.
Tell us about your way? How did you achieve such outstanding results?
Basic education was always not enough for me. And even after the first university degree, I almost immediately decided to get a second one. Basic education is the foundation on which my professional activity is built. To be brief, I had been receiving postgraduate education in Psychology at the South Ukrainian National Pedagogical University named after K.D. Ushinsky from 2014 to 2016, and before that I studied for five years at the same university and qualified as a Teacher of Musical Art, Ethics and Aesthetics and Organizer of musical events. The main stage of studying began after graduation, when vocal pedagogy was still based on the old school methods, but the requests from students were different. Then the search for modern teaching methods, their mastering and application in practice began. The first practice that I mastered and became its official representative is Irina Tsukanova's Improvement practice. It was something new and incredible! After several years of working within the framework of one approach to learning, I realized that I needed new knowledge. That everything seems to be fine, but something is constantly missing. And then on the Internet I came across a scientific vocal approach. I flew to St. Petersburg (Russia) and got acquainted with the American model of working with voice – Estill Voice Training. I have completed basic and additional trainings; I have taken, and I am still taking consultations from the maitre of this approach. In addition, I attended a vocal rehabilitation course, which is based on the same methods. Applying the acquired knowledge in practice, I decided to leave the representative office and continue to master the teaching methods that aroused my interest. This was necessary in order to help each student who came to my classes to achieve his goals. Later I was trained by a representative of the European scientific method Complete Vocal Technique, and it completely turned the understanding of working with the voice. At this time, I continue to learn new things and improve myself. During the period of my work, I managed to create an international online studio in which adults and children from all six continents study. I am a member of the interregional public organization "Professional Union of Musical Performers", a member of the jury of all-Ukrainian and international vocal online competitions.
What are the goals for the next 1-3-5 years? What has already been implemented?
When I launched the World of voice project, there were no ambitious aims. Everything turned out by itself. I started working with my students, then social networks brought me new ones. Even during the pandemic requests for lessons with children began to come. And then I realized that I needed a teacher, a manager, a team of advertisers. That's how it all started. At the moment we have several areas of study: vocal for children, vocal for adults of different levels of training, vocal yoga. The immediate goals are to hold an international online competition and invite teachers of modern methods to the jury; to expand the team of specialists – a speech therapist, an English teacher, and a teacher of extreme vocals.
Why do people go to study singing?
People have always wanted to learn vocals, and especially now. The purposes are completely different. Someone wants to learn a song for karaoke, and someone (for example, professional performers) wants to prepare for a solo concert or for a record a song. Kids are most often involved for a purpose of overall development because music has a great effect on brain development, even if the child does not plan to be a musician. There are also children who study at music schools, but they lack knowledge, and they get the necessary skills from us. For example, vocal yoga is about relaxation, expressing oneself through the sound. This is a kind of therapy to relieve stress and get to know yourself. At the same time, we offer various individual programs to professional vocalists based on their requests.
How did Western education become publicly available in Russian-speaking countries?
Definitely the Internet has contributed to this. When questions arise, all thinking and willing to develop teachers run to the Internet. Over the past 7 years, there has been more information, Western coaches have begun to fly to big cities and share their approaches to training. This greatly helps young teachers, who are still being taught in the style of the old school, to look at pedagogy and voice in general from the other side, to shorten the training period and become more professional.
What techniques allow you to achieve quick results?
Vocals are not about speed. Vocals are about quality. We are all individual and everyone has their own pace of learning. It depends on many factors: personal abilities, previous experience, goals etc. We always say that it is IMPOSSIBLE to learn to sing in 5-7 lessons, only if you are not a performer, a teacher and you know exactly what you need. Get recommendations and rehearse something – this period will be enough. It all depends on the goal, as well as on your starting abilities and vocal capabilities.
What is the difference between schools on different continents?
Vocal education is really different. It differs in the principles of teaching, views on voice, explanation of the teacher and his contact with the student in general. What I like about Western approaches and what I follow, is that everyone can learn to sing and there is no beautiful or not beautiful voice. Knowledge of the system of the throat apparatus and the ability to pull a few strings will help you change the voce quality, be diverse, even if you don't have any musical talent. All this can be learned. The main thing is an adequate assessment of yourself, desire and time.
Are there any peculiarities in the performance of different nationalities?
Yes, absolutely. Starting from the language in which the performer sings, in which musical culture he was brought up and lives, and ending with the stylistics of the work, the technical component. After all, each work has its own sets of techniques.
What attracts you to a foreign audience?
Rather the opposite: we attract it. Different audiences are attracted to us. The main thing is that it wants to work. The foreign audience is more attuned to work, does not expect quick results, is more executive. But do not forget that everything depends on a particular person, and not on where he is from.
What are the reasons of your success and the success of your students?
It is difficult to judge about success at this stage. I think this question is more for our students. Well, we are definitely different from other online schools that started opening after us. We do not work on masses; we do not have online courses and marathons that are created more for earnings than for results. We work only individually; we make up a program based on the request and level of each one. We record homework, if necessary. We work comprehensively. You can study with two teachers in our studio, get results and not go crazy (as it often happens). We want the student to leave with knowledge after the end of the course, and not just sing songs.
Thank you for an interesting and informative interview.
Thank you for inviting me. All the best!
The article was prepared by Ekaterina Bogdanova.