From the Chrisleys to former Subway spokesperson Jared Fogle to some you may have forgotten about!
Celebrities aren't exempt from following the law — and their bad behavior definitely has the potential to land them behind bars.
In the past few years, there's been a number of stars who have been convicted of crimes and have ended up being sentenced to significant time in the slammer. In fact, quite a few of those celebs are still serving their time and will be for years to come.
Find out how these celebs ended up in prison…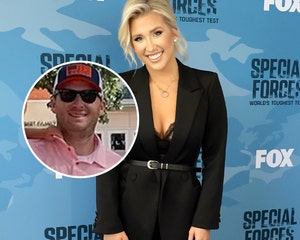 Savannah Chrisley Dating Bahamas Murder-for-Hire Alleged Target: 'He's Too Hot to Die'
1. Todd Chrisley & Julie Chrisley
In 2022, Todd and Julie Chrisley were found guilty on numerous federal charges after being accused of defrauding banks by obtaining millions in loans based on false financial documents. The Chrisley Knows Best stars were charged with bank fraud and tax evasion and were placed on house arrest. Several months later, they were sentenced, with Todd set to serve 12 years in prison, while Julie was sentenced to seven.
The couple began their time in prison in 2023 and since then have had their released date moved up. Todd had his prison release moved up to January 22, 2033, two years earlier than his originally scheduled 2035 release, while Julie is due out October 19, 2028 — a year and three months earlier than her initial release date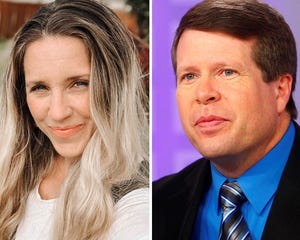 Jill Duggar Claims Father Jim Bob Treated Her 'Worse' Than Brother Josh
2. Josh Duggar
Former 19 Kids And Counting star Josh Duggar has found himself embroiled in scandal over the past decade, all leading up to child pornography charges. In 2019, Homeland Security conducted an investigation at Josh's car dealership where they discovered downloads depicting child sex abuse traced to Josh's IP address.
Josh was later arrested and in 2021, he was found guilty on child pornography charges. He was sentenced to 12 and a half years in prison, which he is currently serving. He must also serve 20 years supervised release, register as a sex offender, and pay $50,000 in fines.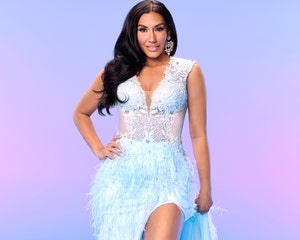 RHOSLC Newbie Monica Garcia Helped Put Jen Shah Behind Bars
3. Jen Shah
Real Housewives of Salt Lake City star Jen Shah is currently serving time for her role in a nationwide telemarketing scheme, which victimized many elderly and working class people. After she was arrested in 2021, a Homeland Securities press release revealed that she had defrauded hundreds of people by selling "lead lists" for fictitious business opportunities.
During her trial in March 2022, Jen pled guilty to one count of conspiracy to commit wire fraud and she was sentenced to six and a half years behind bars. She was also ordered to forfeit $6,500,000, 30 luxury items, and 78 counterfeit luxury items as well as pay $6,645,251 in restitution.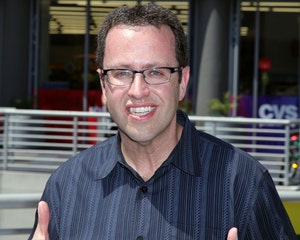 Subway Pedophile Jared Fogle Moans About Life in Prison in Leaked Letter
4. Jared Fogle
Former Subway spokesperson Jared Fogle has been behind bars for over seven years, serving out a sentence related to child pornography. In 2015, he was found guilty of possessing child pornography and crossing state lines to pay for sex with minors. The judge sentenced him to more than 15 years in federal prison and was ordered to pay $1.4 million in restitution to 14 victims.
Since entering prison, Jared has continued to make headlines. In 2016, he was attacked by a fellow inmate. More recently, he penned a letter from prison, expressing that he had "royally screwed up" and was "selfish and entitled." He'll be eligible for parole in 2029.
10 Stars Who Were Caught Shoplifting
5. Tory Lanez
In 2020, rapper Tory Lanez shot Megan Thee Stallion while they were leaving a party in Hollywood. At the time, the pair had been involved in an intimate relationship and when Megan decided not to go home with Tory, a dispute ensued. As Megan attempted to walk away, she was shot in the foot by Tory.
Over the next few months, social media took sides with many accusing Megan of lying. The case eventually went to trial in 2022, where Megan emotionally recalled the events of that night. Tory was found guilty of three felony charges: assault with a semiautomatic handgun, having a loaded and unregistered firearm in a vehicle, and gross negligence in discharging his firearm. He was sentenced to 10 years in prison.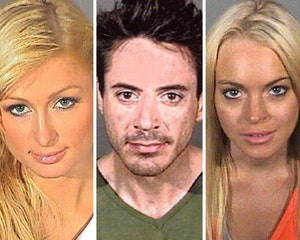 12 Celebs Who Got Real About Their Time Behind Bars
6. Harvey Weinstein
Disgraced producer Harvey Weinstein is currently serving a prison sentence after years of sexually harassing numerous women in Hollywood. Since the initial allegations were made against Harvey, dozens of women have come forward, including stars like Rose McGowan, Mira Sorvino, and Salma Hayek. These victims claim that they were harassed with everything from intimidating sexual advances to rape — and threats against their careers if they did not comply.
After being arrested in 2018, Harvey's case was finally taken to trial in 2020. After a lengthy process, he was charged with committing a criminal sexual act in the first degree and third-degree rape and was sentenced to 23 years behind bars. The following year, he was extradited to Los Angeles where he faced charges from a woman who accused him of assaulting her at a film festival in 2013. He was convicted of one count of rape and two counts of sexual assault and was sentenced to an additional 16 years.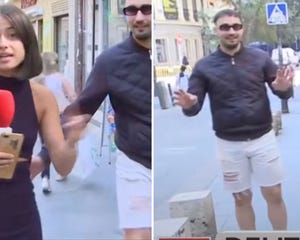 Madrid Man Arrested After Touching Reporter During Live Broadcast
7. R. Kelly
In 2019, R. Kelly was arrested on numerous federal charges including child pornography and sex trafficking, stemming from his relationship with five minors in the 1990s. The musician had previously been acquitted of child pornography charges in 2008 but the accusations against him resurfaced after alleged victims spoke out in miniseries Surviving R. Kelly.
In the new charges, it was alleged that R. Kelly met the five minors while they were between the ages of 12 and 17 years old — and four of those girls were depicted engaging in sexual acts with him. When the case went to trial, R. Kelly was found guilty on nine counts of sex trafficking and racketeering in New York. In a separate trial in Chicago, he was also convicted of child pornography and enticing a minor for sex. In total, he is serving 31 years behind bars.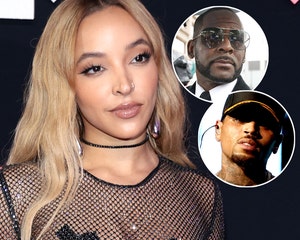 Tinashe Didn't Want to Release Songs with Controversial R. Kelly, Chris Brown
8. Amy Locane
Melrose Place star Amy Locane is serving out her second sentence after her fatal DUI charge in 2010, stemming from an accident where she crashed into another car while under the influence. Amy initially served three years in prison on charges of vehicular homicide and assault and was released in 2015.
The following year, her sentencing was re-reviewed due to what the court felt was an inadequate explanation for leniency. After years of legal battles over Amy's potential return to jail, she was ultimately sentenced to an additional eight years in New Jersey state prison after a judge agreed with prosecutors that her initial sentence was too lenient.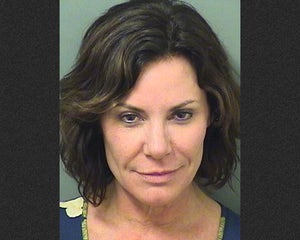 "Real Housewives" Stars Who Have Been Arrested
9. Joe Exotic
Tiger King star Joe Exotic has been in prison since the 2020 premiere of his hit Netflix show, stemming from numerous charges against him. For years, Joe had been accused of mistreating the animals in his wildlife park and animal rights activist Carole Baskin had long campaigned for Joe to shut down his traveling shows. As animosity grew between them, Joe posted threats against her online, leading up to an attempted murder. In 2017, he tried to hire two hitmen to kill Carole — only to later learn he had actually been talking to an undercover FBI agent.
Following the FBI investigation, Joe was arrested. In court he was found guilty of attempting to hire someone to murder Carole as well as nine counts of violating the Endangered Species Act and eight counts of violations to the Lacey Act for falsifying wildlife records. He is currently serving 22 years in prison, although he has attempted to receive a pardon several times.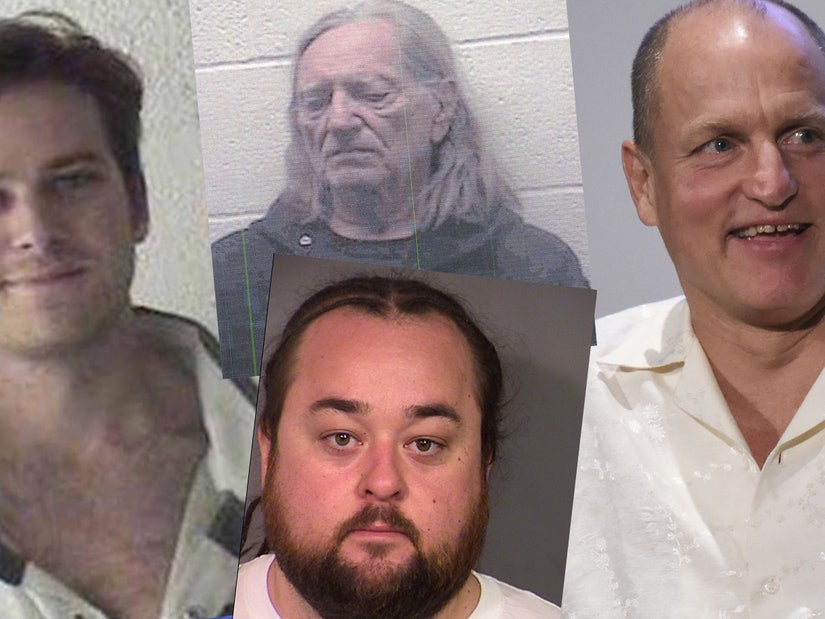 Source: Read Full Article