The 50-year-old actor wants to get "really fat and really overweight" and let "Junior" take on future roles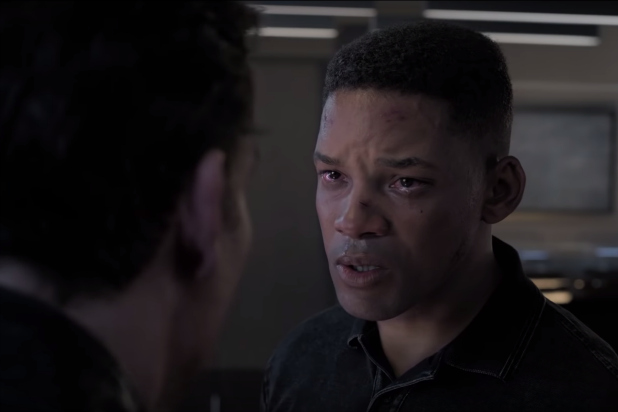 Will Smith is arguably one of the greatest living movie stars, and there's a lot of things he can do — he's like something out of a magic lamp. But one thing the 50-year-old actor can't do is play a 23-year-old version of himself on screen. At least that was the case until he teamed up with Ang Lee and visual effects company Weta Digital for "Gemini Man."
Now there's a younger version of him out there, Smith is ready to sit back, get fat and let his digitally-created self take the spotlight.
"What I'm excited about is now there's a completely digital 23-year-old version of myself that I can make movies with now. I was like, 'Oh man, I'm going butt and gut on them.' I'm gonna get really fat and really overweight … use the 'Gemini' Junior," Smith said during a sneak peek screening for journalists on the Paramount studio lot on Tuesday.
"I'm looking for the movie that is only a digital version of myself," Smith continued. "Will you be able to make a romantic comedy? Something that has no technology, science fiction elements at all. Will it be that great? I think one day it certainly will."
"Gemini Man" had been languishing in Hollywood development for more than two decades. Director Ang Lee said on Tuesday that the script was quite literally ahead of its time, but thanks to modern moviemaking technology, the film, which also stars Mary Elizabeth Winstead, Benedict Wong and Clive Owen, will finally see the light of day.
In the sci-fi action drama, which Paramount Pictures is set to release on October 11, Smith plays Henry, a world-class assassin hunting a man who knows his every move, only to discover that the target is actually his clone, a 23-year-old version of him also played by Smith — sort of.
"They're using my performance to create the CGI elements," Smith said. "What is so spectacular — and the special effects team has absolutely outdone themselves — is it's not de-aging; the younger character is not me. That is a 100% digital character. They didn't take my image and just stretch some of the lines. It is a completely CGI character in the same way that the lions in 'The Lion King' are CGI characters.
"I'm essentially driving the avatar, so as an actor and as a performer, to be able to make movies — as the technology gets better — to be able to make a movie with just the 20-year-old version of myself — we are on the cusp of being able to really see anything," he continued.
Smith may have been joking (as he's inclined to do) about taking a back seat to his digital likeness, but Jon Favreau's photo-realistic retelling of Disney's "The Lion King," as well as other films in recent years that have leaned on technologically de-aged or cgi versions of actors, have sparked conversation about threatening the future need for actors in movies.
Might technology make them obsolete? Smith, despite the allure of packing on pounds, doesn't think so.
"The source is the human heart; the human soul. You'll never be able to get around those beautiful human mistakes and errors and voice cracking sort of things," Smith said. "But in terms of what you'll be able to see on screen and how you'll be able to deliver and sell the depth of the emotion, I think it's really exciting."
There is also Lee's much more pragmatic rationale: That rom-com with digital 23-year-old Will Smith would be way too expensive.
"To me, it's really simple. Junior in the movie is twice as expensive as Will Smith. I dare anybody to try. It's so hard. It's like impossible," Lee said. "Will Smith is easy, you tell him this and that and he'll act. Then when you do Junior you're doing a poor imitation of God's work. That's how hard it is."
Source: Read Full Article