If you're a Conan O'Brien fan then you're undoubtedly familiar with his associate producer, Jordan Schlansky. O'Brien often incorporated his staff into his comedy, and over the years, Schlansky became an on-screen personality and playful nemesis of O'Brien on his various late night shows.
Schlanksy is famous for his deadpan response to O'Brien's outrageously silly antics. Their opposing personalities have created some truly golden comedic moments, particularly in segments where the odd couple ventures out in public together. But really, any Schlansky bit killed with Conan's audience, which can be proven by simply sorting by most popular on the TeamCoco official Youtube Channel. 
O'Brien often joked about Schlansky being a robot or a Spock-esque alien, because he lacks visible expressions of emotions and will sometimes launch into long informative spiels with little social awareness. But despite Schlansky being the subject of playful ridicule from O'Brien, fans don't just laugh at him. His popularity is partly due to fans truly appreciating his introverted personality and the chemistry it creates with O'Brien.
And while Schlansky seems like the brilliantly scripted character of a gifted comedy writer, we're here to confirm that he is, in fact, genuine in every way. Let's peel back the layers of Conan O'Brien's favorite frenemy to reveal the untold truth of Jordan Schlansky. 
The time Jordan Schlansky tangoed with Kurt Cobain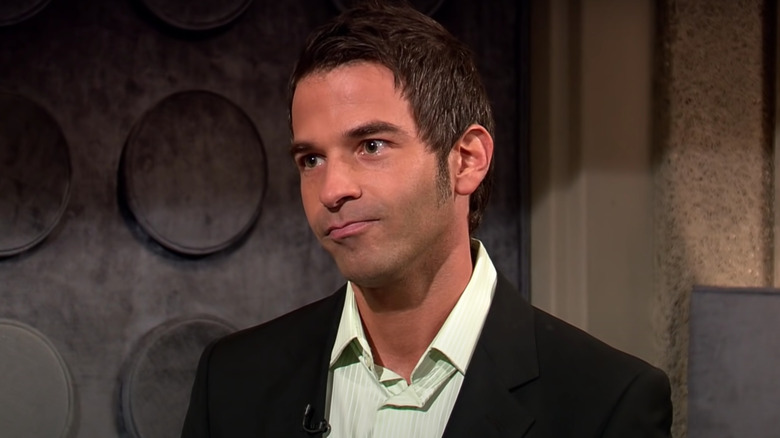 It's a little-known fact that Jordan Schlansky grew up in Long Island. According to Conan O'Brien, Schlansky isn't very proud of his birthplace. During a Q&A with O'Brien and Schlansky for their Italy special, a fan asked what other trips he would like to take Schlansky on. O'Brien responded, "One of the things he does very strongly is deny his heritage. So I'd take him back to his hometown in Long Island. And I would make him wear a sign that says: 'I am Jordan Schlansky and I grew up here.'" Schlansky responded, "It's not a question of denial. Yes, I was there and now I'm here." But he does appear to occasionally return for a slice of Long Island cold cheese pizza.
For higher education, Schlansky didn't travel outside of his native New York, landing at the State University of New York at Buffalo. Unless there happened to be another Jordan Schlanksy at the university around the same time, he worked as security for a student-run Nirvana concert in 1993, only five months before the death of Kurt Cobain. According to The Spectrum, a student publication of the university, Cobain clashed with the security team during the concert and allegedly Schlansky solved the conflict directly with Cobain, proving himself a problem-solving producer in the making.
Jordan Schlansky is not really Italian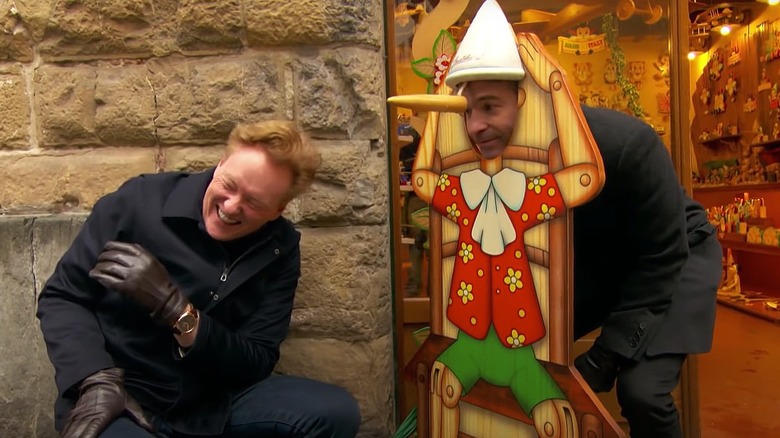 Jordan Schlansky and Conan O'Brien's biggest adventure together (and the one that created some of their best moments) was the duo's trip to Italy on "Conan Without Borders." Jordan's enthusiasm for Italian culture, his love of espresso, his red Vespa, and his fluency in the Italian language has led many to believe he is of Italian origin. But the truth is, his love of Italy is rooted in admiration, not heritage. When someone in a Reddit AMA asked point-blank if he was of Italian descent, Schlansky said, "Not at all, but I very much identify with and appreciate Italian culture."
When asked why he was so passionate about Italy in a Q&A, Schlanksy explained, "When I went to Italy the first time, something for me clicked and I just knew immediately that I wanted to come back, and I ended up going every year since then." He's been to Italy somewhere between 20 and 30 times.
According to The Hollywood Reporter, he's actually of Polish descent.
Conan O'Brien and Jordan Schlansky have worked together since 1994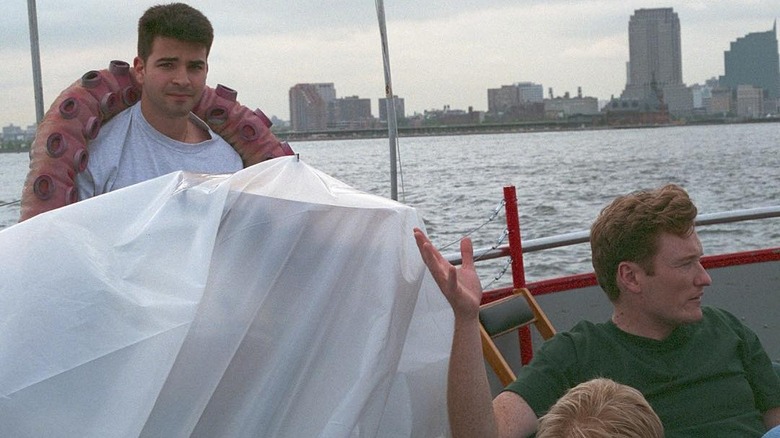 Talk about a loyal employee. Jordan Schlansky has worked alongside Conan O'Brien since the very early days of O'Brien's late night career. He started working at NBC's "Late Night with Conan O'Brien" right out of college as an intern in 1994 and worked his way up to his eventual position of associate producer. He then moved with O'Brien to Los Angeles for his brief stint on "The Tonight Show" and remained on staff for O'Brien's TBS show "Conan." At 48, Schlansky helped wrap up O'Brien's final shows in late night television. According to Schlansky's IMDb page, he has no other professional producing credits outside of Conan-related programs.
O'Brien is set to start a new series at HBO Max sometime in 2022, but as of this writing, it has yet to be confirmed whether or not the fan-favorite associate producer will make the move with his boss of 27 years. However, considering he has moved networks and cities with him previously, it seems likely we haven't seen the last of Jordan Schlansky.
What Jordan Schlanksy actually does as associate producer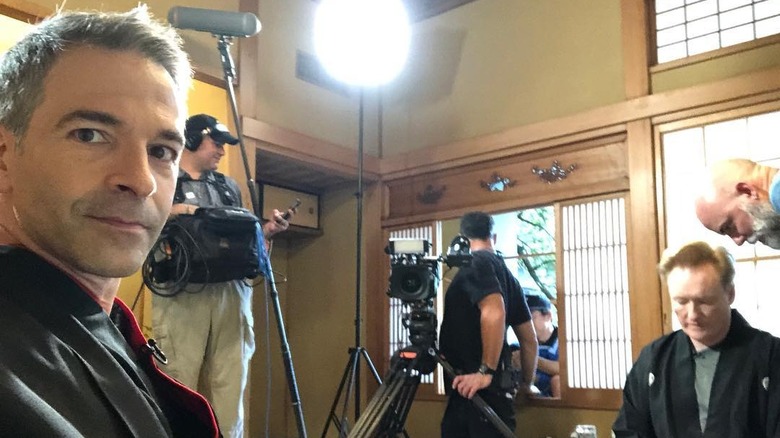 It's a question that has plagued Team Coco for years: What is Jordan Schlansky's actual job? Even Conan O'Brien claims to not understand what tasks his job entails and it's a running joke that any time Schlansky is asked, he simply says something like, "I have various tasks and duties." During the last week of "Conan" shows, in Schlansky's final appearance, Conan finally demands that he explain what he does, but his explanation is interrupted by a fake "breaking news" update and they purposely leave it a mystery to viewers.
But there actually have been several instances when Schlansky has revealed a few of his tasks. Answering a Reddit AMA question, Schlanksy revealed, "All of the production tasks of the show are divided amongst a number of producers and we each take on different responsibilities. To some extent, they vary from day to day, but the reality is most of them would not be considered the glamorous part of show business." Apparently, he does have various tasks and responsibilities.
In an episode of the podcast "Inside Conan," Schlansky further explained that his tasks involve things like choosing what reruns get played during their hiatuses, and taking charge of standards and practices (in simpler terms, which words need to be bleeped). According to Wrapbook, other tasks an associate producer might perform include "putting together research for a project," "coordinating meetings for the show," and "providing notes, or even writing outlines."
Triumph the Insult Comic Dog wouldn't exist without Jordan Schlansky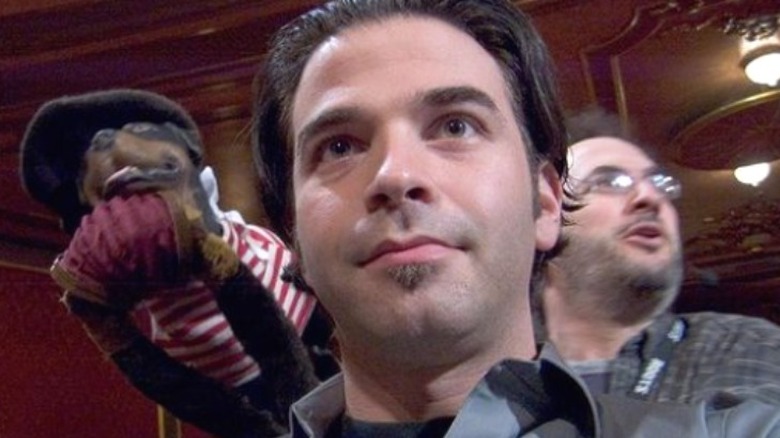 One "task" that Jordan Schlansky dutifully completed was launching the legacy of Triumph the Insult Comic Dog. Robert Smigel was the first head writer at "Late Night with Conan O'Brien" and the creator and puppeteer behind Triumph. According to Smigel, the first Triumph remote sketch would have never happened without Jordan. He explained on an episode of the "Inside Conan" podcast how their "permission" to shoot the remote at the Westminster Dog Show, where Triumph would act as a "Late Night" correspondent, was randomly "revoke[d] … like a day before." Smigel accepted defeat, but said, "Instead of letting it go, Jordan came up with this whole scheme … he literally printed up fake NBC IDs for us."
Schlansky arranged for the crew to enter through "a loading dock" entrance and it didn't take long for Triumph, with his usual inappropriate comments, to offend people. Knowing they had limited time, Schlansky instructed the crew to "just keep shooting," so they could get as much footage as possible, Smigel explained. They did and the result was a remote that became a huge success. Smigel even went as far as to say he's not sure if there ever would have been another Triumph remote sketch if not for Schlansky's heroic efforts. 
It's hard to imagine a world where Triumph never got a chance to triumph, but thanks to Schlansky, the insulting puppet dog remains one of O'Brien's and Smigel's greatest comedic legacies.
How the writer's strike introduced Jordan Schlansky to the world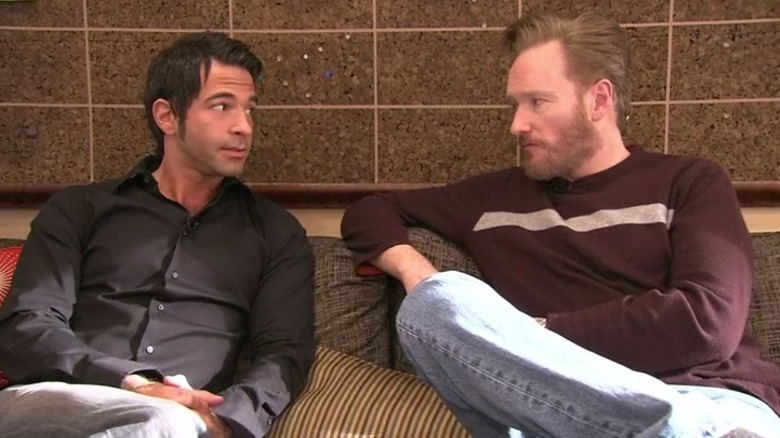 The on-screen comedic magic of Conan vs. Jordan was discovered during the writer's strike of 2008, when O'Brien decided to do an unscripted interview with the associate producer to fill air time. The segment was a hit, and audiences clearly wanted more Jordan Schlansky.
Though it wasn't actually his first appearance on the show (Schlansky can be seen making cameos in sketches as early as 1995) it was the first time audiences got to witness the unique dynamic between the two men. A few months later, O'Brien shot another remote with Schlansky at Schlansky's favorite Italian restaurant in Manhattan. "The response was phenomenal," O'Brien explained in a follow-up to the field piece, adding, "We seem to have some kind of chemistry that people respond to."
In a Team Coco Q&A with the two of them, O'Brien says the first few segments with Schlansky created what he calls "the cult of Jordan," and he credited the idea to capture that fateful first conversation to producer Frank Smiley. Schlansky noted, "It was just a shot in the dark and it went well." Ever since those first few remotes, O'Brien hasn't been able to escape questions about Jordan Schlansky, claiming, "I can be anywhere in the world. I've been in the Arab Emirates, I've been in Mexico, I've been in the Pacific Rim and different places and people want to talk to me about Jordan."
No, Jordan Schlansky's segments aren't scripted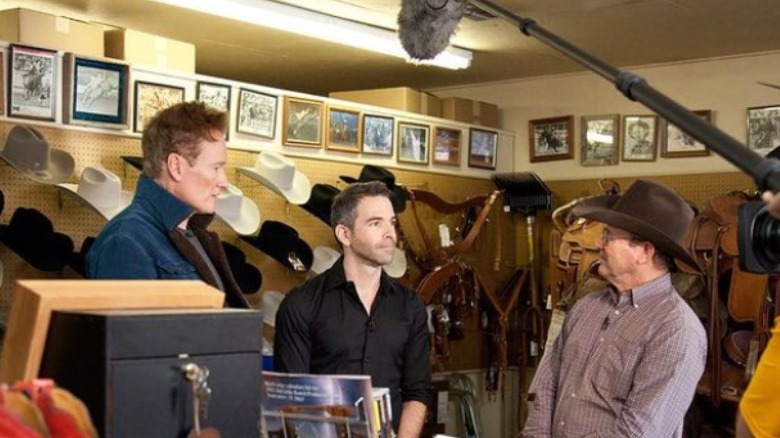 Despite common suspicion, Jordan Schlansky is not reading from a script and usually doesn't even get a warning about the remotes he's going to be in. Conan O'Brien stated that people constantly ask him if Jordan is real. In a Q&A after a showing of the Italy episode of "Conan without Borders," he said to Jordan, "I would say what we saw tonight, was 98% real you; sometimes I think you put a little English on the ball, but I think for the most part, it is really you."
The writers often spring the remotes on Schlansky so he doesn't have time to prepare what he's going to say, thus giving us the most authentic representation of Schlansky's personality as possible. On an episode of "Inside Conan," Jessie Gaskell, one of the writers on "Conan," explained, "People often ask, 'Does Jordan really know all these facts about such a variety of random subjects?' And we don't want people to think we've set it up or that it's fake."
Need more proof? Comedian Mike Birbiglia was once Schlansky's intern and confirmed that he isn't acting. He said on "Conan," "You're not even exaggerating [about Schlansky] and that's just amazing about him."
Jordan Schlansky does (occasionally) smile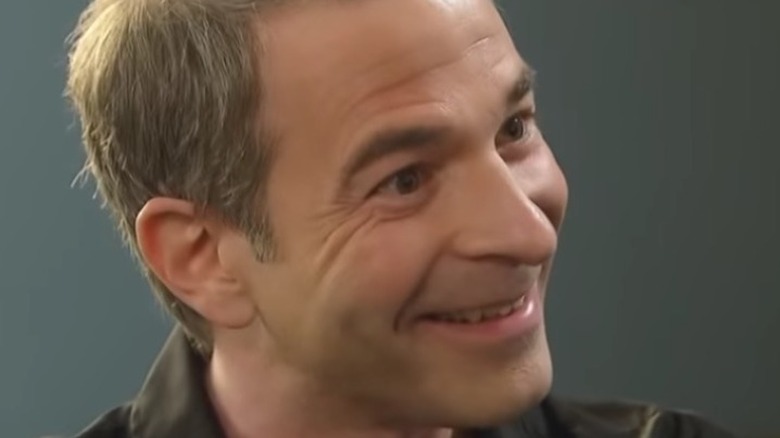 Jordan Schlansky is known for his flat, robotic expressions. But there have been times when he's been caught on camera laughing at Conan. Fans often say he is "breaking character" in these moments and believe it is proof that Schlansky is only playing a role. But the truth is he really doesn't laugh that often, so much so that O'Brien gets freaked out when he does. O'Brien insists that a Schlansky smile is rare. In fact, the late night host was only half-joking when he told Schlansky during a Q&A, "It freaked me out when you started laughing, because your face becomes that of the joker. You get this weird unnatural expression on your face. You can't stop laughing and you look like a complete madman. The scariest thing I think I've seen in my adult life is you just laughing, because it's so unnatural."
O'Brien once asked Schlansky, "Have other people been weirded out by your laugh?" Schlansky tepidly responded, "Well, I laugh when something is funny. I don't laugh out of politeness or social obligation."
At any rate, because it is a rare occurrence, his laugh seems to be extra infectious (especially for Conan).
Jordan Schlansky is a good sport about his unexpected fame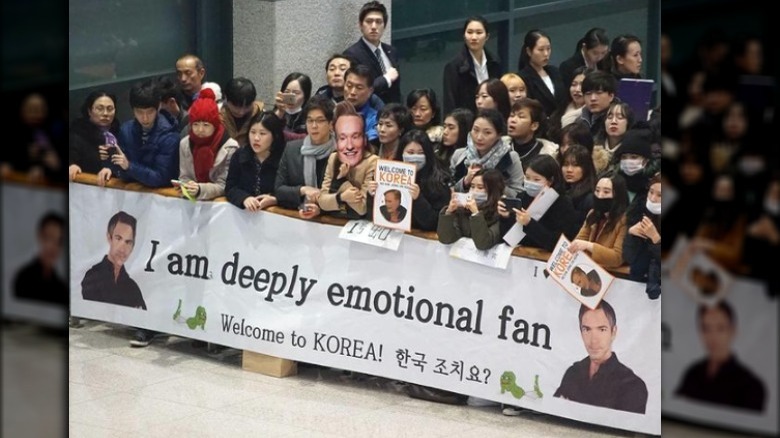 Jordan Schlansky certainly didn't get into television production expecting to be in front of the camera. And while many would likely be hesitant to become known for their boss ridiculing every aspect of their personality, Schlansky seems secure enough with himself to be in on the joke and content to be a part of it.
He told The Washington Post, "At this point, anything that happens in my personal life I have to understand is fair game, whether I like it or not. I always try to remind myself that we work in entertainment, and that's our business and that's our venture … And if I can serve that cause in some small way by creating some entertainment based on the things that happen in my life, then I'm happy to have been able to contribute like that."
The result of his contribution is international fame and adoration from Team Coco fans worldwide, including the above welcome Schlansky received in Korea, which he documented on Instagram with the tongue-in-cheek caption, "This does not happen at LAX." 
Despite Conan's on-screen bullying, he and Jordan Schlanksy are actually long-time friends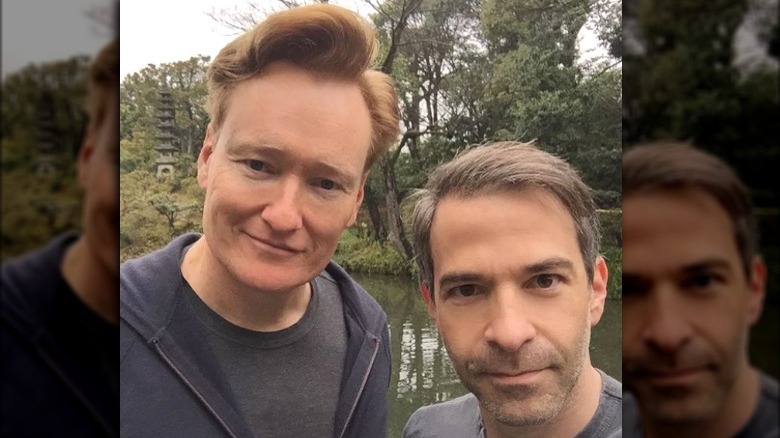 There's undoubtedly a famous love-hate relationship between Conan O'Brien and Jordan Schlanksy, but it might come as a surprise to some fans just how much love there is between them off-screen. On the "Inside Conan" podcast, O'Brien stated, "He is infuriating in the ways that everyone can see when we're on camera together. But I also have real affection for him. And so it's this perfect yin yang with him." For his part, Schlansky truly admires his longtime boss, telling a Q&A audience, "I think Conan is the funniest man I've ever known."
In the same Q&A, Schlansky also revealed a sweet gesture that O'Brien made: "There was a coffee shop in Florence which for some reason didn't want us shooting there … but I had told Conan it was my favorite. He remembered, he went without me, he bought me a very expensive Italian porcelain cappuccino cup and gave it to me. I was blown away that he remembered the place and that he was so thoughtful to get the cup."
O'Brien summed up their dynamic in another Live Q&A, saying, "Our relationship has a lot of contrasts in it. He does make me crazy. He does fascinate me. … And I think, as Jordan will say, 'The best cuisines have the salty and the sweet.'" The pair certainly enjoys a complicated friendship which is perhaps at the heart of why fans find O'Brien and Schlanksy's antics so entertaining.
Jordan Schlanksy is a major Star Wars fan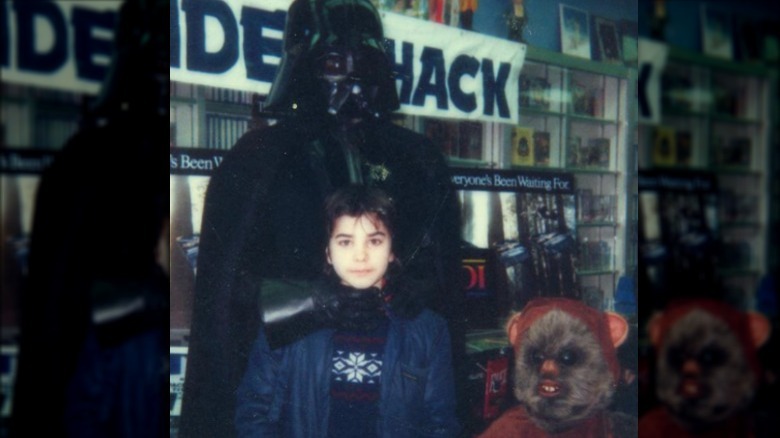 One of Jordan Schlansky's earliest appearances on "Late Night with Conan O'Brien" was as the "resident 'Star Wars' expert" when they shot a remote at LucasFilm.
Schlansky really is a huge "Star Wars" fan and once went on a long tangent about the superiority of "Star Wars" over "Star Trek" in a scrapped segment. He told StarWars.com that he had been a "Star Wars" fan since childhood and believed it to be "the greatest story ever told." Schlansky elaborated, saying, "I truly believe that. Especially the original movie. If we distill it down to its essence, it is the story of a simple farm boy battling a great oppressor."
Schlanksy, shown above in his own throwback Instagram photo, has appeared in several "Star Wars" themed segments on O'Brien's shows throughout the years, including reviewing a Darth Vader mask and "an attempt to stump" George Lucas with a "Star Wars" trivia question. In another bit, Harrison Ford, who famously played Han Solo in the "Star Wars" saga, broke "his" lego Millenium Falcon (it actually wasn't Schlansky's but belonged to show writer Andrés du Bouchet, who told StarWars.com it was the "honor of a lifetime" to have Ford smash it).
Of course Jordan Schlansky has an unusual hobby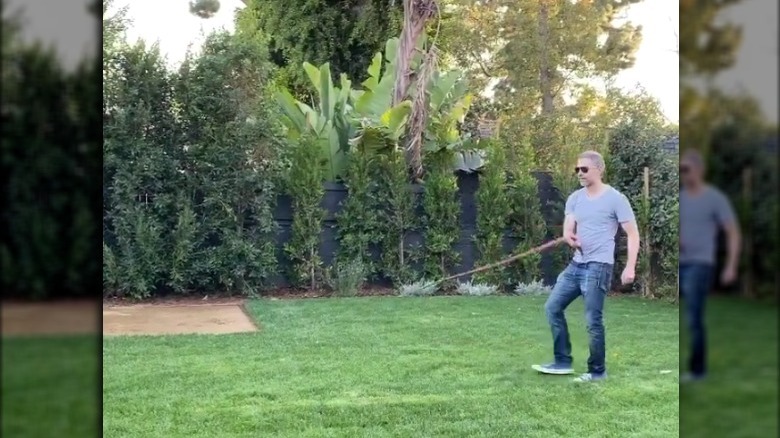 Schlansky is particularly proud of his skills with a bullwhip. When asked in a Reddit AMA why he decided to "learn how to use a bullwhip," he responded, "Why not, it's the oldest method to break the speed of sound."
His bullwhip obsession has been a recurrent theme on Conan O'Brien's various shows. In yet another encounter with Harrison Ford, Schlansky, who is also an "Indiana Jones" fan, asked Ford an obscure question about the bullwhip used in the films, to which Ford replied, "Who gives a sh*t?"
From showing off with it on Instagram (above) to whipping it in the middle of a Manhattan street, Schlansky has stayed faithful and true to his bullwhip hobby. In fact, when O'Brien checked in on Schlansky via Zoom in 2020, Schlansky once again demonstrated his bullwhipping prowess, though O'Brien was dismissive of it being a real skill. "It's a great way to keep both mind and body occupied," Schlansky argued, further describing the "activity," as he calls it, in the most Jordan Schlansky way possible: "You're propelling a piece of leather faster than the speed of sound, and creating a sonic boom."   
Jordan Schlansky met his wife at a CVS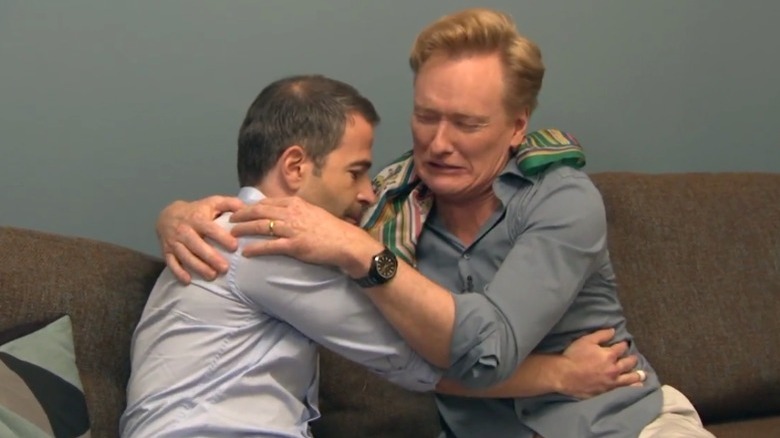 Not much is known about the woman Jordan Schlansky has chosen to spend his life with, but he has revealed her name is Emma. Shortly after Schlansky proposed to Emma, Conan O'Brien threw Schlansky a bachelor party, much to the deadpan associate producer's disapproval. In another field piece during Schlansky's engagement where O'Brien and Schlansky go to couple's counseling, Schlansky recalls meeting Emma at a CVS, presumably in Los Angeles. "I don't remember what I was buying," is his one comment on the experience. 
The only other detail we learn about Emma is her indoor temperature preference. In the video, Schlansky explains, "I don't like air conditioning. Emma likes air conditioning. Often we have disagreements about air conditioning." O'Brien hilariously pretends to be Emma in the counseling session (shown above) and attempts to teach Schlansky how to have a sympathetic, non-robotic response to his partner's emotions.
The couple did, in fact, get married and O'Brien was present at the wedding.
Schlansky drove a red vespa until he crashed it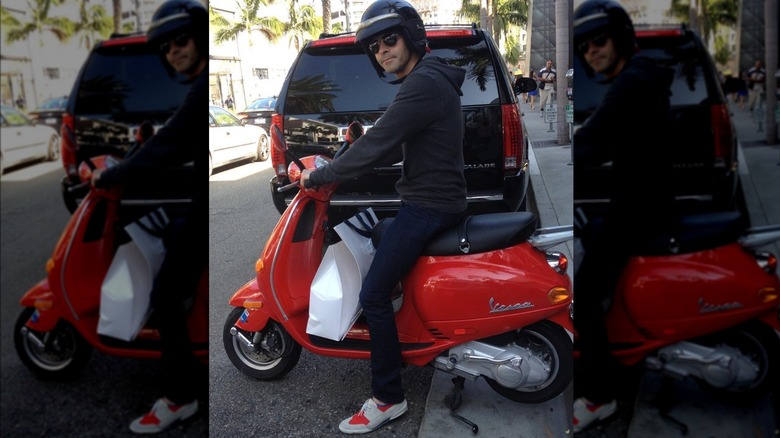 Since Jordan Schlansky loves all things Italian, naturally that includes Vespas. He proudly owned a red Vespa for many years. "Every person has a color. My color is red," Schlansky explained to Conan O'Brien over dinner, "I have a red personality, I have a red vespa, I enjoy red wine, red is in general my favorite color." Later in that same remote, O'Brien and Schlansky ride away together on the red Vespa.
Although Schlanksy stated in a Reddit AMA, "I'm convinced I will always have a red Vespa," fate intervened when he crashed it. In an interview with Sebastian Maniscalco, O'Brien revealed that Schlansky had a Vespa accident in Los Angeles: "This place wasn't built for Vespas … [a] lady just hit him and he went flying and his Vespa went into like 65 pieces and that's over, he doesn't drive the Vespa anymore." O'Brien later mentioned that Schlansky had broken his arm in the wreck.
Source: Read Full Article