13 Reasons Why season 2 premiered on Netflix in May 2018. The following month, Netflix officially confirmed that season 3 is a go. Here's what we know so far:
Season 3 will premiere in 2019
On June 6, Netflix announced season 3 with a short teaser trailer of someone opening a locker at Liberty to grab a lunch bag. Note the mysterious ticket stubs and the person walking across the screen. Clay, is that you? Or is it Bryce?
The real school that stands for Liberty High has already been booked
In April 2018, Sonoma West Times & News reported that the West Sonoma County Union High School District board approved a third licensing agreement with Paramount Pictures earlier in the month. Analy High School was also used as a temporary emergency shelter last October when the Sonoma County fires forced locals to evacuate their homes. As a result, production on season 2 was delayed.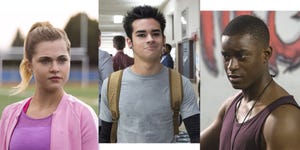 Production could start as soon as June 2018
Again, from the Sonoma West Times & News, expect production crews to fill the halls of Analy High from mid-June to mid-December. The paper reports that Paramount has agreed to pay the school district approximately $66,000 for 30 filming days during that period.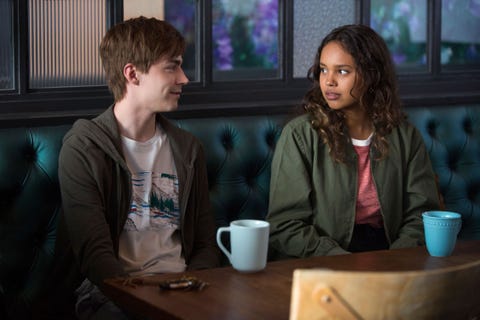 Showrunner Brian Yorkey has acknowledged that "there's more story to tell"
In a May 2018 interview with the Hollywood Reporter, Yorkey said, "I do think that our interest in a second season is because we wanted to continue to follow these people. If there is a future for the show, to me, it's about these characters and not necessarily a new set of reasons or a new set of tapes. Someone else might do that, but that's not my job to do that."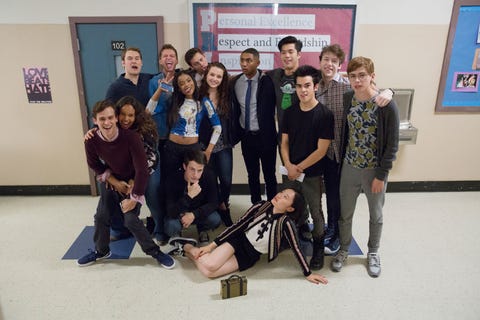 The spotlight will move away from Hannah
Following the premiere of season 2, Yorkey told Entertainment Weekly he doesn't see "a tremendous presence for Hannah" moving forward. "If the story does continue, and certainly there is lots more to know a lot about these characters, then the spotlight focus on Hannah Baker is probably done." He added, "I'm sure there will be new adversity, but I'm sure we also will see that there are bonds here that these characters didn't have before."
Which means Katherine Langford is out
In May, Katherine hinted at her exit on Instagram, writing, "As most of you know, @13ReasonsWhy was my first-ever job and I am so grateful to have had the opportunity to tell Hannah's story so fully in season 1 and to be asked back for a season 2….Thankyou [sic] to @Netflix @ParamountPics @AnonContent, the incredible producers, creatives, cast, and crew for making the last two years so special." Fittingly, the photo is of the chalkboard at Monet's, where Hannah's wake was held following her memorial service in the season 2 finale.
"Hannah…I love you…and I let you go" Those are the words I was able to say six months ago, and now can finally share with you as my journey on @13reasonswhy has officially come to an END! As most of you know, this was my first ever job and I am so grateful to have had the opportunity to tell Hannah's story so fully in season 1, and to be asked back for a season 2. Thankyou to @netflix @paramountpics @anoncontent , the incredible producers, creatives, cast and crew for making these last 2 years so special. And to all of you here – Thankyou for filling my life with love and light 🙏 This show will always be a special part of my life, and regardless of whether Hannah is there or not, I know that I will continue to strive to do work that is meaningful and has a positive impact – whether that be in film, music, or any other form of art. There is a lot coming up this next year, and I can't wait to share it with you 💖 #hannahbaker
A post shared by KATHERINE LANGFORD (@katherinelangford) on
In an EW interview published that same day, Katherine also hinted at her exit from the series. "For me, we told Hannah's story so fully in season 1. And in a way, doing that scene in episode 13, I've so often referred to it as the hardest scene because it's the scene where I had to let her go." She added, "I guess if I could put Hannah's life into season 1 and then say it was kind of like being in purgatory for season 2 and then being able to officially say goodbye to her. It definitely felt like time. For me, letting Hannah go was in season 1; season 2 was for Clay to let her go. It was being able to assist Clay on that journey as Hannah and let Clay have his moment to let Hannah go."
At a Netflix FYC panel in early June, Katherine added, "I think 13 Reasons Why will always be an important part of my life. It was the first job I ever had."
Season 3 will continue to focus on young people
At the same Netflix FYC panel, Yorkey said, "What happened to Hannah will always be the first clause of the story. The rest of the story is about young people, as so many young people, maybe all young people today [learn] how to heal from the things that have hurt them…to make the world that they want it to be, not just the world they are inheriting…and above all, how to take care of each other."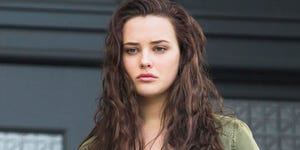 Production was reportedly delayed due to salary negotiations
Per Deadline, the cast delayed its first table read because contracts were still being drawn up. Dylan Minnette was reportedly asking for $200,000 per episode, while the seven remaining core cast members (Brandon Flynn, Alisha Boe, Justin Pentice, Christian Navarro, Miles Heizer, Devin Druid, and Ross Butler) wanted around $150,000 per episode. For comparison, Minnette started the series with ~$80,000 per episode, while the other cast members received checks from $20,000 to $60,000 per episode.
Season 3 officially started filming in August 2018
Looks like the salary negotiations went smoothly. Here are some set photos courtesy of Ross Butler, Anne Winters, and Michele Selene Ang.
First workout of the season with the #13ReasonsWhy GANG. Expect more of these. WHERE YA AT: @justin.prentice @christianleenavarro @younggoth @alishaboe @dylanminnette @devindruid @annewinters
A post shared by Ross Butler (@rossbutler) on
Another day on set #13reasonswhy 🌈💋❤️😊✖️⭐️💜🦋🙈
A post shared by Lil Anne 💋🍒 (@annewinters) on
First day filming for #13ReasonsWhy is in the bag! Very happy to be here. 🤗 Who is excited for season 3? 💙
A post shared by MSA (@micheleseleneang) on
It might be dropping in October
Alright, so this is kind of a stretch, but bear with me. In a now-deleted tweet, an extra from the show named Zack Prusak wrote, "13 Reasons Why season 3. October 2019! Let's go! #13ReasonsWhy #13ReasonsWhySeason3"
Netflix has not confirmed that yet, and again, the tweet has been deleted, but that could be around the time the new episodes drop. It's going to be by the end of this year, so there are only so many options.
It might be less graphic than the past two seasons
Earlier in July, Netflix announced it was going to edit out the scene from season 1 where Hannah takes her own life.
A statement from our show creator Brian Yorkey. pic.twitter.com/J6XiD9LVkU
Considering that, this next season might include less graphic content than previous seasons.
This post will be updated as more season 3 news is available.
Source: Read Full Article