As an avowed fan of comic books, superheroes, and sci-fi franchises, Sheldon Cooper (Jim Parsons), the hopelessly awkward, Nobel Prize-winning super-genius from CBS's long-running mega-hit "The Big Bang Theory," would probably appreciate "Young Sheldon." Debuting in 2017 and tonally the opposite of its parent series, "Young Sheldon" is a sweet and gentle, low-key family comedy about Sheldon in his child and tween years in a small Texas town. He navigates the world as a child prodigy who can't relate to anyone besides college professors and random smart adults — certainly not his siblings, classmates, or well-meaning but flawed parents.
As actors do, each member of the cast of "Young Sheldon" informs their character with their own life experiences, and that includes their own off-screen relationships and families. Here's a look at who the cast of the hit prequel series have settled down with and what they get up to together far away from the set of "Young Sheldon."
Narrator Jim Parsons married producer Todd Spiewak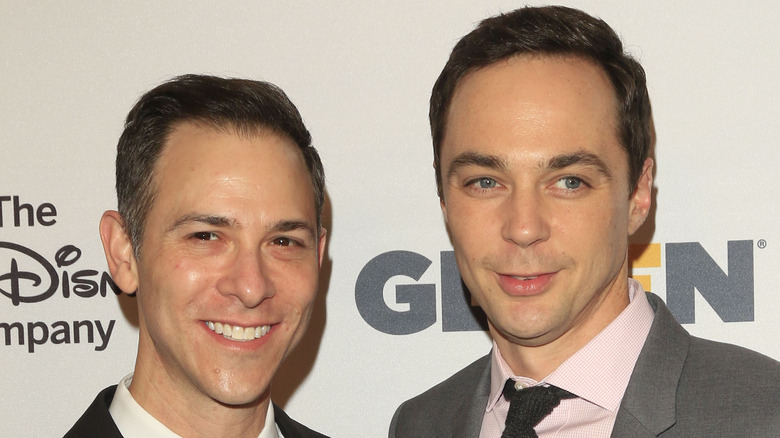 Jim Parsons doesn't appear on screen on "Young Sheldon," but his presence looms large over the series. He portrayed adult Sheldon Cooper for 12 seasons on "The Big Bang Theory," and he narrates the proceedings of "Young Sheldon" in character, looking back on his wonder years and growing pains.
According to Parsons' Instagram page, he and Todd Spiewak met in New York City in November 2002, went on their first date two nights later (they saw "Bowling for Columbine" and grabbed a pizza) and have been together ever since. Just shy of their 15-year anniversary in 2017, per People, Parsons and Spiewak got married at the Rainbow Room in New York. In 2015, Parsons and Spiewak co-founded That's Wonderful Productions. In his position with the production company, Spiewak has helped bring major projects to the small screen, including the Netflix dramedy "Special," the Fox sitcom "Call Me Kat," and "Young Sheldon."
Pastor Jeff and Officer Robin are married off-screen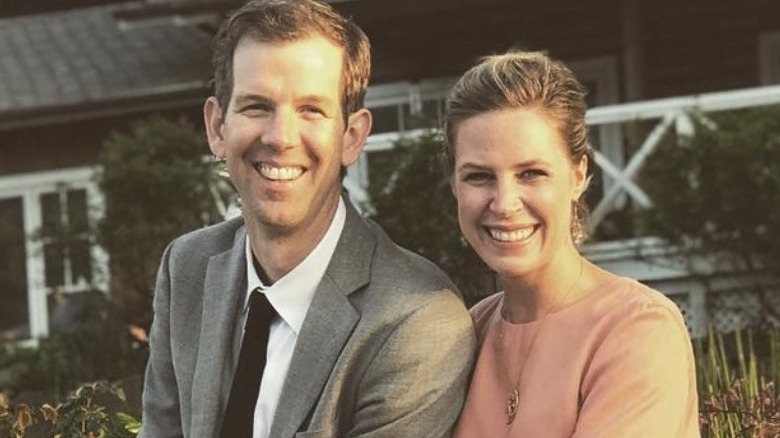 Jeff Difford, aka Pastor Jeff, is the ostensible villain of "Young Sheldon," albeit an unwitting and good-natured one. Little Sheldon is firmly pro-science, and he resents having to go to church with his family and listen to the spiritual sermons espoused by Pastor Jeff, a man he aims to destroy. Pastor Jeff seems pretty harmless, or at least that's how actor Matt Hobby portrays him.
Away from TV, Hobby is married to actor Mary Grill, who appears occasionally on "Young Sheldon" as Officer Robin Tilbrook, Pastor Jeff's wife. Apart from "Young Sheldon," Grill's work tends to be a bit edgier. She's worked steadily in comedy over the past decade, acting in projects for the Upright Citizens Brigade and CollegeHumor, along with guest-starring for six episodes on "The Mindy Project" and appearing in stuff like the Adult Swim show "Eagleheart," "You're the Worst," "Veep," and "The Detour." Grill is also a regular performer at the famed Improv comedy theater in Los Angeles, co-creating and starring in the character-based stage show "American Town Hall." In January 2021, according to Instagram, Grill and Hobby expanded their family when they welcomed twin boys named Ernie and Lyle.
The man who plays Dr. Sturgis is married to one of America's smartest people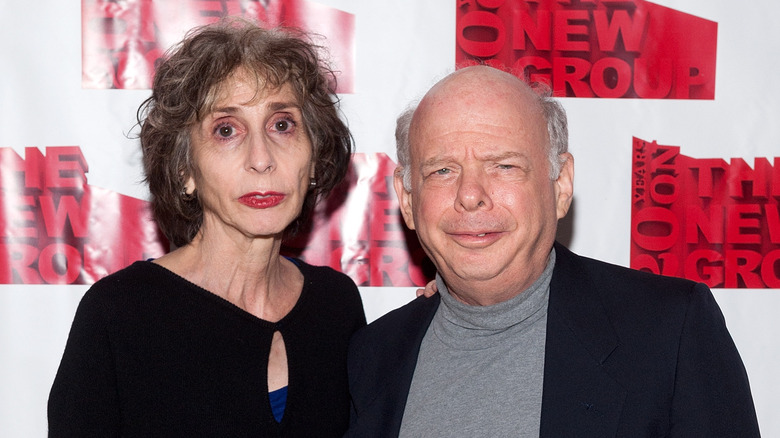 Dr. John Sturgis is probably young Sheldon's biggest ally in his early life. He's a mentor to the budding genius, serving as his pen pal and allowing the child to take his quantum chromodynamics class at East Texas Tech University. He then becomes a part of the Cooper family when he becomes romantically involved with Sheldon's grandmother, Meemaw.
Wallace Shawn has played Dr. Sturgis in dozens of episodes of "Young Sheldon," and he's an intellectual in real life, too, a playwright responsible for highbrow fare like "Our Late Night," "A Thought in Three Parts," and "Aunt Dan and Lemon." According to the New York Times Magazine, his partner of more than 40 years is writer Deborah Eisenberg. In addition to her serving as a critic for The New York Review of Books, the Paris Review holds her up as one of the masters of short fiction. She's published four collections of short stories, won multiple O. Henry and PEN/Faulkner Awards, and is the recipient of a MacArthur "genius" grant.
The actor behind Meemaw is married to an NCIS producer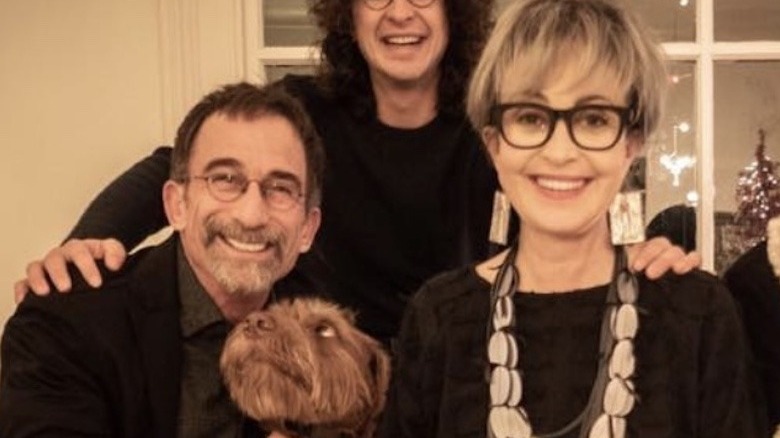 It's a bit of logical stunt casting that a show that fondly and nostalgically looks back at the 1980s and 1990s would involve an actor who became famous and popular for appearing in iconic pop culture of that era. Annie Potts, best known as receptionist Janine Melnitz in the "Ghostbusters" films, Mary Jo Shively on "Designing Women," and the voice of Bo Peep in "Toy Story," plays Sheldon's kindly and sassy grandmother Connie Tucker, aka Meemaw, on "Young Sheldon."
Potts has been married four times, most recently and currently to James Hayman, with whom she tied the knot in 1990. She knew he was the man for her "because right away he loved [her] son" from a previous marriage, as Potts told Closer Weekly. "We were instantly a family, had two more sons together and a very happy life," she shared. Hayman is an accomplished and versatile filmmaker and television producer. He started off as a cinematographer in the 1980s, shooting the music video for the Talking Heads' "The Lady Don't Mind," episodes of shows like "Northern Exposure," and the film version of "Buffy the Vampire Slayer" before moving into directing and producing. He both helmed installments of and produced big TV hits like "Judging Amy," "Joan of Arcadia," "Ugly Betty," and "NCIS: New Orleans."
Young Sheldon's neighbor is married to another actor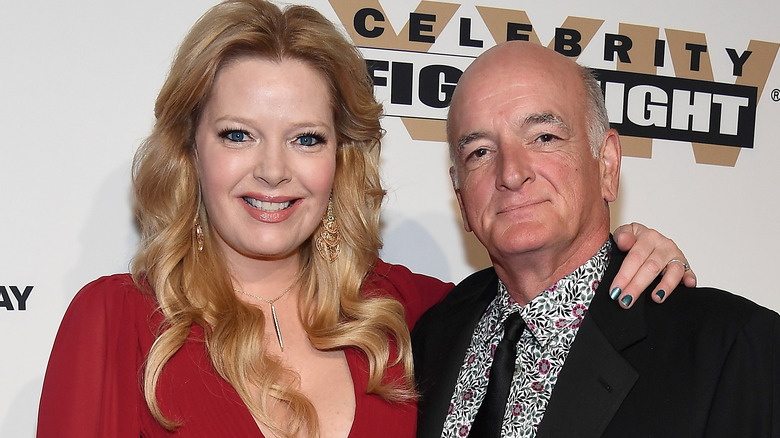 Brenda Sparks always seems to be lurking in the "Young Sheldon" universe. She lives next door to the Cooper family, works at Meemaw's favorite bowling alley, and antagonizes Sheldon's mother, Mary. This archetypal sitcom character is portrayed by veteran sitcom star Melissa Peterman, who played dim dental hygienist B.J. on "Reba" and the overbearing Bonnie Wheeler on "Baby Daddy."
In 1999, according to IMDb, Peterman married character actor John Brady, and six years later, per People, she gave birth to their first and only child, a boy named Riley. Professionally, Brady appeared in a couple of low-budget '80s action movies, "Operation Warzone" and "Deadline Auto Theft," before moving into episodic television, popping up on "Coach," "Nurse Jackie," and "Scrubs." He even appeared as two different characters on two different episodes of his wife's show, "Reba." He's also appeared on Food Network's celebrity-oriented cooking shows "Worst Cooks in America" and Valerie Bertinelli's "Valerie's Home Cooking."
Craig T. Nelson, aka Coach Ballard, is married in real life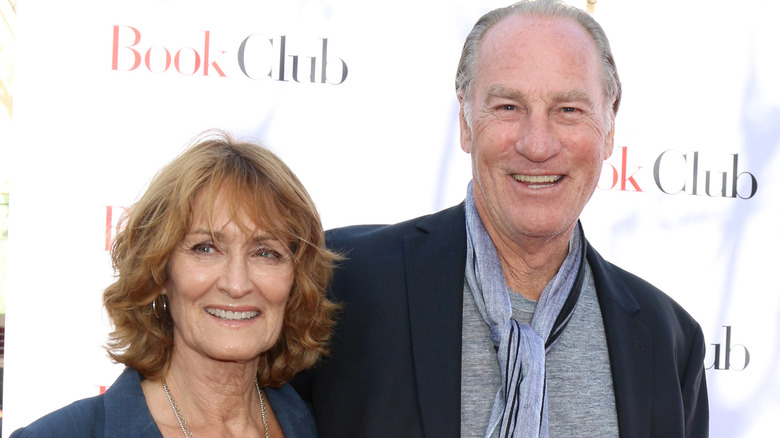 Craig T. Nelson, who was part of the ensemble cast of "Parenthood" and the voice of Bob Parr in Pixar's "The Incredibles" movies, has a recurring role on "Young Sheldon" as Coach Ballard. This isn't the first time Nelson has played a coach — he famously played Hayden Fox, coach of the Minnesota State Screaming Eagles football team, on ABC's "Coach" for nine seasons, winning himself an Emmy for the role in 1992.
After splitting up with first wife (and mother of his three children), Robin McCarthy, Nelson married actor Doria Cook, now Doria Cook-Nelson, in 1987, according to Us Weekly. Since their wedding, Cook-Nelson has appeared in just four projects — the TV movie "Ride With the Wind," an episode of "Coach," the miniseries "To Serve and Protect" and the procedural "The District" — all of which starred her husband. Before her marriage, Cook-Nelson was a regular bit player on '70s television, popping up on episodes of era fare like "Lou Grant," "The Odd Couple," and "The Rockford Files."
Young Sheldon's principal is dating a music legend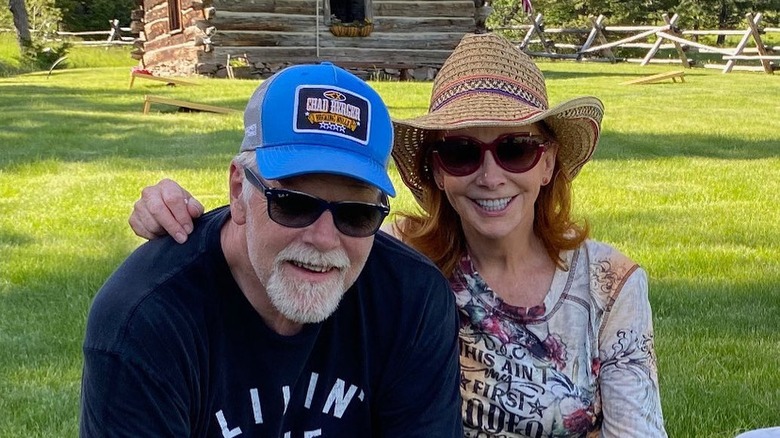 Principal Petersen and Young Sheldon have a complicated if tense relationship. As the lead administrator of Medford High School, he's Sheldon's principal, and although he doesn't really like having the prickly genius in the building, he realizes that the kid's grades and scores attractively boost the entire institution's averages.
Rex Linn portrays Principal Petersen in a recurring capacity, and Reba McEntire occasionally portrays Coach Ballard's former wife, June. McEntire is better known for her six-season stint on the sitcom "Reba" and for being one of the most successful country music artists of all time — she's gone to No. 1 on the Billboard Hot Country Songs chart more than 20 times, and according to her website, she's sold 56 million albums.
McEntire has been in several long-term relationships over the years. According to People, she split from her first husband (of 11 years) in 1987, divorced her second one in 2015 after 26 years, and dated a man named Skeeter Lasuzzo from 2017 to 2019. In early 2020, however, she went on her first date with "Young Sheldon" cast member Rex Linn. During coronavirus lockdowns, they communicated electronically before reuniting and making their first red carpet appearance together at the CMA Awards in November 2020.
The man behind Dr. Linkletter and his spouse are major environmentalists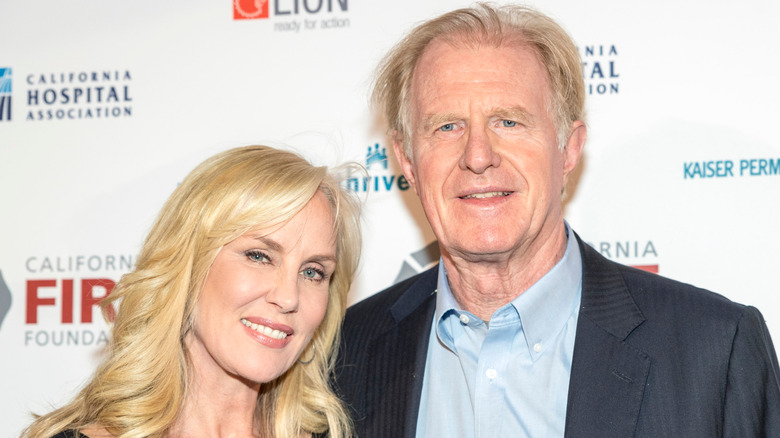 Dr. Linkletter is one of Sheldon's science professors during his studies at East Texas Tech. He studies neutrinos and other high-end scientific concepts that interest Sheldon, although he tries to avoid the young scientist whenever he can, because, in predicting the character's interactions with academics on "The Big Bang Theory," he finds him annoying and rude.
Ed Begley, Jr. plays Dr. Linkletter, and he's equally well known for his crusading environmentalism as he is for his hundreds of roles in things like "St. Elsewhere," "Best in Show," and "Arrested Development." He even bridged the gap between entertainment and green advocacy with the reality show "Living with Ed," which co-starred and was produced by his wife, Rachelle Carson-Begley. She also works on Begley Living, an Earth-first lifestyle website and product hub for Begley's Earth Responsible Products, as well as a high-ranking executive at vegan health and beauty company Arbonne Products. A theatrical actor who moved to screen work in the late 1980s with a recurring part on "Falcon Crest," Begley-Carson still acts occasionally, turning in notable appearances in cult hits like "The Bling Ring" and "But I'm a Cheerleader."
Professor Proton found his true love seven decades ago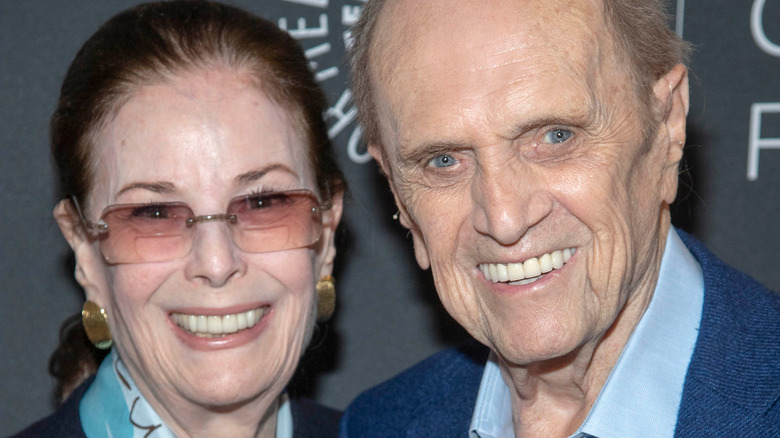 A fun link between "The Big Bang Theory" and "Young Sheldon" is the presence of Professor Proton. On "Big Bang," viewers learn that young Sheldon's childhood hero was a kiddie science TV show host whom he later actually befriends. On "Young Sheldon," viewers get to see the younger Sheldon actually consume Professor Proton's series. On both shows, the TV science guy is played by TV legend and stand-up comic Bob Newhart. After winning the first-ever Grammy Award for Best New Artist for his first album of bone-dry, pause-filled comedy, he went on to star on the classics "The Bob Newhart Show" in the '70s and "Newhart" in the '80s.
Newhart has been married for nearly 70 years to Virginia Quinn, or "Ginnie," the daughter of character actor Bill Quinn. Comedian Buddy Hackett set up the couple, according to People. "Well, we're both Catholic. She's three quarters Irish. I'm three quarters Irish," Newhart deadpanned. "Buddy said, 'I've got a girl for you. She's going with another guy, but I don't think he's right for her, so I'm going to fix you up on a blind date.'" Over the course of their marriage, the Newharts had four children together, two sons and two daughters, one of whom they claim to have nicknamed Buddy, in honor of the guy who made it all possible.
Source: Read Full Article