Counting On star Justin Duggar announced his engagement to Claire Spivey last November, just one day after his 18th birthday. The big news came two months after the couple revealed they were courting.
According to Claire, she and Justin courted "in secret" for months and have actually been together for more than a year. No matter how long the young couple has been together, they are ready to get married and have set a wedding date.
But some fans believe that Justin has jumped the gun in his relationship. Is he breaking one of Jim Bob Duggar's biggest rules?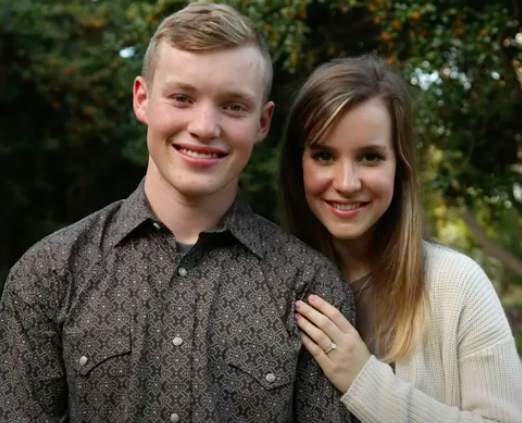 'Counting On' stars save their first kiss for the wedding day
As Counting On fans know, Jim Bob has some extremely strict rules for his children when it comes to courting. Jim Bob's kids don't casually date. Instead, they are allowed to court when they reach a certain age. The family describes courting as "dating with the purpose of marriage."
All of the Duggar children are closely monitored when they are courting. A Duggar child is not allowed to be alone on a date so they must bring a chaperone. Jim Bob and Michelle are also involved in text messages, phone calls, and FaceTime chats.
The Duggar patriarch has strict rules about physical contact when his children are courting. The Counting On stars are famous for their "side hugs" because they don't hold hands until they're engaged. And, Duggar kids usually save their first kiss for their wedding day.
When it comes to premarital sex, that's just absolutely out of the question.
Is Justin Duggar living with Claire Spivey?
Despite all of Jim Bob's strict rules, it appears to some Counting On fans that Justin is ignoring them. Justin is the ninth child in the Duggar family to court and get engaged. Could it be possible that Jim Bob and Michelle have relaxed the rules a bit?
https://www.instagram.com/p/CJ5HrlkMID8/
Justin may not be getting all lovey-dovey with his fiancée just yet. But some fans are convinced that Justin is living with Claire in Texas. The speculation started last week when a photo and video surfaced on social media that featured Claire and Justin hanging out in a snowstorm.
The pic and video clip appeared on Hilary Spivey's Instagram account. She is Claire's mom, and the Spivey family lives in Texas. The northern part of the state had some unexpected snowfall recently, and it was clear that Justin was in Texas with his special lady.
https://www.instagram.com/p/CJ6OoHUj9cx/
"Fun! Did Justin move to Texas to be closer to Claire?" one fan asked. Hilary replied, "No, he just happened to be here for the snow! We were grateful!"
Hilary's reply should have ended the speculation, but some fans just weren't buying it. Justin hasn't appeared in any Duggar photos back in Arkansas for a while. Instead, he keeps popping up on the Spiveys' social media accounts. And he's been doing that since late last year.
Will the 'Counting On' star move to Texas when he gets married?
If Justin isn't already living with Claire, it looks like he is planning on making a move. As Cafe Mom points out, Justin has been featured in a lot of the Spivey's posts recently. He spent Christmas at Claire's house with her family. And, he never appeared in any of the Duggar holiday festivities. It also appears that Justin joined Claire's church.
The only Duggar child who doesn't live in Arkansas is Justin's big sister Jinger. She moved to Laredo, Texas, after she married Jeremy Vuolo in 2016. They later moved to Los Angeles, California, so he could attend divinity school.
According to Hilary, Justin and Claire have set a wedding date this year. But, they aren't going to announce it so they can avoid wedding crashers. The expectation is that the couple will have TLC cameras at the church on their big day. And the whole event will be featured on TLC.
Counting On is currently on hiatus. It will return with new episodes later this year.
Source: Read Full Article