Roberto Aguirre-Sacasa tells TheWrap "Rivervale" storylines will "100% inform and feed into" the rest of Season 6
Kailey Schwerman/The CW
(Warning: This post contains spoilers for Tuesday's premiere of "Riverdale" Season 6, which was the start of the show's five-episode "Rivervale" event.)
"Riverdale" returned with new episodes Tuesday, debuting its sixth season just over a month after airing its Season 5 finale. But the Riverdale we returned to was not the same one we left behind, as the Season 6 premiere marked the beginning of The CW series' five-episode "Rivervale" event arc. And as many fans had already guessed when the special set of episodes was announced, this story takes place in an alternate universe.
In this world of Rivervale, Veronica (Camila Mendes) and Reggie (Charles Melton) are a power couple; Jughead (Cole Sprouse) and Tabitha (Erinn Westbrook) are moving in together; Toni (Vanessa Morgan) and Fangs (Drew Ray Tanner) are seemingly crushing parent life; and Archie (KJ Apa) and Betty (Lili Reinhart) are alive and doing just fine, clearly having survived the bomb Hiram Lodge (Mark Consuelos) left under their bed, which went off at the very end of "Riverdale" Season 5.
No, none of that has happened in Rivervale, but this much more serene town is still dealing with its own problems. The maple trees won't give syrup and Cheryl (Madelaine Petsch) will stop at nothing to get them tapping again. And we do mean nothing, because by the end of the "Riverdale" Season 6 premiere episode, Cheryl has successfully promised supernatural assistance to almost everyone in town to get them something they desperately desire — in exchange for helping her sacrifice Archie to bring back that syrup.
Here to break down the start of "Riverdale" Season 6 — and the "Rivervale" event, which will feature a guest appearance by Kiernan Shipka's Sabrina from Netflix's "Chilling Adventures of Sabrina" in the coming weeks — for TheWrap is series creator Roberto Aguirre-Sacasa.
See our Q&A below, which has been edited for clarity and length.
Where did the idea for the "Rivervale" five-episode event to begin Season 6 come from, rather than taking us back to where we left off at the end of Season 5?
Really candidly, I think this kind of started with The CW reaching out and saying, "Hey, we would love to kick off Season 6 with a five-episode, miniseries-event arc." And I love stuff like that and I always get a little bit jealous when my friends on all the superhero shows are doing the crossover episodes and things like that. I was like, "Yeah, we would love to do that." Then in the writers' room, we're all like, "OK, well, what's the theme or what would it be about? Or how would this be special enough to warrant a five-episode event?" Originally, we were toying about doing something something like an homage to "Sin City" and doing very noir and pulpy episodes, hardboiled-crime episodes. And it's funny, we were like, "Well, that's kind of what we do normally." Everyone's always asking us, "Is 'Riverdale' going to go supernatural? When is 'Riverdale' going to go full horror?" It felt like that was something we hadn't yet done. It's like, "OK, well, this is our chance to see how that works." And it was so fun and it sort of cracked open the door, I think, for the supernatural to slip in and horror to slip in beyond the first five episodes, which has been really, really good.
So does that mean the events of "Rivervale" will affect the rest of "Riverdale" Season 6, which will go on hiatus after these five episodes and pick up on Sunday, March 6?
Very good question. I will say that the events of "Rivervale" 100 percent inform and feed into the events of the rest of Season 6… I think if you didn't see "Rivervale" — we're not picking up exactly where we left off at the end of [Season 5] and things will have changed because of "Rivervale."
Of all the people to decide to come over to Cheryl's side and sacrifice Archie, Betty was the biggest shock. She says it was because Cheryl promised to help her conceive Archie's baby when the doctor said she couldn't, and now she's confident she is pregnant — but was there more to it than that, because the twist at the end of the episode was so quick?
The thing that eventually convinced Betty to do this is, and I think she says in the episode, "There's nothing I want more than to have your child." I think what happened between Betty and Cheryl is, Cheryl said, "You're barren right now, I know a way that you can bear Archie's child — but you have to do this." So in my mind, she — like everyone else in the town — made the deal with the devil to get what she wanted even more than Archie was to be a mother to Archie's child. So that's one reading of the episode. Another reading of the episode is, Archie's pressuring Betty to have a baby, and Betty's like, "I can't deal with that. OK, let's sacrifice him." (laughs) That's another, less charitable, reading of Betty's actions.
It seems like there are several homages in just the first episode of "Rivervale." Were you using "The Twilight Zone" as the reason for Jughead narrating to the camera, or "Midsommar" for the ending's sacrifice ritual?
I would say one of the funnest elements of "Rivervale" is Jughead narrating to the camera. Cole loved that. He attacked it with such gusto. The second it started, I was smiling ear to ear because he's so owned that. It really set the tone for everything that was supposed to come. And regarding the ending, I am 100 percent a huge fan of Ari Aster and "Midsommar" — but really, I go even further back to "The Wicker Man" and "Children of the Corn" and all those other folklore things, as well. Though, "Midsommar" 100 percent is an influence, I would say as much so is "The Wicker Man," which is one of my favorite horror movies. The original, not the Nicolas Cage remake, which is fun in its own way, but not a classic the way the original is.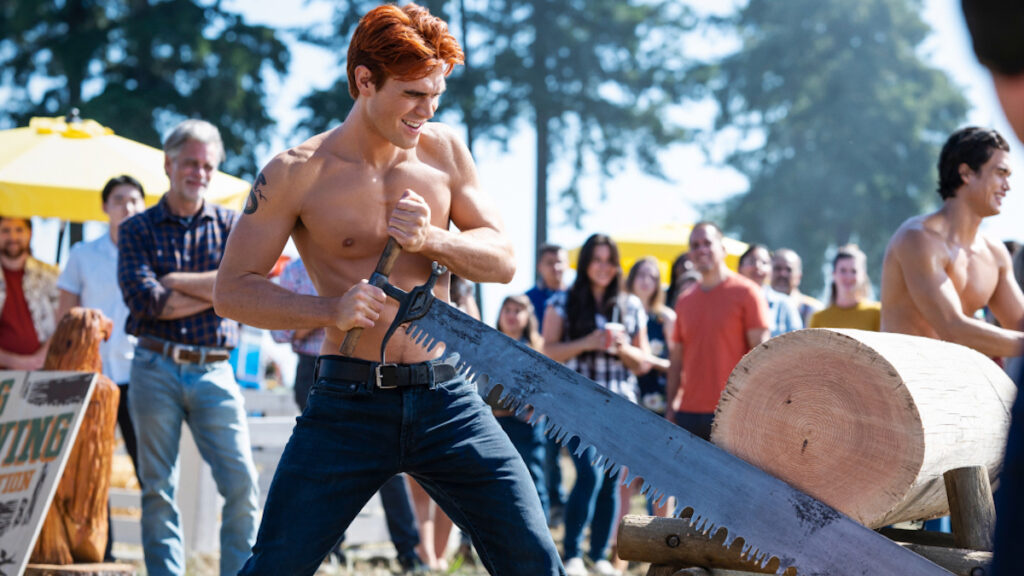 We're now without Archie at the end of the first episode, so where do things go from here without the usual hero of our story?
We are without Archie. We're in a world without Archie, is one. And two, I can tease at this point that "Rivervale" has a much higher body count than even "Riverdale," and characters die in episodes and then they don't come back. They're still dead in the next episodes. So there is a sort of ghoulish, Agatha Christie element of the event arc, which is, who or how many people are going to die in this episode and how?
Following Archie's death, and a few passing references made during the episode by Jughead and Betty about their former relationship, is there any chance of those two getting back together this season?
Let me say this, we're pretty invested in Jughead and Tabitha in Season 6. Let me just say that. We're invested in that relationship and great stories coming up.
Will we see in the next episode if Cheryl's sacrifice of Archie's life to please the Maple Maiden actually worked?
That's a very good question, I will say that in Episode 2, we know one thing has at least happened, which is the maple trees are producing maple syrup again. So even only that front, mission accomplished, as far as Cheryl is concerned.
"Riverdale's" "Rivervale" event series continues next Tuesday at 9/8c on The CW.
Source: Read Full Article