Miz Cracker has been living in a sea foam green box for the past 10 months. Since the onset of the coronavirus pandemic, she's been busy entertaining the internet from the teal couch, against the backdrop of matching turquoise curtain and sensible cracker pillow, in her Bronx, New York studio apartment. Oh, and she also made a triumphant return to a lil' TV show you may know: RuPaul's Drag Race.
The crafty, comedy queen first appeared on Drag Race Season 10 and was an immediate fan favorite, but ultimately, her inner saboteur got the best of her. Last summer, she returned for her ru-demption on Drag Race All Stars Season 5 as a whole new Cracker. She found inner peace and it sure paid off—she had the most single-challenge wins of any contestant and finished runner-up overall alongside Jujubee to season winner Shea Couleé.
Perched in her sea foam bubble, Miz Cracker recently logged onto Zoom to chat with Hearst Pride. On the agenda: her glow-up from Season 10 to All Stars 5, how COVID-19 has impacted the drag community, and the just-premiered Drag Race Season 13. *sips tea*
On the All Stars 5 finale
"On day one, Jujubee told Shea and I, 'I see us being the top three.' That feeling that she implanted into our minds really carried us throughout the season, and by the time we actually were in the finale together, we had formed such an amazing bond. I remember looking at those two girls during one of our Untucked moments and thinking, These two are so talented and I'd be happy to see either of them take the crown."
On competing against friends
"You're under so much pressure on Drag Race that everything seems like a big deal. As soon as you're off that set you look back and you realize, Oh my God, all of that is so insignificant compared to how much we have in common. Us reality TV girls have all been through a very particular experience that almost nobody else has been through. So we have to stick together, if only for talking to each other about the little secrets that we have in common. Even if you don't like a b*tch (laughs), she knows what it's like, so you have to keep her around."
https://www.instagram.com/p/CDBv-NKJ9_G/?utm_source=ig_embed&utm_campaign=loading
A post shared by Miz Cracker (@miz_cracker)
Favorite look from the season?
"Definitely the Fabergé egg look that I wore for the 3-in-1 runway. I love where beauty and stupidity meet. That is where I live my life."
https://www.instagram.com/p/CBo1UkAB6ci/?utm_source=ig_embed&utm_campaign=loading
A post shared by Miz Cracker (@miz_cracker)
On her growth from Season 10 to All Stars 5
"I was much more at ease during All Stars. I knew what was coming. And the world is a different place from Season 10 (2018) to All Stars 5 (2020). I realized that I just had to totally be myself because I can't predict how people are going to react or control their reaction.
The thing is, the worst happens to you and you survive. People call you horrible things when you're on air. I used to think that I would evaporate if someone said anything hurtful or horrible about me. Well, a bucket of water got thrown on me and I didn't dissolve. A real sense of assuredness came with realizing I could survive anything that people throw at me."
On confidence
"I don't have that nervousness anymore, but I wouldn't call it confidence, either. I don't want to fetishize confidence. I don't want people to feel like if they don't have confidence, then they can't do things. You don't need confidence to accomplish things—you need fearlessness and drive. Fearlessness can pull you through even when you don't feel confident. And if you're driven, you can make just about anything happen."
On getting out of her own way
"I force myself to stop thinking, period. I just dive in. It's a special skill that's kind of like windsurfing on your stress. In the past, if I've noticed that I was stressed out, I would start internally punishing myself and overthinking. Now I embrace the negative voices and swim with the current versus against it until I ride it out. I'll never get rid of the voices, so I've learned to work with them."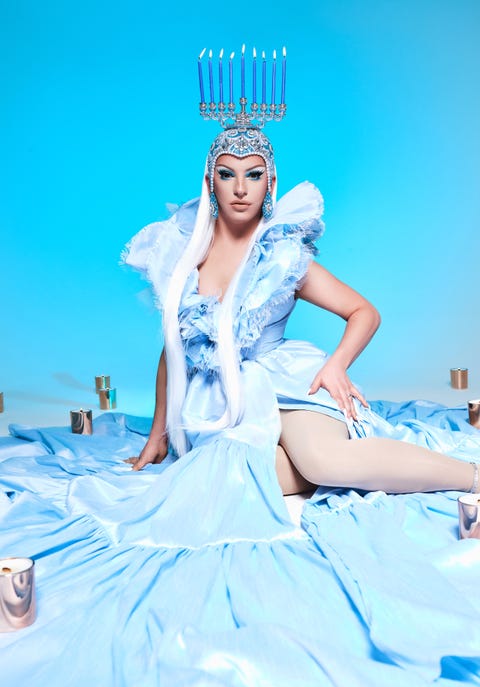 On COVID-19 in New York City
"It is so strange to watch the landscape change so quickly. Places like Therapy [Ed note: Therapy was a storied NYC drag bar that closed permanently due to the pandemic] are essentially drag landmarks. To me, all the closures mean that this moment is over. There may be another moment, but we will never get back to what we had before. If it's good, it will be good in a different way. There is a real sense of grief and a real sense of urgency to reinvent so we don't lose everything.
The weirdest moment of 2020 was when I put on a show in an abandoned Coney Island parking lot. The stage was just a platform in an empty lot. And of course, it was raining! For safety, everyone who attended the show was in cars, so instead of applause, you got honks. A few, shall we say, enthusiastic onlookers were screaming at us from the fence along the street. A stray black cat ran across the stage during one of my numbers. I thought 'I am in the middle of a scene from The Purge. Crazy people are yelling at me, cars are honking… this is how I die.'"
On Drag Race Season 13
I won't make predictions for who I think will be the top of Season 13. But I do know Tina Burner very well, I'm glad she gets to be on this season. She is a mother to many in NYC and a monster performer. She will be great television. There will never be a dull moment!
Finally, would Miz Cracker return for a third season of Drag Race?
No. I have done my run on the television and I am at peace. I'm ready to lay that battle to rest and fight not on reality television, but in the real world.
Source: Read Full Article