After enduring an hour and forty-five minutes of Chris Harrison, Hannah Brown, and the rest of the Bachelorette guys discuss Luke P (*sigh*) on tonight's Men Tell All episode, ABC finally gave the people what they wanted and aired a sneak preview of the upcoming Bachelor in Paradise. And amid the Bachelor's classic romance-but-tears-but-also-romance trailer formula, they also dropped a bomb on us poor, unprepared viewers: Demi Burnett, fan-favorite from Colton Underwood's season, is bisexual—and she has a relationship with a woman in Paradise.
In new the trailer, Demi says, "I don't care who sees this," and then proceeds to do this: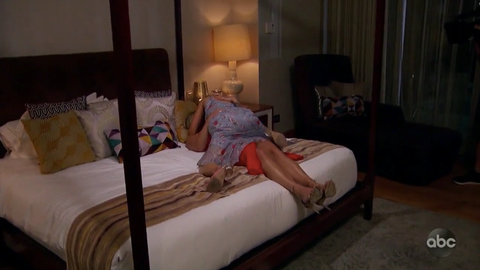 We go on to hear her say, "I know that I love this girl. I'm just so happy that I found her, and I can definitely picture being with her for the rest of my life." Twitter, being a social media platform that has no cool, automatically freaked out and began stanning the sh*t out of Demi and her ~mysterious~ love interest:
I AM HERE FOR THE FIRST BISEXUAL BACHELORETTE @demi_burnett #TheBachelorette #BachelorInParadise pic.twitter.com/y872yvV9yV
DEMI BISEXUAL QUEEN OMG#thebachelorette pic.twitter.com/iO0CmqduZE
Me watching the bachelor in paradise sneak peek and realizing Demi is Bi #TheBachelorette pic.twitter.com/guMzIK6F8S
DEMI W A GIRL? #TheBachelorette pic.twitter.com/G3fo14w55O
DEMI IS BI DEMI IS BI!!! LETS GO BISEXUALS LETS GO!!! #TheBachelorette
me watching @demi_burnett in that Bachelor in Paradise sneak peek 🌈 #TheBachelorette pic.twitter.com/oHG4zOcPNe
god knew that demi was too powerful to be straight WE LOVE A BICON #thebachelorette
DEMI IS BI HELL FUCKING YES BABEY #TheBachelorette
My thoughts about @demi_burnett's portion of the #BachelorinParadise sneak peek. #thebachelorette pic.twitter.com/5rVWOzcmJC
DEMI AND ANOTHER GIRL I REPEAT DEMI IS DATING A GIRL ON PARADISE I LOVE HER SO MUCH #TheBachelorette
[email protected]_burnett giving us bisexual realness with charisma, uniqueness, nerve and talent #TheBachelorette pic.twitter.com/hEu4XZIMeG
That moment when my bi ass finds out @demi_burnett is too
#TheBachelorette pic.twitter.com/jfbdxylvrH
DID I JUST SEE DEMI MAKING OUT WITH A WOMAN ON PARADISE
IM FUCKING LIVING IM FINALLY GETTING THE SHOW I DESERVE #TheBachelorette
Was that Demi with a girl??! Hell yes!!!! Finally!!!!!! Cant wait ! #TheBachelorette #MenTellAll pic.twitter.com/SKvRgluOYj
Demi also addressed the reveal in the teaser tonight, simply tweeting, "Spoiler alert: I'm a queer queen 👸🏼💕🌈."
Spoiler alert: I'm a queer queen 👸🏼💕🌈 #BachelorInParadise
Other things that we have to look forward to on Bachelor in Paradise: John Paul Jones crying (and just in general), a huge fight breaking out on the beach, Dean's mustache, and multiple proposals.
You can watch all 2 minutes and 45 seconds of goodness here:
We have SO MANY QUESTIONS. Meet us on the beach for #BachelorInParadise in 2 weeks! pic.twitter.com/FB811f1Ckc
In conclusion—see y'all in Mexico!!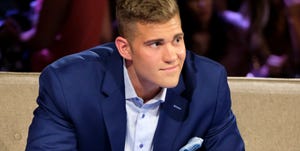 Source: Read Full Article