It was the movie a decade in the making—in more ways than one.
Nine years after Pretty Woman made Julia Roberts a superstar and turned Richard Gere into one of Hollywood's most sought-after leading men, the iconic on-screen pair finally reunited in Runaway Bride.
Released on July 30, 1999, Roberts and Gere once again teamed up with their Pretty Woman director Garry Marshall, who passed away in 2016, for the romantic-comedy about a small town girl so afraid of commitment that she's dashed from the altar three times and the jaded divorced newspaper columnist determined to see her run for a fourth time. Naturally, they fall in love.
Fans sprinted to the theater to see the pair's chemistry, making Runaway Bride, which had been in the works for over a decade with many other celebrities attached to star at some point, a bigger blockbuster hit than Pretty Woman, which was released in 1990.
But just because it made more money than Pretty Woman doesn't mean it was more successful, as Runaway Bride failed to captivate critics (earning just a 46 percent fresh on Rotten Tomatoes) and even had one of its stars later admitting it just didn't capture the magic of their previous film. (Plus, one of Roberts' other iconic rom-coms—Notting Hill—came out just weeks before.)
Still, thanks to Roberts and Gere's effortless charm and charisma—both individually and combined—and Marshall's knack for the genre, Runaway Bride has secured a spot as one of Hollywood's most enduring romantic comedies, even if it was almost never made and had a different ending at one point.
From the A-listers that were initially supposed to star in the movie in 1991 to Roberts' own experience as a runaway bride, here are 20 fun facts you might not know about Runaway Bride…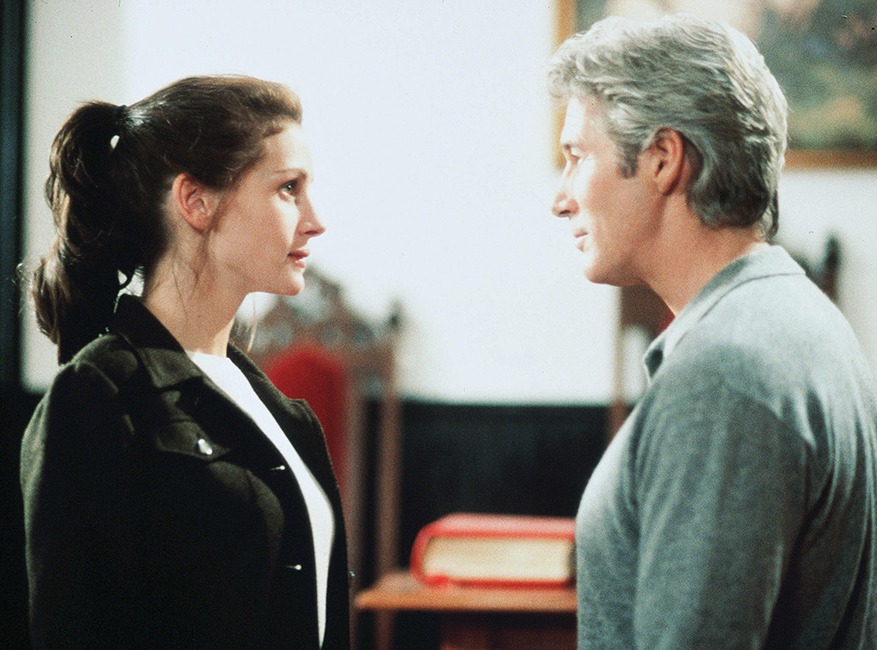 Paramount/Kobal/Shutterstock
1. Though the concept seemed tailor-made for Gere and Roberts to have their Pretty Woman follow-up, Runaway Bride was actually in the works for over a decade, with many other famous actors set to play the battling bride-to-be (times four) and cynical journalist.
First up? In 1992, Geena Davis and Harrison Ford were set to lead the movie, but it fell apart when the first director brought in had issues with the script. Over the next few years, stars like Michael Douglas, Demi Moore, Ellen DeGeneres and Mel Gibson were all in the mix.
2. But in 1996, Sandra Bullock was interested in playing Maggie and urged the project forward. Until she then had some hesitations–much like Maggie with her suitors–and was out, with Ben Affleck and Tea Leoni in talks to take over, with the studio liking the idea of a younger couple. But when Affleck passed, one of the producers decided to approach Gere.
3. While he loved the script, Gere had one condition the studio had to meet before he signed on to play Ike: "If you can get Julia, I'm in." Roberts, who had initially been unsure of the movie when she read a previous version of the script years prior, decided to take another look. And after a phone call with her old Pretty Woman leading man, the movie stars were ready to reunite.
"People have been trying to get them back together for nine years," studio producer Tom Rosenberg told The LA Times. "And suddenly it happened—it was all settled in a week."
4. The next phone call was one Gere and Roberts would have to make together, as they had to pursue their Pretty Woman director to make the reunion officially complete by directing their love story once again. There was one hitch though, as Marshall had promised to take his wife to Australia for a much-needed vacation.
"They said, 'Get off the phone, we want to talk to your wife," Marshall recalled to the publication. "They told her things like, 'How often do we get a chance to do this?' and, 'We'll take good care of him,' so finally I said, 'OK, I'll do it.'"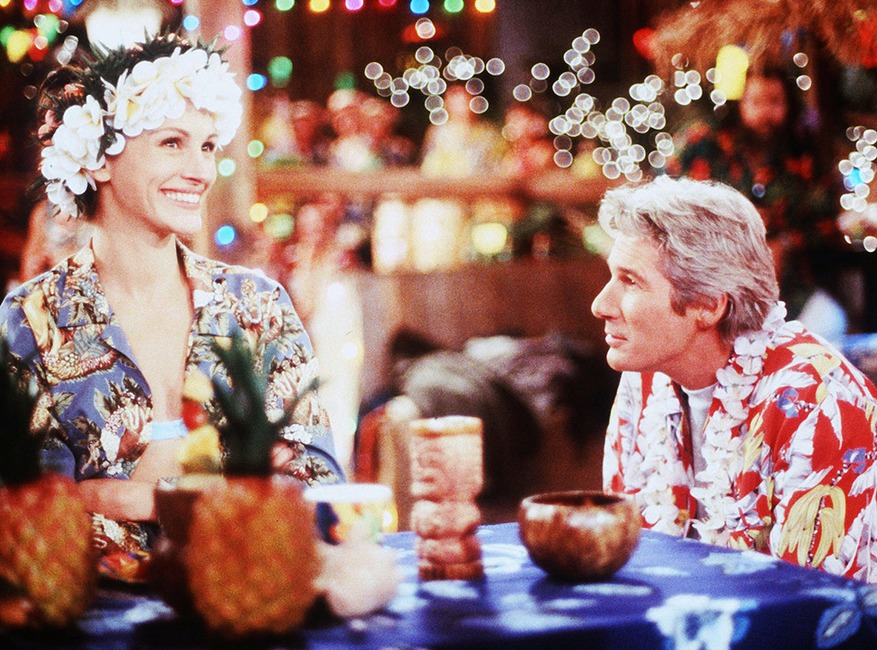 Ron Batzdorff/Paramount/Kobal/Shutterstock
5. The trio's shared history made filming Runaway Bride a pretty stress-free experience for the trio, with Marshall noting a change in his leading man, now armed with 10 years of experience on sets and with stardom.
"Richard had been very cautious on Pretty Woman, but this time he was a lot more willing to be funny," the director said. "Mostly we talked in our own little shorthand. All I had to do was yell 'Action' and 'Shut up.'"
6. After getting A-listers Roberts and Gere on board, the movie's budget soared to $70 million, an unusually high number for a romantic comedy. In addition to back-end gross on the film, Roberts earned $17 million for her dashes from the altar, while Gere pocketed $12 million. The stars proved worthy of their big paydays, as Runaway Bride opened at No. 1 at the box office, bringing in a weekend total of around $35 million, by far the best opening ever for a Roberts film at the time.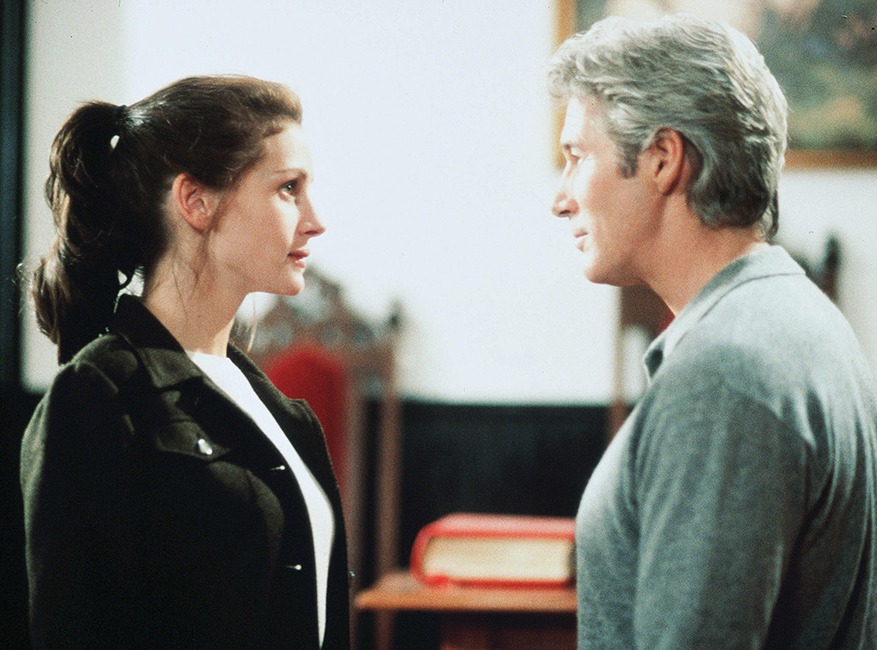 Paramount/Kobal/Shutterstock
7. While Runaway Bride went on to gross over $150 million domestically (and $300 million worldwide), becoming a blockbuster hit, it received less than stellar reviews, with Gere later looking back on the movie in an interview with Entertainment Weekly and admitting, "Whatever that magic was in the first movie, you can't make that happen. While there's some wonderful stuff in the movie, it certainly didn't have the magic of the first one. The expectation that it was going to have that same kind of delicious magic was irresponsible. It was a different movie, it was a different time, she was in a different place, I was in a different place."
8. Production descended upon the small town of Berlin, Md., turning it into the fictional and quirky Hale, Md. for the movie, and put close to $1 million into the local economy, upped the real estate market and almost doubling tourism after the film's release.
"I have been totally amazed," Berlin's then Chamber president told The Baltimore Sun of the impact the movie had on the town of just 3,000 people. "The movie was the Midas touch that introduced our town to a lot of people. It put us on the map."
9. Once named "America's Coolest Small Town" by Budget Travel, hosting the Roberts-Gere vehicle is still a point of pride for Berlin, with the town holding a Runaway Bride month in August to celebrate the 20th anniversary.
"People come in and they want to hear, 'Hey did you get to meet Richard Gere? What's Julia Roberts like? Can we see the house? Where was the bridal shop?'" Ivy Wells, Economic and Community Development Director of Berlin, said. "We thought you know what, we're going to give the people what they want and they want to celebrate the movie so we're going to do it up for itS 20th anniversary."
Article continues below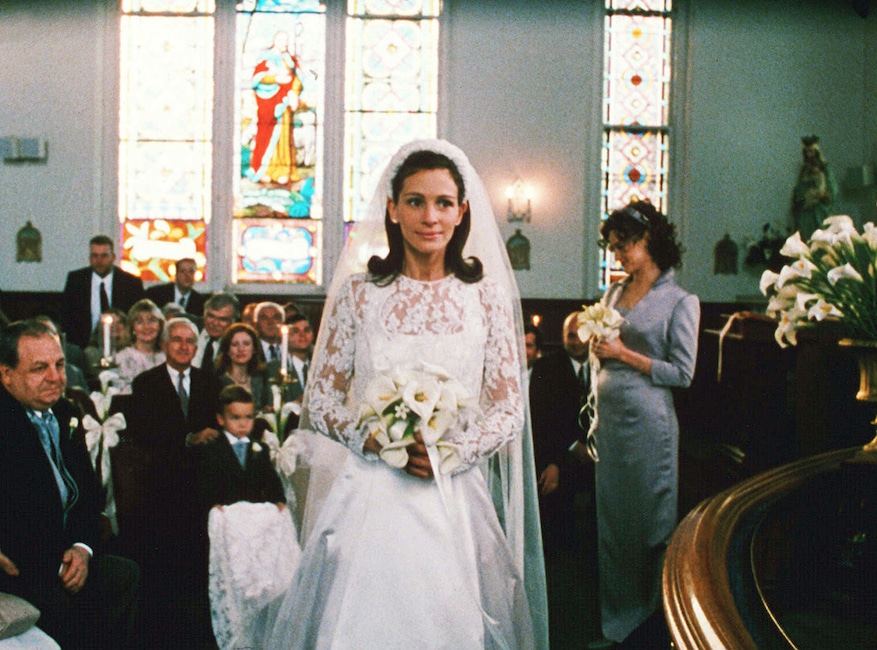 Paramount/Kobal/Shutterstock
10. Of course, the benefit of having Maggie walk down the altar four times (before finally getting hitched in her fifth attempt) was giving Roberts the opportunity to wear four different wedding dresses, though the star wasn't exactly looking forward to it. It [was] as painless as it could've ever been," she told EW. "It was on the cusp of fun."
Costume designer Albert Wolsky actually designed and created the first four gowns, including the hippie-style crochet one. "It was just so funny and so sweet, it made me laugh," Wolsky said, noting three copies were made because of all of the wedding-related stunts (trampoline jumping and motorcycle getaways and what have you). As for the daisies in Maggie's hair? Roberts' idea.
11. As for the organza gown with satin bands that Maggie coveted in a shop window (and ultimately wears for her first attempt down the aisle with Ike), Wolsky made one back-up just in case her delivery truck escape ruined the original.
"To me," said Wolsky, "the Federal Express dress is the prettiest [because of] what it does on the screen." (aka it "swishes like a bell," per Maggie's try-on session.)
12. When it came to the dress though, the one that Maggie wears when she finally says "I do" to Ike in a picture-esque outdoor wedding before the pair ride off into the sunset on their own horses, Wolsky actually picked an off-the-rack frock from Manhattan's Saks Fifth Avenue. There was only one of the off-the-shoulder Amsale Aberra gowns available, and Wolsky gushed, "it fit like it was made for Julia" and that it looked like it belonged on "the cover of a romance novel."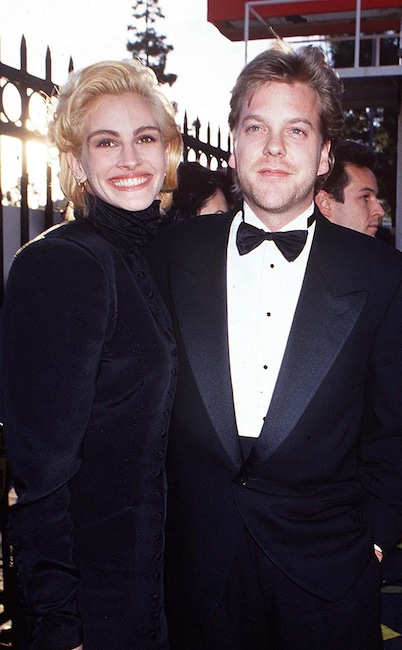 Dave Lewis/Shutterstock
13. Ironically enough, Roberts was once accused of being a runaway bride in real-life when she called off her June 1991 nuptials, which were set to take place on 20th Century Fox's Soundstage 14, just three days before the wedding. The groom? Kiefer Sutherland, her Flatliners co-star (who she started dating after calling off her engagement to Dylan McDermott, her Steel Magnolias love interest). But it gets even more dramatic, as Roberts ran off with Jason Patric, Sutherland's Lost Boys co-star and good friend, who had just been dis-invited from the wedding. After jetting off to Ireland and hiding out while production began on Hook, Roberts and Patric made their public debut as a couple later that year before breaking up in 2002.
While dramatic at the time, Sutherland was able to rationalize Roberts' decision in a 2006 Rolling Stone interview, admitting, "I commend Julia for seeing how young and silly we were, even at the last minute, even as painful and as difficult as it was. Thank God she saw it."
14. Poor Christopher Meloni. In Runaway Bride, Meloni played Coach Bob, Maggie's would-be fourth groom before Ike came into the picture. Almost 10 years later, Meloni would once again lose out to Gere romantically on-screen in Nights in Rodanthe.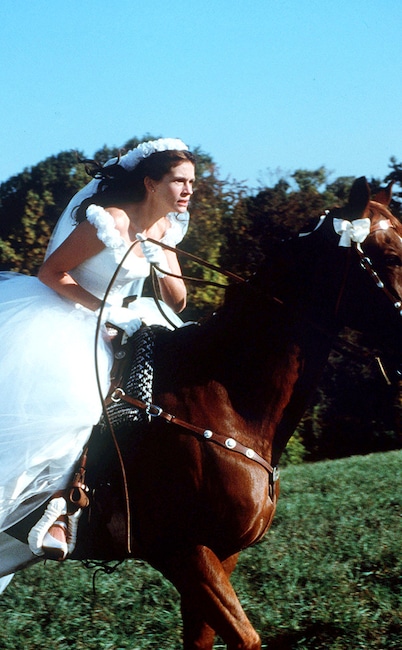 Barry Wetcher/Paramount/Kobal/Shutterstock
15. The film was a family affair for Marshall, with his son Scott working as his second unit director, even shooting the film's opening scene of Roberts on horseback. He also played the hotel clerk who is infatuated with Maggie. His daughter Kathy played a bridesmaid, Cousin Cindy, and his wife, who postponed her trip to Australia so that Marshall could direct, also made it in.
"My wife has one line in the dress shop," Marshall revealed in The Hollywood Interview. "She was in Pretty Woman and got cut out, so I owed her!"
16. Marshall, just like in Pretty Woman, also makes a quick appearance in the movie, playing the first baseman during the baseball scene.
17. The so-ugly-it's-actually-cute "platypus" face that Maggie makes in the movie wasn't actually in the original script, but Marshall decided to add it in when he saw Roberts do the face for his visiting grandchildren on set.
18. It's hard to imagine anything in Runaway Bride being all that controversial, but one scene was actually cut from the movie after some test audiences had concerns after It's Something About Mary upped the level of animal-related dark humor.
As part of the end credit sequence, a scene showed two women jogging with a dog, and "a handsome boy goes by, and the young girl gives the dog to the grandmother, and she doesn't want it and dumps it in the garbage," Marshall revealed to EW.
The reaction, you can imagine, was mixed. "Half the audience, the Something About Mary group, screamed laughing, and the other half was, 'Why did you kill the dog?"' Marshall said, adding he shot four back-up scenes and ultimately used one of those.
Article continues below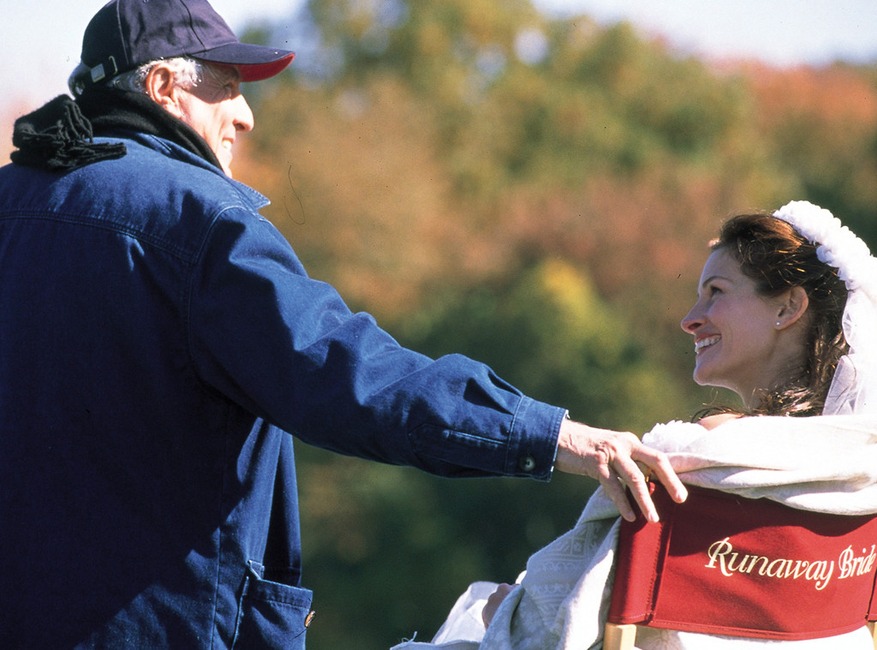 Buena Vista Entertainment
19. One of the reasons for the film's delayed journey to the big screen was a major problem with the script: it didn't explain why Maggie continued to run from the altar. So a key scene was added that highlighted Maggie's tendency to pretend to be exactly what her partner wanted to be rather than herself. The scene found Maggie trying every single preparation of eggs to find out which one really is her favorite, as Ike noted that she always had her eggs the same way her fiancée did. (She ultimately preferred eggs Benedict, by the way.)
20. Following Marshall's death at the age of 81 in 2016, Roberts paid tribute to her longtime collaborator and friend, the one who gave her her first big break with Pretty Woman when she was just 21.
"I want to make him as happy [on the set of "Mother's Day"] in Atlanta as I wanted to make him on the soundstage [of Pretty Woman] 25 years ago," Roberts told the Los Angeles Times. "He's like the ultimate father for everyone in every scenario. I think about Garry and it's like he raised me."
Runaway Bride is available to stream on Amazon Prime.
Don't miss E! News every weeknight at 7, only on E!
Source: Read Full Article