In 1996, five women took the UK by storm. Melanie "Mel B" Brown became "Scary Spice," Melanie "Mel C" Chisholm became "Sporty Spice," Victoria Beckham became "Posh Spice," Geri Halliwell became "Ginger Spice," and Emma Bunton became "Baby Spice." Together, these five were the Spice Girls. Their debut single, "Wannabe," quickly "soared to the top of the charts in 31 countries," according to Time. 
If that's not all, the Spice Girls' debut album "Spice" is "the biggest-selling album of all time by a girl group, with more than 31 million copies sold worldwide," per BBC. The group's catchy songs and "Girl Power" message also helped change the landscape of modern pop music. As the band's manager, Simon Fuller, told Billboard, it wasn't that they were just talented performers and singers. "Coupled with the fact that they all had really strong individual characters, it was irresistible."
However, behind all the success was a darker story. Drama between members and dealing with the rapid rise to fame took a physical and mental toll on the singers. "Within the group there were definitely a few eating disorders going on," Mel B revealed in an interview on "Loose Women" (via The Sun). And an abrupt end to the group not only caused issues internally, but it broke the hearts of millions of loyal fans. It's time to dive into the "Spice World" and explore the tragic details about the Spice Girls.
If you are struggling with an eating disorder, or know someone who is, help is available. Visit the National Eating Disorders Association website or contact NEDA's Live Helpline at 1-800-931-2237. You can also receive 24/7 Crisis Support via text (send NEDA to 741-741).
The end of the group as we know it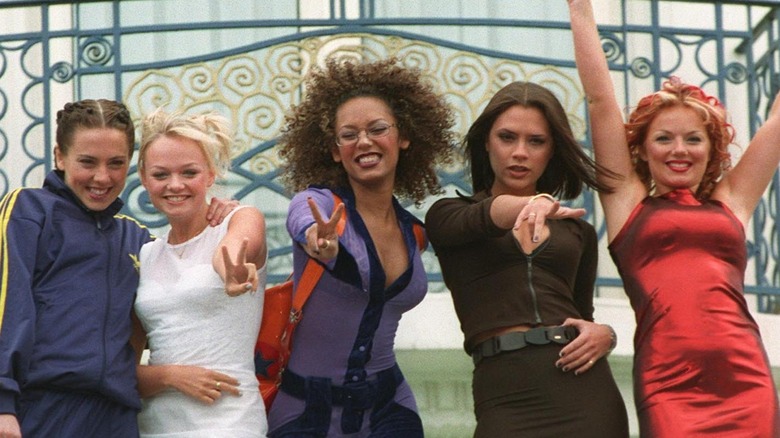 As the Spice Girls continued to grow in popularity and dominate the pop music industry, one member made a shocking decision. Geri Halliwell — "Ginger Spice" — decided to quit the group. Melanie Brown — Mel B — recounted the event in an interview with "Larry King Now." "She left on my birthday and didn't tell anybody," Mel B said of her bandmate. The group was partially through its tour with the American leg upcoming but Halliwell "just didn't show up." Mel B explained how she felt bitter towards her bandmate for a long time.
But it wasn't just feelings that were broken as a result of Halliwell's actions. It also put the Spice Girls in legal trouble. As reported by BBC, an Italian company, Aprilia, sued the group for breaking a contract. According to the lawsuit, Halliwell's departure caused "more than £1.6m in lost profits" for the Italian vehicle company. As a result of her leaving the group only weeks after signing an agreement with the scooter maker, Aprilia won the lawsuit. The award, along with legal costs, meant the Spice Girls lost close to one million British pounds.
Ginger Spice dealt with immense pressure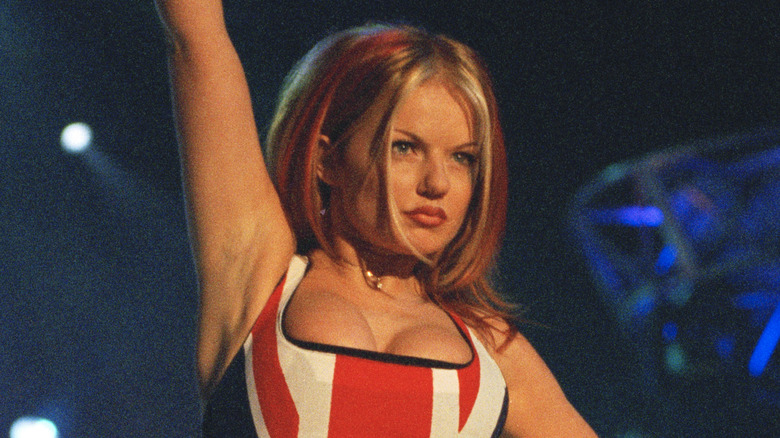 Geri Halliwell — "Ginger Spice" — caused a worldwide surprise when she abruptly quit the Spice Girls during the peak of their fame. But part of her reasoning was due to an intensely personal struggle with the spotlight of the biggest girl group in the world. "She had a lot of bad eating disorders. Pressure problems. And she just found the pressure too much so she just decided to take a break," Melanie Brown — Mel B — explained in an interview with "Larry King Now."
In an interview on "Oprah: Where Are They Now?" Halliwell described her experiences as a member of the Spice Girls. With millions of fans and the media watching every step the ladies made, "the scrutiny" became too much to handle. "I think I felt much more conscious of myself, my body weight. All the things that everybody normally goes through," she revealed.
 Unfortunately, the Spice Girls were much more than ordinary. And as a result, this caused even bigger issues for Halliwell. She described her mental state as a "heightened version" of the typical self-image issues of others. According to the singer, her coping mechanism for the stress was "controlling my body weight and/or abusing food." She explained this meant fluctuating between dieting and turning to food for comfort. "And there was a time when I started being bulimic," Halliwell confessed. And she also admitted looking back the practice was "bloody dangerous."
If you are struggling with an eating disorder, or know someone who is, help is available. Visit the National Eating Disorders Association website or contact NEDA's Live Helpline at 1-800-931-2237. You can also receive 24/7 Crisis Support via text (send NEDA to 741-741).
Scary Spice's scary accident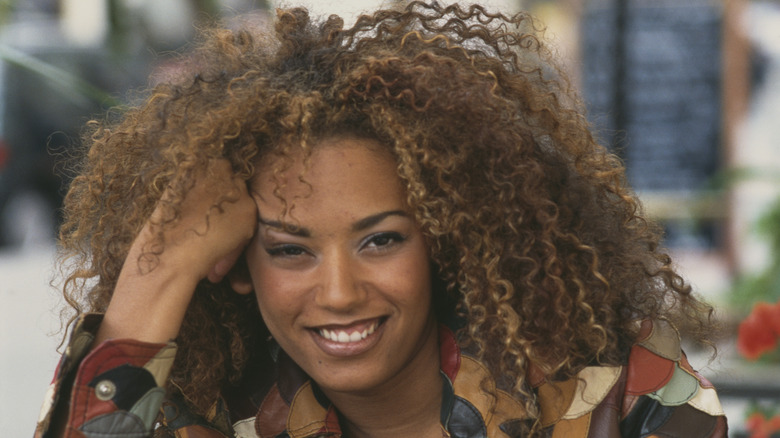 In 2018, fans of the Spice Girls saw terrifying news. Melanie Brown — Mel B — was in a scary accident. In an Instagram post, the singer showed off a huge cast on her arm with a sling around her neck. According to the post, she suffered "2 broken ribs a severed right hand." 
As a result, she needed extensive surgery that lasted over three hours. Though she didn't reveal the cause of her accident, TMZ reported what actually happened. A friend of Mel B's, Gary Madatyan, claimed the singer fell down a set of stairs. Reportedly, while staying at a friend's house, Mel B started to head downstairs from a bedroom when she lost control and tumbled. Apparently, "the staircase was narrow and Mel lost her footing and fell."
Fortunately, there was a happy ending to the frightening fall. Mel B posted on Instagram a photo from a hospital bed, but this time not alone. All the other Spice Girls, with the exception of Victoria Beckham, showed up to support their injured bandmate. "When your besties show up to [the] hospital with hugs laughter and ALOT of love … I love my spice girls," Mel B captioned.
Sporty Spice struggled with sudden fame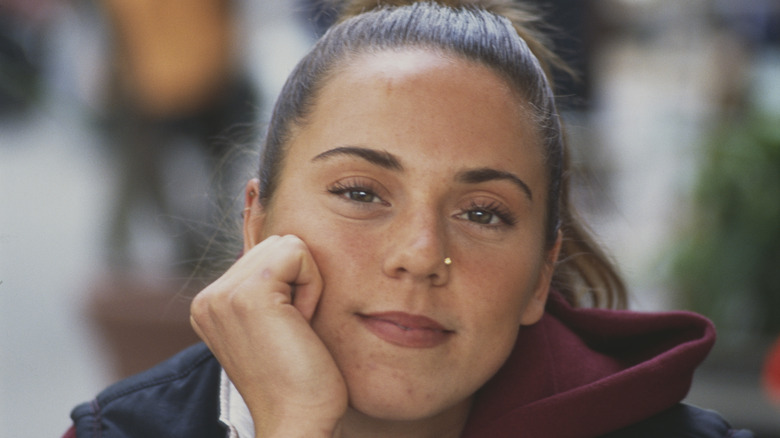 On the surface, Melanie Chisholm — Mel C — was achieving wild success with the Spice Girls. As "Sporty Spice," she often showed off her impressive physique with form-fitting clothing and an exposed stomach. But maintaining this look came at a cost, especially under the pressure of worldwide fame. When the group's single "Wannabe" came out in 1996, Mel C was only 22 years old. Almost overnight, she and her bandmates become some of the most famous celebrities in the world. 
"There's nothing that can prepare you for fame," she explained in an interview with People. "Although you're achieving your dreams, it's hard," the singer confessed. And she added that along with "all the incredible experiences you have, there's a lot of weird stuff to deal with." This included constant commentary in the media. "Everybody has an opinion on you. You're away from home a lot, and you're working very long hours — it's exhausting," she remembered of the peak of her Spice Girls experience. The sum of all these difficulties caused physical and mental struggles for Mel C. She became depressed and developed eating disorders. The singer confessed she was anorexic and would also binge eat food as a form of "comfort" from the stress.
At her lowest point, Mel C remembered, "I was so teary, and I just felt hopeless,″ she said, adding, "I wasn't excited about anything." Luckily, she sought help from a medical professional to deal with her depression.
If you are struggling with an eating disorder, or know someone who is, help is available. Visit the National Eating Disorders Association website or contact NEDA's Live Helpline at 1-800-931-2237. You can also receive 24/7 Crisis Support via text (send NEDA to 741-741).
The fight between Sporty Spice and Posh Spice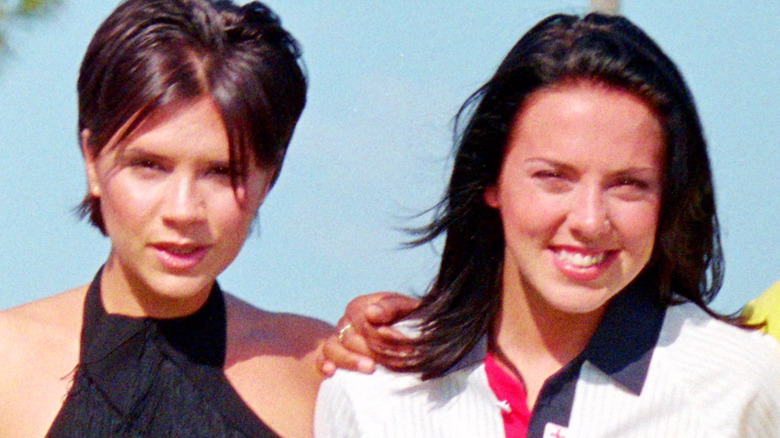 One intense night for the Spice Girls almost ended in disaster. Melanie Chisholm – Mel C – nearly got kicked out of the group after a fight with Victoria Beckham. ″We had a few drinks, and we were all probably a bit tipsy, and I told Victoria where to go,″ Mel C recalled in an interview for People. According to the singer, even though her argument with Beckham wasn't in public she "got into lots of trouble. People were concerned.″ She further detailed the event on the "Desert Island Discs" program, per The Guardian. "We were at the Brits and we all had a few bevvies," that is, alcoholic beverages in British slang. And Mel C revealed the serious aftermath. "I was told if it happened again I would be out," she said.
Fortunately, the two made up and the Spice Girls stayed intact. But the event majorly affected Mel C's mental health moving forward. ″A tiny little thing I didn't think was that bad could have jeopardized my whole dream,″ she told People. And as a result of nearly losing it all, she focused on managing everything she could. "That got to the point of me being very controlling in different areas of my life," the singer said. "Losing control freaked me out,″ she added.
Posh Spice didn't enjoy her time in the group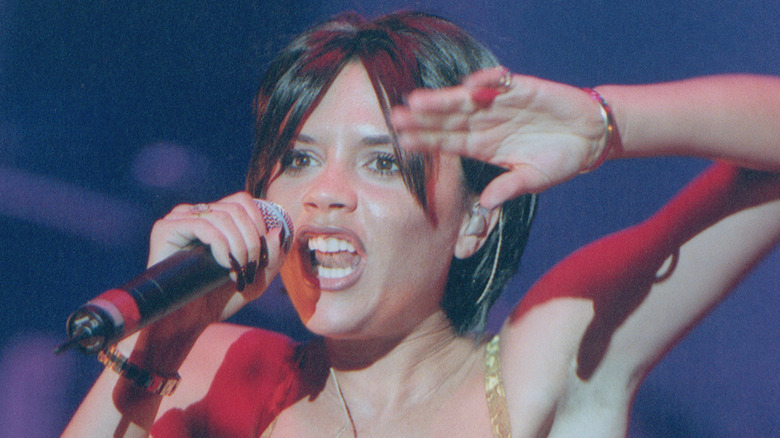 While a part of the Spice Girls, Victoria Adams, met the love of her life. David Beckham was an upcoming soccer star in the UK who met the singer at the Manchester United players' lounge, she wrote for Vogue. And though the two married became a famous (and sometimes strange) British power couple, not everything in life was as perfect. "Posh Spice" was deeply unhappy in her role with the Spice Girls as the sophisticated one. "I had to invent a character and I thought of that: staring at people and pouting," she told French Vogue, via The Cut.
Victoria didn't even realize how tough the music experience was until after the group separated. She explained how the group's reunion in 2008 caused her to reflect and understand her time in the music spotlight. "It should have been the best moment of my life, but I just wanted to be elsewhere," she admitted. The future fashion designer and mom added, "It wasn't a lack of respect for the girls or the audience, but the passion just wasn't there." 
In her autobiography "Learning to Fly," the singer admitted her struggles with body image. In an excerpt posted by The Guardian, she said, "I started losing weight, but it was basically Geri's fault I became anorexic," referencing her bandmate Geri Halliwell.
If you are struggling with an eating disorder, or know someone who is, help is available. Visit the National Eating Disorders Association website or contact NEDA's Live Helpline at 1-800-931-2237. You can also receive 24/7 Crisis Support via text (send NEDA to 741-741).
The Spice Girls missed one key member when it counted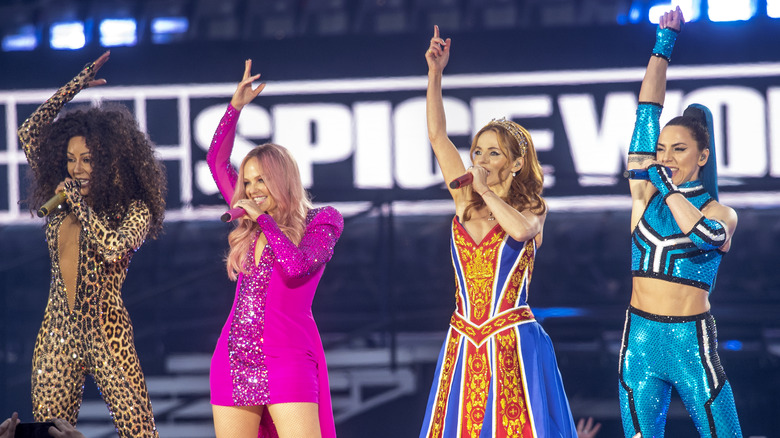 Ever since the Spice Girls broke up, fans could only hope for a reunion. And the ladies shocked the world when they announced the group was getting back together in 2018. Well, almost everyone. Victoria Beckham was not part of the Spice Girls reunion tour. Though she was busy with her fashion brand and marriage to David Beckham, her absence still appeared to hurt the other ladies' feelings. 
Several of the members may have expressed their disappointment via social media about Victoria not returning to the group. For example, Geri Halliwell posted a photo on her Instagram of the four active members. Victoria is not-so-subtly cropped out of the photo, causing some fans to speculate it was on purpose. In an interview on The Jonathan Ross Show, the ladies revealed that they didn't invite Victoria to return on the tour. "She was never actually asked. We just presumed," Melanie Chisholm — Mel C — revealed. 
"Victoria always said from the very beginning that she didn't really have the tist for performing again even though the rest of us did," Melanie Brown — Mel B — explained on the "Table Manners" podcast. And Mel B further expressed her thoughts on only four of the five ladies performing together. In an interview on Good Morning Britain, the singer said, "I was upset. I still am a little bit," about Victoria not even stopping by to say congratulations to the group.
Sporty Spice and Scary Spice attacked each other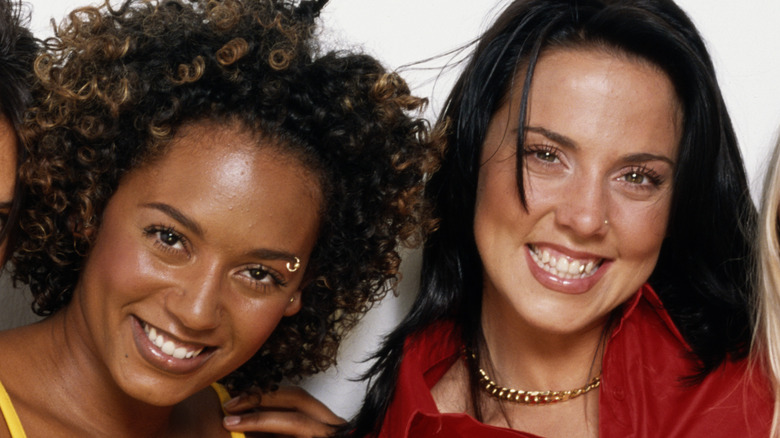 In a discussion on the "Table Manners" podcast, Melanie Brown — Mel B — talked about people's assumptions of the Spice Girls. According to the singer, critics think that as an all-female group, there is a lot of internal drama. According to Mel B, these same people think the bandmates are always "b****in' with each other and they don't really get on." She claimed that was usually not the case because they created the "girl gang." Mel B claimed, "nobody put us together apart from ourselves." But the Spice Girls weren't always so friendly with each other.
Once, three of the ladies were in a fight together, which turned physical. Melanie Chisholm — Mel C — detailed that she and Mel B were once in a heated argument. "We were too drunk," Mel C remembered, via the Daily Mirror. "We got a bit pushy, shovey and Geri stepped in the middle to break it up and ended up getting punched in the face," she revealed. And according to the singer, Mel B then "went off to be sick, and because she'd been drinking too much port she accused me of making her bleed!" And for Mel B's side of the story, she claimed the two ladies were all good after the incident. "I've had punch-ups with Mel C in the past. But we have unconditional love for each other under­neath it all," Mel B said.
Sporty Spice's active lifestyle came back to hurt her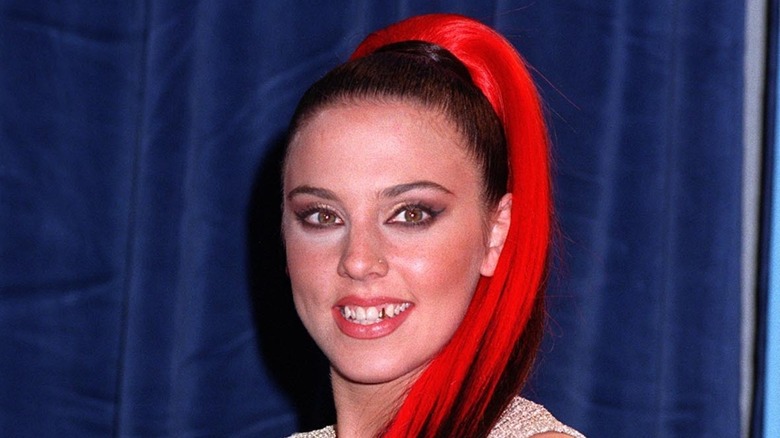 Melanie Chisholm — Mel C — truly lived up to her nickname of Sporty Spice. Soon after her time with the Spice Girls, she participated in a high-profile judo match to show off her athletic skills. Plus, the event featured other celebrities to raise money for charity. Mel C took part in a match during Channel 4's "The Games" against Azra Akin, a fighter who earned the title "Miss World." Things seemed to be going well until a disastrous sequence. Akin started to flip over Mel C when the singer's leg became tangled in the move. In a video of the match, her leg unnaturally bends and the fellow competitors come rushing over with a concerned look. Mel C walked out of the stage in tears and then was carted off in a stretcher. 
As reported by BBC, "she was taken by ambulance to hospital where it was discovered she had torn a cruciate ligament in her knee." The singer stayed overnight in the hospital due to her accident. Matt Roberts, who was Mel C's personal trainer, revealed her "serious injury" from the match caused "long-term ramifications."
Scary Spice's personal life started to collapse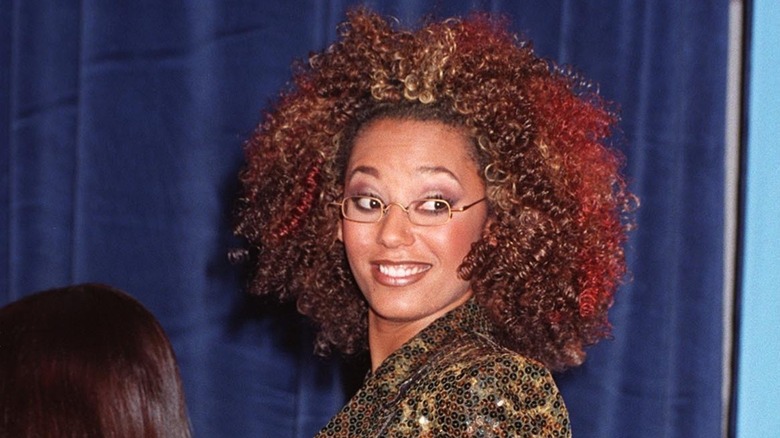 Life after the Spice Girls seemed to be going well for Mel B. She became a judge on the competition show "America's Got Talent" and was married to Stephen Belafonte, a movie producer from the United States. But in reality, Mel B was spiraling out of control. 
The Sun reported in 2018 that the singer checked herself in a British rehab center "after battling issues with booze and post-traumatic stress disorder." She confessed during the interview that writing her memoir, "Brutally Honest," forced her to confront her dangerous habits and to recount her negative experiences. According to Mel B, the months leading up to her decision to enter rehab were "unbelievably traumatic reliving an emotionally abusive relationship and confronting so many massive issues in my life." She confessed, "I am being very honest about drinking to numb my pain but that is just a way a lot of people mask what is really going on." In addition to being diagnosed with PTSD, she also went through a difficult divorce with Belafonte.
Mel B talked about her decision to confess all her struggles, with the hope it could help others in similar situations. "I'm not perfect, and I have never pretended to be," she confessed. "But I am working on being a better version of myself for my kids – whom I love more than life itself – and for all the people who have supported me," the singer expressed.
Baby Spice dealt with health issues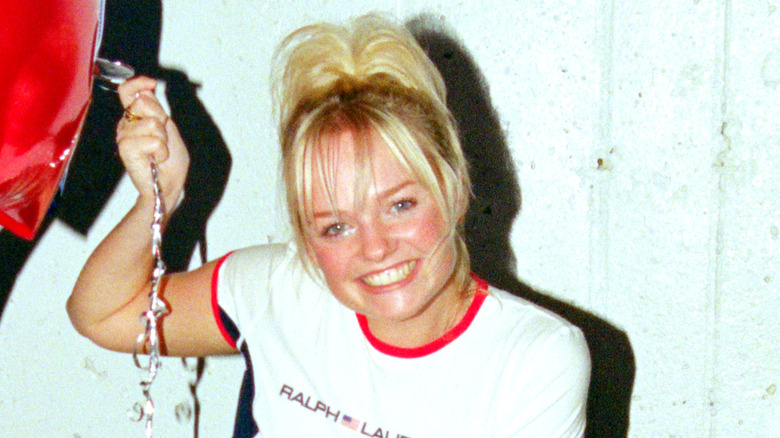 Emma Bunton — "Baby Spice" — faced scary health complications as a young performer. When she was only in her twenties, the singer was diagnosed with a painful condition called endometriosis. The condition involves tissue growing in various parts of the reproductive system and leads to serious pain during physical activities and in daily life. But more tragic, it can also lead to difficulties for women trying to become pregnant. 
Bunton told Stella Magazine that doctors explained with her diagnosis she "would struggle to conceive," via Metro. The Spice Girl, who at the time was "engaged to Damage singer Jade Jones," said her family plans were nearly derailed. "That nearly broke me," she confessed about the diagnosis. "I knew I had the right partner and that I wanted to be a mum. I didn't give up hope; it just wasn't happening," Bunton admitted.
The singer stayed positive and thankfully, her wish came true. Bunton and Jones welcomed their first son five years after she received the heartbreaking diagnosis. And the two went on to have a second son together.
The Spice Girls received criticism on their rise to the top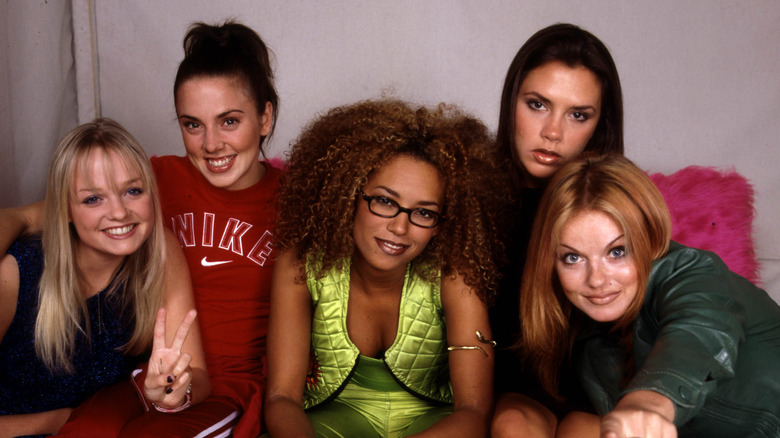 When the five members of the Spice Girls started out in the music industry, they faced criticism because of their gender. "Cause we were just five girls, we wanted to be famous, we wanted to be pop stars and quite quickly we were being told girl bands don't sell records, you can't be on the front cover of magazines because girls buy records by boys," Melanie Chisholm – Mel C – explained on the "Table Manners" podcast. But because of this negativity, the ladies banded together to counteract these haters. And the group turned female empowerment into one of their most defining features. "We started talking about girl power," Mel C recalled.
In fact, the Spice Girls were such a force in entertainment that the five were practically untouchable. According to the singer, the ladies were never the victims of sexual harassment because men were intimidated by the group. "No one would come near the Spice Girls because they were petrified of us," she revealed. Mel C explained that each of the members fully supported one another. So, if someone tried to mess with one girl, "you'd have to deal with the other four, so we always had back up."
Source: Read Full Article