Instagram has long been a popular platform for staying connected and consuming media. But despite its popularity, many people are deleting the app, and the possible reasons behind it are concerning. With around one billion active users — 60% of which are between 18 and 34 years old as of July, per Statista — the platform has struggled due to its users promoting unrealistic body goals and engaging in bullying.
Of course, celebrities are no exception to this trend, with many vocalizing their concerns about the influence of social media on mental health. In 2019, Selena Gomez spoke about the perils of social media and how it's been affecting young people. "I would say for my generation, specifically, social media has really been terrible," she told the Los Angeles Times. "It does scare me when you see how exposed these young boys and young girls are. They are not aware of the news. I think it's dangerous for sure. I don't think people are getting the right information sometimes."
Although some stars cite anxiety as one of the reasons for quitting social media, there are others — like Ed Sheeran — who have just disappeared from the app entirely. Here's why the "Thinking Out Loud" singer quit social media on more than one occasion.
Ed Sheeran needs to 'take a breather' sometimes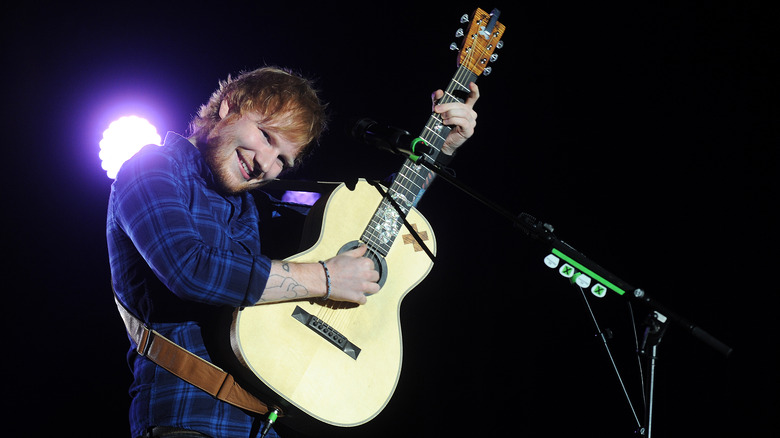 It's no secret Ed Sheeran's fans and admirers love to stay in the loop of his personal and family life. However, the "Shape Of You" singer sometimes makes the executive decision to disappear from the public eye and focus on self-care and growth. Per People, Sheeran announced his first break from social media in December 2015. Four years later, in 2019, he once again announced that he'd be taking a break from social media.
According to People, Sheeran took to Instagram to write a note and explain his decision to his followers. The singer wrote that he was "just gonna take a breather to travel, write and read." He added that he'd be back "with some new music when the time is right." The singer also thanked his fans "for always being amazing."
Sheeran's social media break came soon after he was named UK's artist of the decade. Per the BBC, he released 12 number-one singles between 2010 and 2019, making him a favorite for the prestigious award. Sheeran's social media breaks seem to do him a world of good — the singer always makes a return with fresh offerings for his fans. If he achieves that with a little Instagram and Twitter break, his fans arguably don't have much to complain about.
Ed Sheeran is focused on improving his art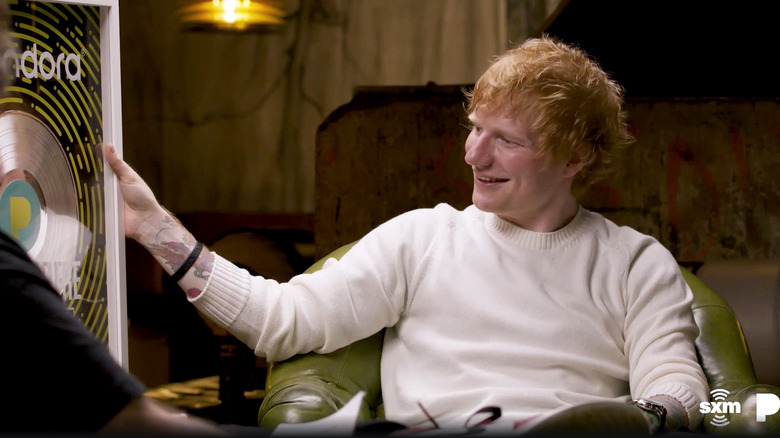 Ed Sheeran's multiple social media breaks do not come as a surprise as the singer has always been focused on improving his art. After all, being a massive star doesn't come easy to everyone.
In 2018, Sheeran spoke about his recipe for success in an interview with South China Morning Post. His advice to musicians who were just starting out was not to be afraid of writing their own songs. "It doesn't matter if they're [terrible]. Just get them out there. The more you write songs, the more you improve over the years, so you might as well start now," he said in an interview. During the interview, Sheeran also revealed how he taught himself to sing. "You can literally teach yourself to sing crazy runs just by singing them slowly and then faster. I don't know what it does to your vocal cords, but I think it stretches them in a way where you can do more [stuff]," he explained.
Clearly, Sheeran is more focused on perseverance and hard work instead of social media (not that there's anything wrong with hustling on the 'gram!), but he always comes back to his fans no matter what. And to his credit, he always returns to Instagram with freshness. 
Source: Read Full Article