Add these dates to your GCal:
Hello, my vivacious Stinger! October is the month where the Sun moves into your sign, but first you have to get through Libra season. On October 6, the New Moon in Libra is initiating a fresh mindset and new perspective as it relates to your daily work life and health. It's a private shift, but you will start to see changes manifest throughout your day as a result. Perhaps in the past you didn't articulate what you personally needed in agreements and were taking on too much responsibility. This New Moon is encouraging you to balance the scales and restructure your day in favor of self-preservation. It's time to put your needs first, dear Scorpion!
Changes in this area of life will continue to progress as Mercury in Libra, ruling over communication, agreements, and contracts, will be retrograde in this area of your life too until October 17. This retrograde period has brought up how certain facets of relationships, both work and personal, are no longer in alignment with you.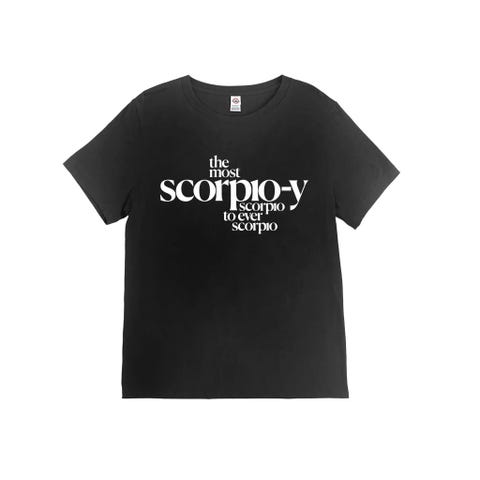 Perhaps even something as heavy as ancestral healing surrounding relationships has been a theme for you. Think of this as a clean sweep of who or what has been holding back your inter-relational progress with others! This heavy energy will start to dissipate during the second half of the month, but it's important to be aware of the Mercury Retrograde shadow period that will last until November 2.
On October 20, the Full Moon in Aries is encouraging you to take action in your work, daily routine, and health-related matters. This is when the Moon is opposite the Sun, and is illuminating even more of what you need individually in these areas of life. Aries is also an energy of fiery leadership, so the opportunity to step more into this role can occur. You could receive work assignments that require you to manage others, or start an initiative on your own. Thanks to the Full Moon's connection with Jupiter in Aquarius, this will be expansive for you in the long run, emotionally. Go ahead and take the reins, dear Scorpio.
Finally on October 23, Scorpio season officially begins! This is when the Sun will move into your sign. In astrology, when it's your sign's season, you can feel a major sense of energy, vitality, and an assured feeling of who you are. You will feel more confident especially having shed what or who is no longer a fit for you in the earlier part of the month. You can now set the stage for you to feel more confident in who you are and how you operate in relationships. Enjoy your time—you truly deserve it, my love!
Source: Read Full Article