The first big cold front of winter will whip up dust, dump hail and snow, and send the mercury tumbling before developing into a rain band that may flood parts of coastal south-eastern Australia.
The blast of Antarctic air will begin lashing South Australia from Monday as the front rolls across Victoria and into NSW, bring snow from Tuesday, and trigger severe weather alerts as it heads east.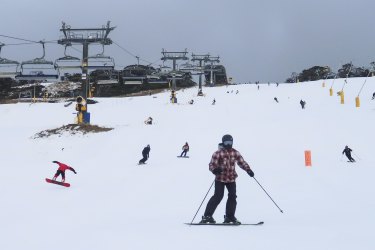 An Antarctic blast will see more snow dumped on the Australian alps this coming week. Perisher's resort opened a week early on Friday.Credit:Alex Ellinghausen
"It's a very cold pool of air," Sarah Scully, a forecaster at the Bureau of Meteorology, said. "There's the potential for small hail and also thunderstorms as well."
Sydney may dodge the worst of the turbulent weather although parts of the city's west will chill to 3 degrees come Monday morning.
Showers bringing as much as 20 millimetres of rain on Wednesday and up to 10 millimetres on Thursday will be accompanied by winds that will make Sydney's temperatures for those two days feel much cooler than the forecast 16-degree maximums.
The cold front, though, will be welcomed by ski resorts that have already had a dusting of snow in recent days. "By the end of the week, we're looking at snow dumps of between 50 centimetres and up to 70 centimetres of snow," Ms Scully said. "Just in time for the opening of the ski season."
Strong winds will likely stir up dust in part of South Australia and north-west Victoria, with the front also likely to bring snow to the higher peaks of the Flinders Ranges and the Grampians. In NSW, the central and northern tablelands should also see some white stuff, as may parts of Queensland.
Less welcome, however, could be the heavy rain associated with the cold front, particularly as the system develops into a complex low-pressure system from late Tuesday and intensifies as it moves off the NSW coast from Wednesday.
"We're forecasting a band of rain to develop right along that eastern seaboard – really from Tasmania to south-east Queensland," Ms Scully said.
As of Sunday, weather models were indicating the most intense rainfall will fall over eastern Victoria and the south-east corner of NSW, bringing the risk of flooding.
"The soils are near saturated so that any heavy rainfall that does occur over eastern parts of Victoria and eastern parts of NSW is likely to [bring] increased surface run-off," Ms Scully said.
Weatherzone meteorologist Esteban Abellan said the heavy rain could extend as far north as the Illawarra. "We could have [weekly] rainfall totals exceeding 100 millimetres by Friday," he said.
Most of NSW had begun to dry out after the state soaked in its second-wettest March on record to kick off autumn, according to the bureau.
April's average rainfall was NSW's eighth-driest on record with less than a quarter of the usual rain, while May's tallies were about 57 per cent of the average for the 1961-90 period used by the bureau as its benchmark.
Autumn temperatures were moderately cooler than average, coming in at about half a degree below the norm for mean temperatures.
For Sydney's Observatory Hill, rainfall during autumn was just shy of half a metre, or about a quarter above the seasonal average. Overnight temperatures were 0.1 degree below the autumn norm while daytime readings were about 1.3 degrees above average, the data shows.
With Tom Rabe
Liam Mannix's Examine newsletter explains and analyses science with a rigorous focus on the evidence. Sign up to get it each week.
Most Viewed in Environment
From our partners
Source: Read Full Article