Every year, there are hundreds of celebrations all over Latin American countries in honor of their independence from Spain and Portugal, known as Fiestas Patrias. But what are these celebrations really about, and how do they differ from country to country? Well, to answer that, we must look at what was happening in Latin America at the time of fighting for and gaining independence.
The History of Fiestas Patrias
Between 1808 and 1826, all of Latin America, except the Spanish colonies of Cuba and Puerto Rico, became independent nations from the colonial powers that had ruled the region for more than 300 years. Issues of slavery, production, and taxation all contributed to the overthrow of European rule, as well as the influence of the American (1776), French (1789), and Haitian Revolutions (1804).
With the help of Haitian weapons, supplies, and soldiers, the Venezuelan military leader Simón Bolívar was able to defeat Spain all across South America. He then named himself the president of Gran Colombia (present-day Colombia, Venezuela, Ecuador, and Panama), Peru, and Bolivia, and the countries of Latin America were reestablished and reconfigured as new independent nations.
However, when it came down to it, these were political revolutions rather than social and economic ones. While slavery was abolished throughout the newly freed colonies, Bolívar purposefully left the structure of the ruling classes intact, meaning colony-born whites (Criollos) could maintain their dominance.
To commemorate and legitimize the new political and social order, the Criollos organized celebrations that ranged from bullfights, dances, and fireworks to singing and participating in religious and/or military processions: Fiestas Patrias. This meant creating a new calendar that would cement war veterans, military triumphs, and anniversaries in the lives of all Latin Americans as a way to create social cohesion and order. Fiestas Patrias also served as stages for communication between governments, politicians, and their opponents.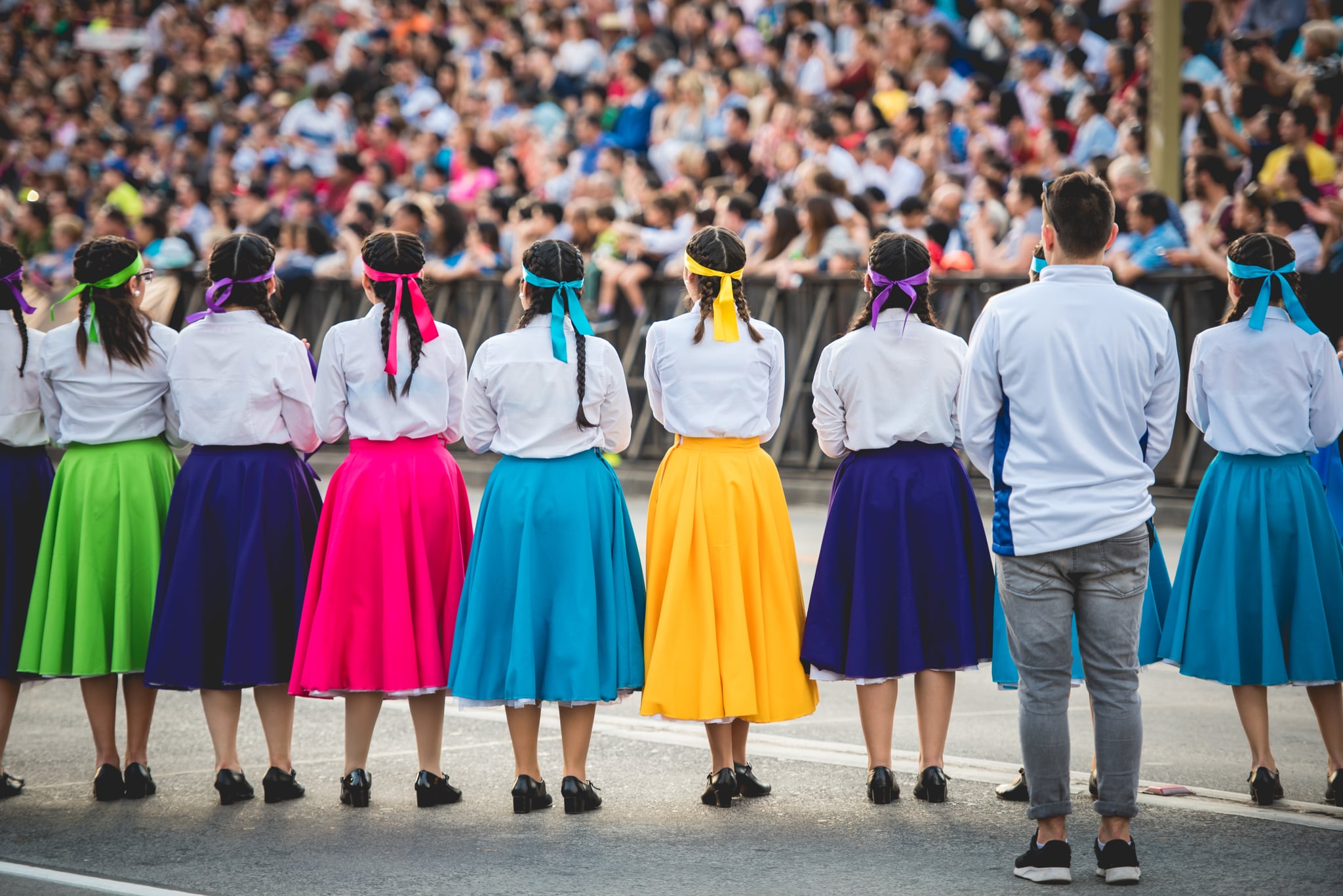 Dancers at a Fiestas Patrias celebration in Chile.
Present-Day Fiestas Patrias in Latin America
Today, Fiestas Patrias are much more lighthearted experiences that take place over the course of several days and can even last the entire month. Every Latin American country has its own unique ways of celebrating and commemorating different days of independence.
In Chile, for example, independence day is referred to as Dieciocho (meaning 18) because it falls on Sept. 18. Traditional activities include Chilean rodeo, dancing cueca, going to fondas (outdoor markets), and barbecuing. Officially, activities on Sept. 18 are centered on a religious celebration, Te Deum Ecuménico de Fiestas Patrias, which was organized by the Catholic Church.
In fact, most Fiestas Patrias have a religious component — after all, Catholicism is so deeply tied to the culture and history. In El Salvador, "fiestas patronales" consist of week-long religious processions and parties, with the main events taking place on Aug. 5. A large procession starts from the Basilica of the Sacred Heart of Jesus and ends in front of the Metropolitan Cathedral of San Salvador; then, the transfiguration of Jesus to his disciples on Mount Tabor is performed, called "the Divine Savior of the World."
On the other hand, Peru dedicates an entire day to honoring the military in an impressive display of its armed forces. Fiestas Patrias in Peru fall on July 28 and 29, and on the second day, Peruvian armed forces and national police participate in a grand procession where the streets are decorated and their weaponry is on display.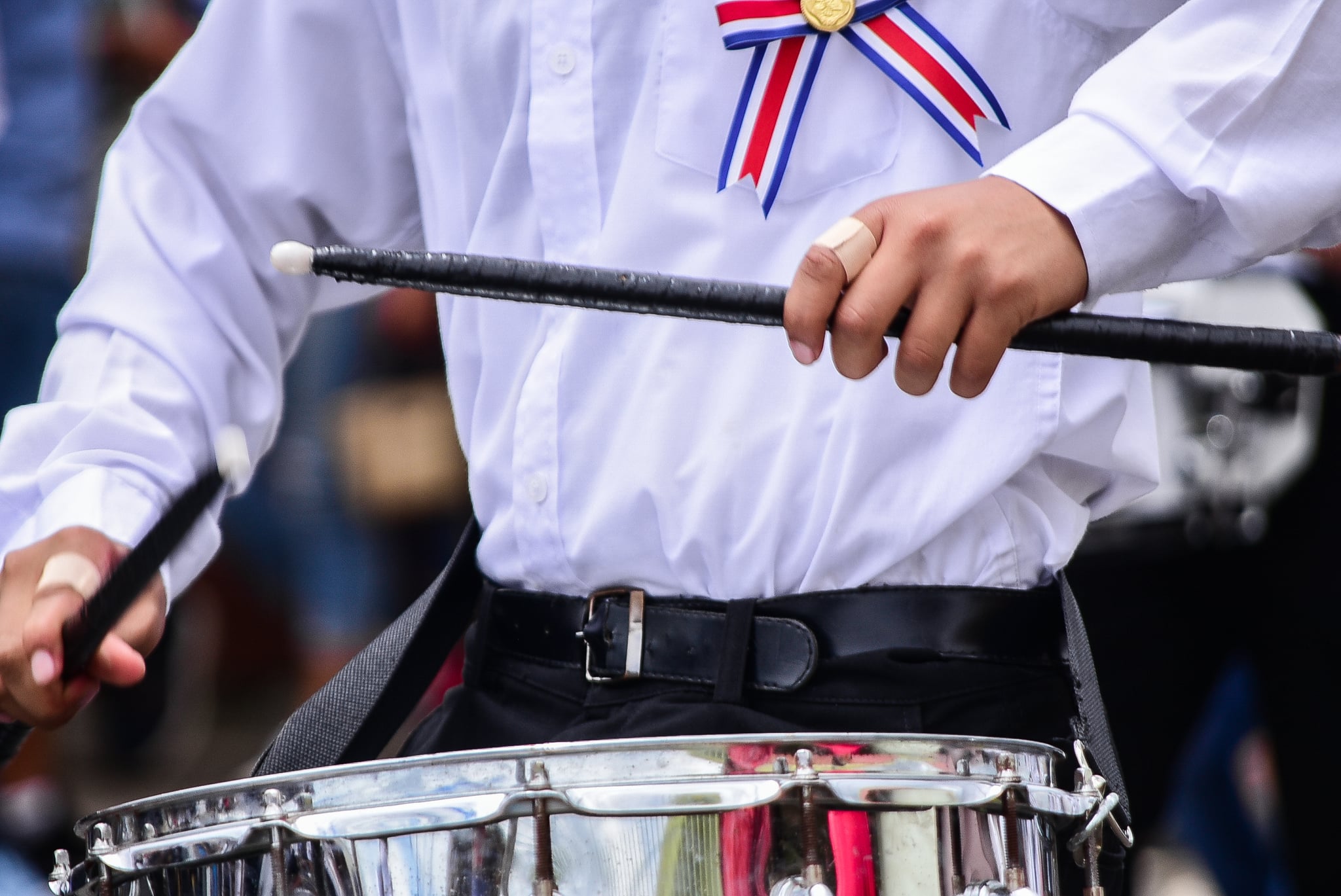 Drummer at a Fiestas Patrias parade in Costa Rica.
Present-Day Fiestas Patrias in the US
Every year, National Hispanic Heritage Month (which was first just a week) takes place from Sept. 15 to Oct. 15, which is observed by highlighting the influence and accomplishments of Americans whose ancestors came from the 33 different countries within the Caribbean, Central America, and South America.
Hispanic Heritage Week was first established by legislation sponsored by Los Angeles City Councilmember turned Rep. Edward R. Roybal. A cofounder of the Congressional Hispanic Caucus, Roybal was one of the most influential congressmen who worked on behalf of the sick, the elderly, and the underrepresented.
Hispanic Heritage Week was signed into law by President Lyndon Johnson in 1968. In 1988, with legislation sponsored by Rep. Esteban Edward Torres, the commemorative week was expanded to a month and was amended by Senator Paul Simon and signed into law by President Ronald Reagan. Sept. 15 was chosen as the starting point for the commemoration because it is the anniversary of independence of five Latin American countries: Costa Rica, El Salvador, Guatemala, Honduras, and Nicaragua, who all declared independence in 1821. In addition, Mexico, Chile, and Belize celebrate their independence days on Sept. 16, Sept. 18, and Sept. 21, respectively.
Although nothing quite compares to how they do it in Latin America, American Latinxs still celebrate and commemorate their independence days as a way to remember their heritage stateside in the form of street processions and parties, cultural dances, and family barbecues. Displays of cultural pride and rich heritage are at the heart of all these Latinx celebrations across the world.
Source: Read Full Article