Timothée Chalamet and Taylor Russell have given a masterclass in red-carpet dressing.
For the London premiere of Bones And All, British Vogue's October 2022 cover star traded his Jagger-esque jumpsuit from the Venice Film Festival for a pristine Alexander McQueen suit. (If the tailoring seems familiar, that's because Chalamet wore a black version of the same design to join Edward Enninful at a Cartier dinner back in September.) Around Chalamet's neck? A Vivienne Westwood choker consisting of silver "bones" encrusted with diamonds.
Throughout his decidedly ripe career, Timothée Chalamet has made a good point of becoming someone to watch on the red carpet stylistically. There was the bejeweled Louis Vuitton harness all those years ago, and then, alongside his close friend and collaborator, Haider Ackermann, the silver suit, the Met Gala trackpants/tux jacket combo, and of course, the recent debut of his open back at this years Venice Film Festival in the red halter neck. We can always be sure that when Chalamet is concerned, we're going to be served with a moment, and his co-star for his new cannibalistic film, Bones and All, Taylor Russell, has been right there beside him for each moment, offering up her own perfect looks.
RELATED: This Is Timothée Chalamet's Net Worth As Of 2022
For a recent premiere at BFI London Film Festival, the duo's red carpet looks did not disappoint, with Chalamet in a pure white Alexander McQueen suit with asymmetric lapels, and Russell in a Schiaparelli runway look to end all Schiaparelli runway looks from the brands Fall 2022 couture collection. It was the first look in the collection. A black, wide brimmed hat paired with a cropped black jacket with oversized, 80s shoulder pads and grapes embroidered onto the chest area. The jacket was layered over a pale satin corset which gave way to a low slung, draped black skirt. Chalamet's look complimented hers in his crisp white suit, paired with a simple diamond bone choker by Vivienne Westwood and white combat boots, per Russh.
According to Harper's Bazaar, For the film's screening at the BFI London Film Festival last night, the stars stood out in neutral, structural. Taylor Russell wore an elegant, gothic gown by Schiaparelli, featuring a black bodice with padded shoulders and floral embroidery and a midi-length skirt, with a pale-pink corset cinched at the waist and black bow decorations at the hips.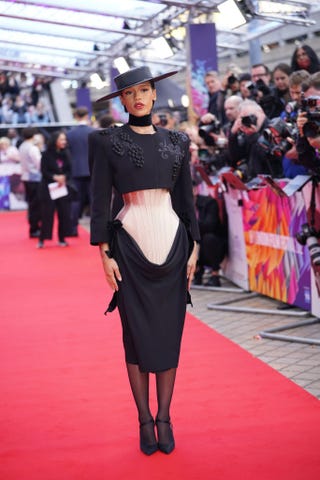 She finished the look with a pair of black, ankle-strap heels, sheer tights, a wide-brimmed hat, and a thick black choker necklace.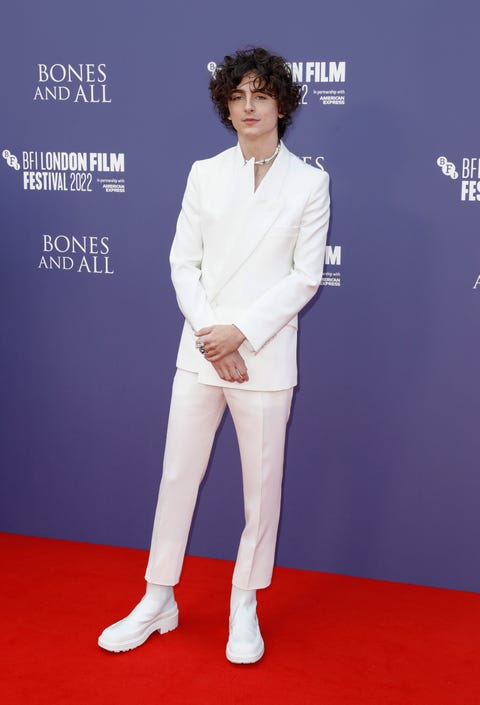 Meanwhile, Chalamet looked pristine in a white suit from Alexander McQueen's latest menswear collection, consisting of a blazer with asymmetrical lapels and pleated trousers. He paired the suit with white combat boots and a diamond choker by Vivienne Westwood.
Earlier this year at the Venice Film Festival, the pair went with more colorful looks. The Canadian actress wore a green couture gown by Balenciaga, which consisted of a strapless minidress with an added full-length front panel and large decorative bow. Her accessories included with white opera gloves, opaque black tights, and black heels.
The Call Me By Your Name actor chose an eye-catching custom Haider Ackermann suit, which included a backless, halter-style vest, skinny trousers, and a loosely-tied scarf, all in a shiny crimson red. The star forewent jewelry, finishing the look with a pair of black ankle boots.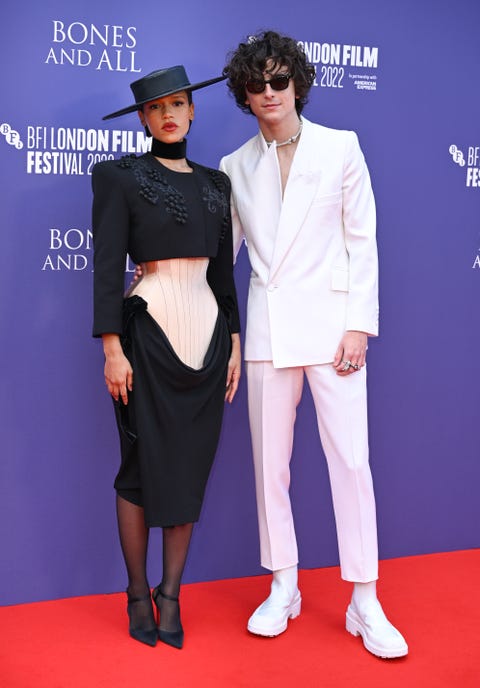 If Chalamet's love of – and influence on – fashion is already well established, Russell has proved herself an industry favorite in the making in recent weeks. Take the fact that the 28-year-old opened Jonathan Anderson's spring/summer 2023 offering for Loewe in a velvet Renaissance-inspired dress. "I always had this vision of her opening the show – she's a really good friend of mine – and I just thought there was something about this decision that was about the future of acting and performance," Anderson explained after her turn on the runway. More recently in New York, meanwhile? The Vancouver native channeled Audrey Hepburn in a strapless Prada gown and diamond Cartier headpiece.
As for her off-duty wardrobe: "It's either throwing on everything that's extra large and baggy, where all you can see is my head, or it's pieces that are super tight and feminine with revealing details – I like both ends of the spectrum," Russell shared with Vogue. "I rarely buy new clothes, as I invest in a lot of pieces from vintage dealers and I love Prada, Yohji Yamamoto, Comme des Garçons and Tom Ford-era Gucci." Sustainably minded and willing to take risks? She's won us over already.
READ NEXT: Arnold Schwarzenegger Offers Personal Training Session For $150,000 For ASAS
Sources: Harper's Bazaar, India Shorts, Russh, Teen Vogue
Source: Read Full Article