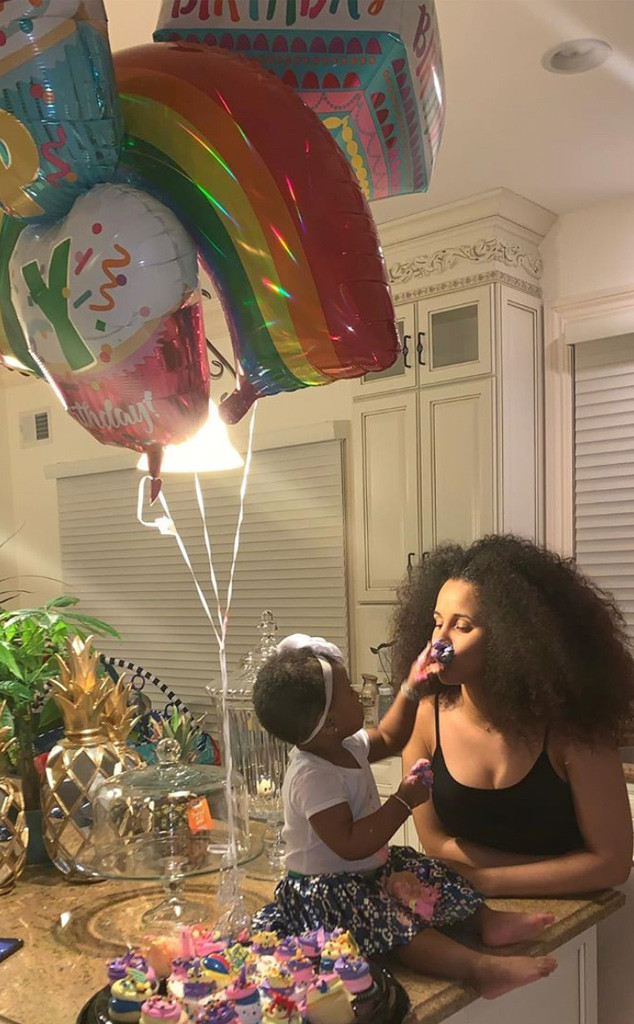 Instagram
Happy birthday, Kulture!
Cardi B and Offset's baby girl turned 1 on Wednesday, and the Grammy-winning rapper couldn't help but feel a little emotional on her daughter's big day.
The "Bodak Yellow" star took to Instagram around midnight and shared a photo of the mother-daughter duo enjoying a late-night sweet treat. The snapshot showed Kulture sitting next to a tray of cupcakes and rubbing a bit of frosting on her mom's face. The birthday girl—who topped off her skirt and T-shirt ensemble with a big white bow—also received a bunch of balloons.
"A little quick 12 o clock turn up," Cardi captioned the photo along with a few weary face emojis. "my baaaaaaaaaaaybeeeeeeeeeeeeeeeee…..Ok goodbye."
It's hard to believe it's already been a year since the recording artists welcomed their bundle of joy into the world. As fans will recall, Cardi kept her pregnancy hidden from the public for quite some time. While her admirers had suspected a baby was on the way for months, it wasn't until Cardi revealed her baby bump on Saturday Night Live that these rumored were confirmed. She announced via Instagram that her baby girl had arrived three months later.
"She is so fun. She is so cool. Like, I love her. She's like my little best friend," Cardi told E! News in April. "She just makes the gloomiest days, like, sunshine. I love it. It's like a slice of heaven."
Initially, the superstar refrained from posting pictures of her little one on social media. However, the proud parents have since shared several adorable photos with the public. In fact, Offset included his daughter in the cover art for his album Father of 4.
To look back at some of Kulture's cutest moments over the year, check out the gallery.
Instagram
Birthday Fun
The superstar's daughter turns 1!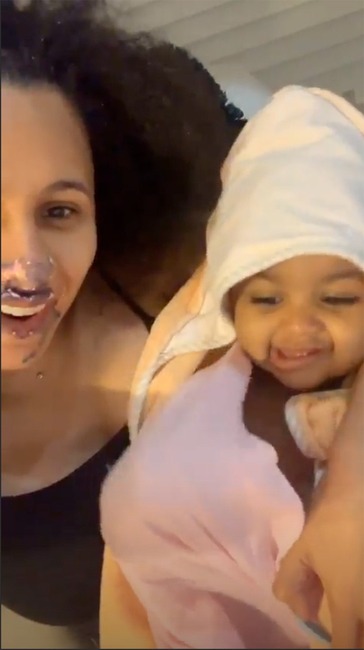 Instagram
A Sweet Treat
The rapper gives her little one a bath after enjoying some cupcakes.
"We gonna turn up as soon as I get you dressed," she says.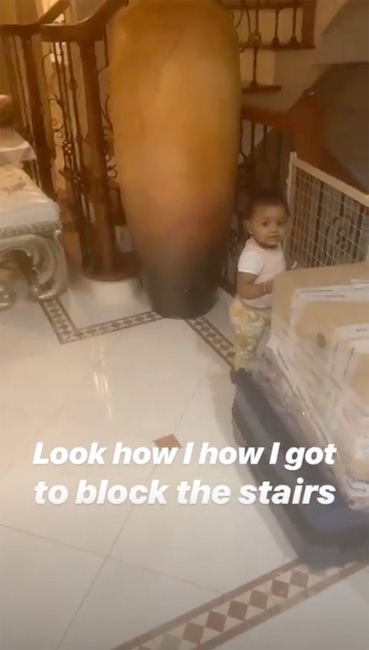 Instagram
On the Move
With her daughter on the move, Cardi makes sure to baby-proof her home.
Article continues below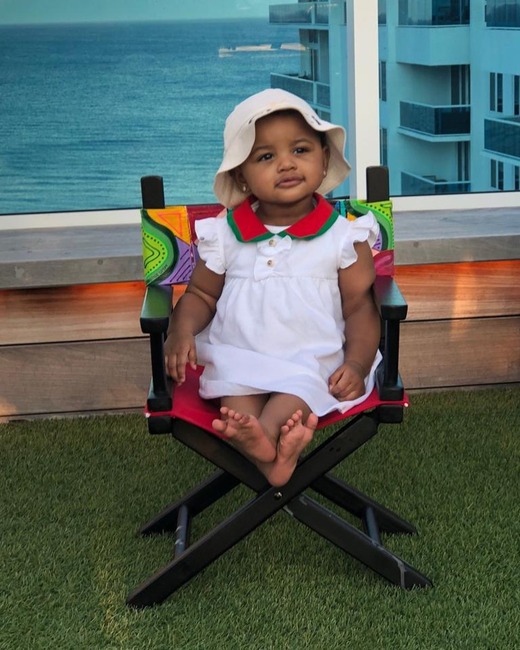 Instagram
Little Lady
Baby Kulture is growing up right before our eyes!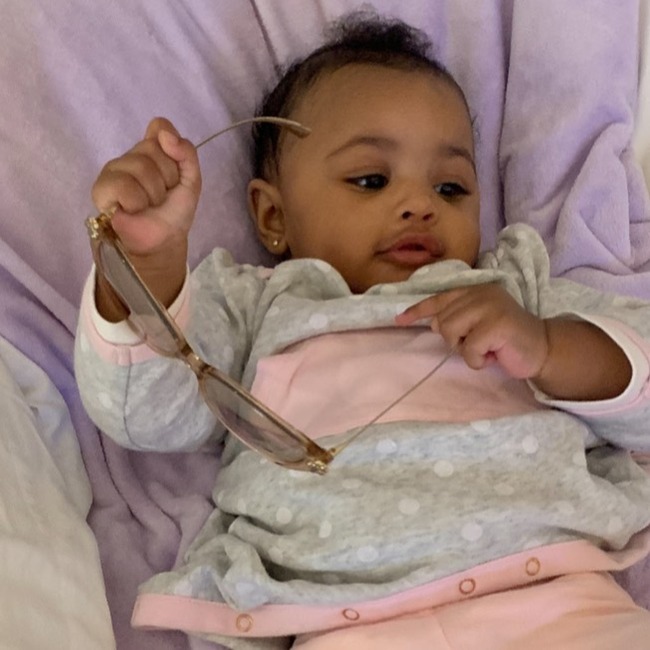 Instagram
Birthday Girl
"My baby 11 months and I can't handle it," Cardi shared online. "What's wrong with me? I been emotional all day. I'm fine, I'm fine, I'm fine. I'm madly, overly in love with my child."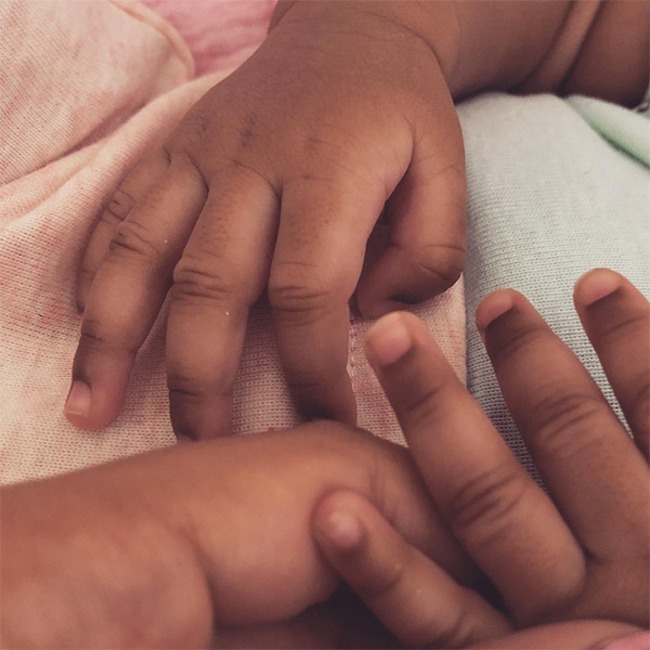 Instagram
Mother-Daughter Moment
On Sept. 2, Cardi took to Instagram to share a photo of herself and daughter Kulture touching hands. "I needed a girl like you. KK," Cardi captioned the sweet mother-daughter moment.
Article continues below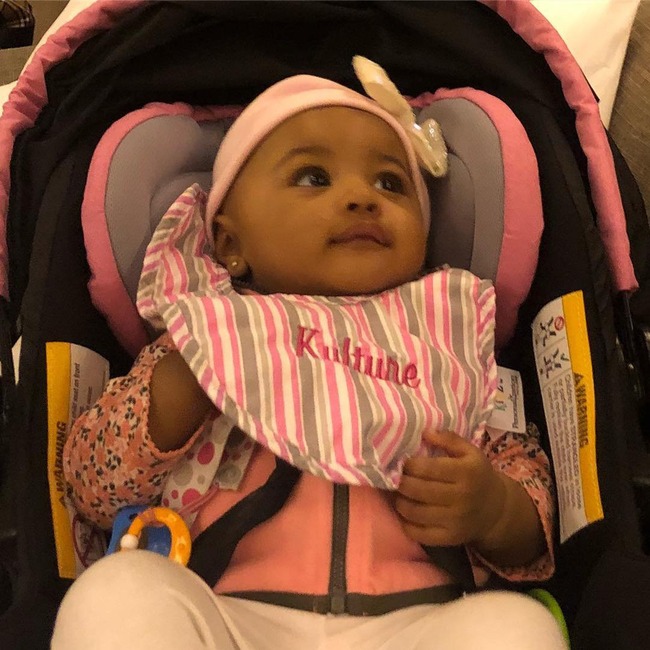 Instagram
First Photo
The 26-year-old rapper posted the first picture of Kulture's face in December, writing alongside the photo, "My heart."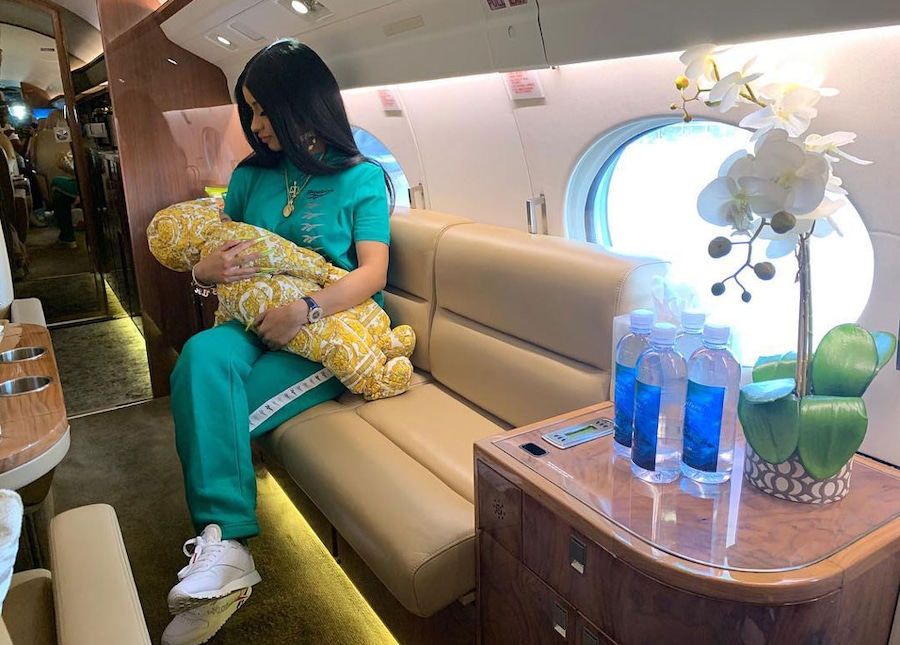 Instagram
Private Jet
"I gotta fly I need a jet yea I need room for my legs , I got a baby I need some money shiieeet I need cheese for my egg ❤️ #Reebok," Cardi captioned the Instagram post.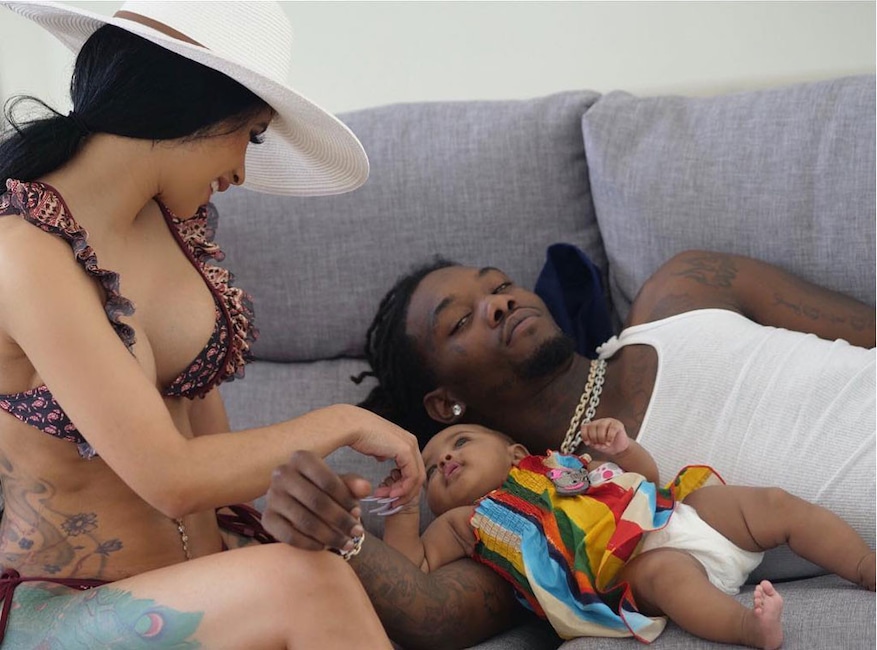 Instagram
Family Vacation
The Grammy winner posted a family photo on Instagram in February, writing, "PUNTA CANA ❤️ @offsetyrn KK 3 month old."
Article continues below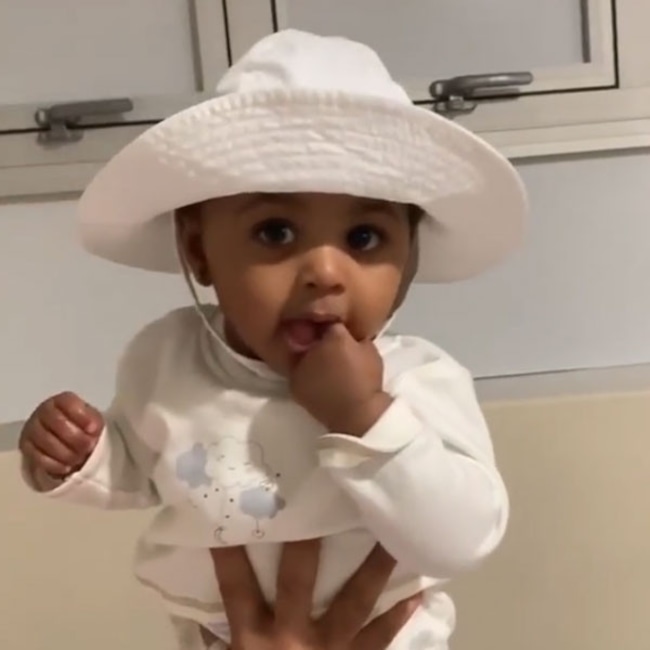 Instagram
"My Beautiful Baby Girl"
"Yay, Kulture!" Cardi could be heard saying in the Instagram video. "Kulture, look at mommy! Look at mommy! Look at mamma! Pretty girl." Offset captioned the post, "My beautiful baby girl #raisingqueens."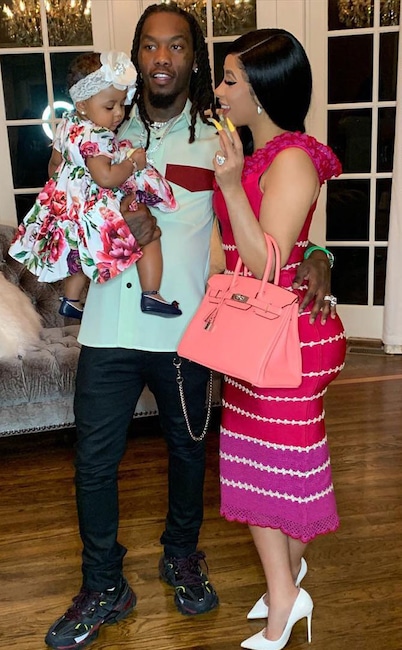 Instagram
Easter Baby
"Happy Easter from mines to yours," Cardi captioned this sweet family photo.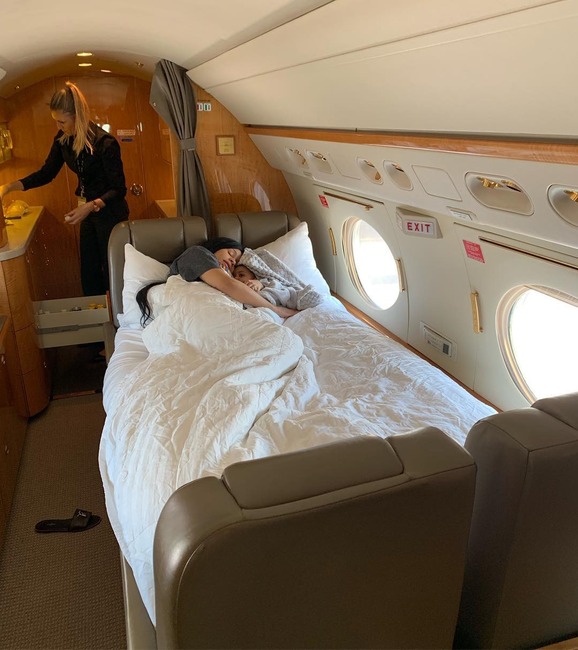 Instagram
In-Flight Snuggles
"Boutta blast but we missing poppa bear," the proud mama captioned her post. "What a great weekend/holiday we had. There's nothing more valuable then family time."
Article continues below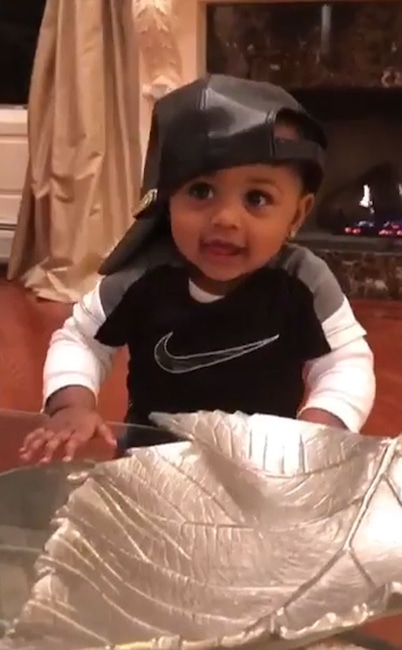 Instagram
I like it
Kulture dances around to her mom's hit song "I Like It." She clearly loves it like that because she has a huge grin on her face! "KULTURE REMIX 'I LIKE IT' ALREADY PLATINUM. SO MUCH CHARACTER I LOVE HER," her dad Offset writes on Instagram.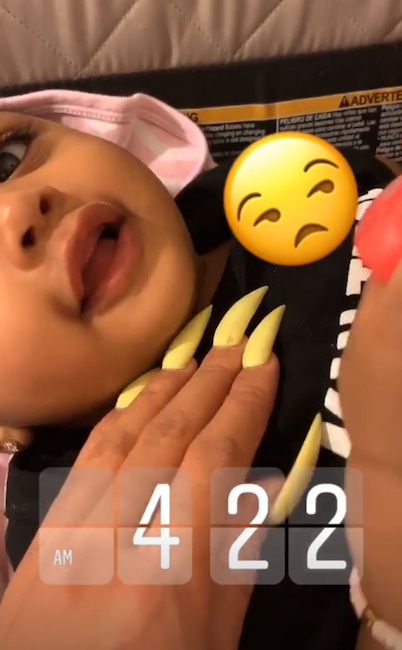 Instagram
Too early
Cardi seems a bit unamused that her baby girl wants to play and chat at 4:22 a.m. Despite the early hours, Kulture still flashes a smile.
We can't wait to see what this next year will bring!
Don't miss E! News every weeknight at 7, only on E!
Source: Read Full Article