Save articles for later
Add articles to your saved list and come back to them any time.
Two Liberal MPs leading the push to expel Moira Deeming from the parliamentary team are urging their colleagues to support their bid to end the crisis that has dogged the party for weeks.
Roma Britnell and Cindy McLeish – among five MPs who co-signed a motion to expel the Western Metropolitan Region MP from the party room – told The Age Deeming overstepped the mark when she threatened a legal challenge against her suspension six weeks ago.
Roma Britnell, Moira Deeming and Cindy McLeish.Credit:
The latest move to eject Deeming from the parliamentary ranks has prompted Opposition Leader John Pesutto to declare he expects the Liberal Party to deal with her membership if the push on Friday is successful, as is widely tipped.
One Liberal MP confirmed further sanctions were also expected against unnamed Liberal MPs who they believe have not been loyal to the leader.
Deeming survived an expulsion motion six weeks ago when a compromise was reached to suspend her for nine months over her attendance at a Let Women Speak rally that was gatecrashed by neo-Nazis.
However, Liberal MPs will now meet for a second time to vote on Deeming's future, with widespread acceptance – including among her supporters – that she will be booted from the party room for threatening legal action against the party and Pesutto.
McLeish, the member for Eildon, said: "We need to bring all of this to an end, and I think that motion is going towards doing that."
"I am absolutely over it, and the situation seems to be getting worse and worse. Last week, the way it unfolded during the week, as far as I was concerned really overstepped the mark."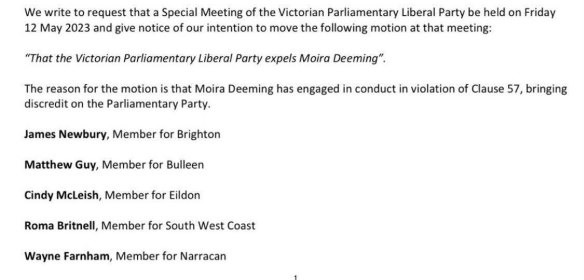 The notice of motion to expel Moira Deeming from the Liberal party room.Credit:
Britnell said the relationship between Deeming and the Liberal party room had been irreparably damaged, and that she should be expelled. The South-West Coast MP said she decided to co-sign the motion because she wanted to stand up to people who were portraying Deeming's suspension as an attack on women.
"I've worked in women-dominated environments most of my life as a nurse, and when you use the woman card, it doesn't take the cause that we've all been fighting for so long forward; it takes it backwards," Britnell said.
"I needed to stand up as a woman. This is purely about the fact that this situation is untenable."
In response to her colleagues' comments that the saga had to end, Deeming told The Age: "That's what I've been asking for this whole entire time."
The first-term upper house MP told colleagues on Thursday she had "advised lawyers to prepare a legal challenge over my suspension" because Pesutto had not fulfilled the terms of her suspension by issuing a public statement exonerating her from the imputation she was a Nazi sympathiser.
The Liberals interpreted that as a legal threat, but in a statement on Saturday Deeming denied she intended to sue the party and its leader or mount a legal challenge. Deeming said she had only wanted a lawyer's assistance to help clear her name and resolve her suspension.
In her statement hours before the expulsion motion was circulated, Deeming said she was moving on and that she looked forward to re-joining the party room at the end of the year. "I was elected as a Liberal; I remain a proud Liberal," she said.
Deeming's supporters remain furious with the way the matter has been handled, saying she has been denied natural justice and fair process. They said she exhausted all avenues for internal resolution, and had only wanted an independent legal arbiter to help her resolve it.
One of Deeming's allies, Karina Okotel, former vice president of the federal Liberal Party, told The Age: "Less than six weeks ago, Moira made a very courageous public disclosure of childhood sexual abuse. We know that after such disclosures, survivors can experience a significant exacerbation of symptoms. I would expect that the party would have provided her with support, counselling and empathy."
Other Deeming supporters also said the leadership team failed to provide Deeming a formal, written record of exactly what MPs had discussed and decided about her on March 27, the day she was suspended but avoided expulsion.
Moira Deeming and John Pesutto before the pair's relationship soured.Credit: Facebook
Pesutto also did not issue a public statement, which Deeming considers central to the settlement, making clear the upper house MP had no association with Nazis, did not share their hateful sentiments towards trans people and was not a Nazi sympathiser.
Pesutto denies agreeing to issue a statement, and this week said he had repeatedly mentioned in press conferences he did not believe Deeming was a Nazi sympathiser.
When Pesutto moved against her in March, Liberal sources at the time said there was little appetite to expel Deeming for attending the Let Women Speak rally. But one senior source on Sunday said the legal threat was a "bridge too far".
The opposition leader now expects the party to expel her.
"I know there is growing concern in the organisational wing that this is the second time that this matter has come before the party room and I expect there will be an organisational response to that as well," Pesutto said on Sunday. "But I'll leave that to the organisation."
Any member of the party's administrative committee, including Pesutto, could move a motion to remove her from the party, but for that to be successful, it would require at least two-thirds of the 19-person committee to back it.
Branch members in the state and federal electorate conference where Deeming is based could also move a motion. Expulsion motions are then referred to the state assembly, where two-thirds of the 160-person assembly would need to support it.
However, it is notoriously difficult for the party to expel members. The Liberal Party in 2021 failed to eject Sol Green, who called the police to a Prahran state electorate conference he was chairing in an attempt to block state party treasurer Owen Guest from attending. It was also unsuccessful in dumping Peter Adamis, who was accused of "repeatedly sending to large numbers of party members newsletters defaming, denigrating and harassing a wide range of party members".
One Liberal source, who in March was unconvinced there was a case to expel Deeming from the party, on Sunday said while it was difficult to predict the outcome of the vote, there was now a stronger case to dump her.
"The first one was controversial, but threatening legal action and saying you weren't threatening it, is a bridge too far," the Liberal source said. "The party would be more generally likely to follow the parliamentary team now."
But a close source to Deeming said they would be surprised if a push to expel her from the Liberal Party succeeded, and that disgruntled rank-and-file members were expected to confront Pesutto and the senior leadership team at a state council meeting scheduled for May 20-21.
The Morning Edition newsletter is our guide to the day's most important and interesting stories, analysis and insights. Sign up here.
Most Viewed in Politics
From our partners
Source: Read Full Article