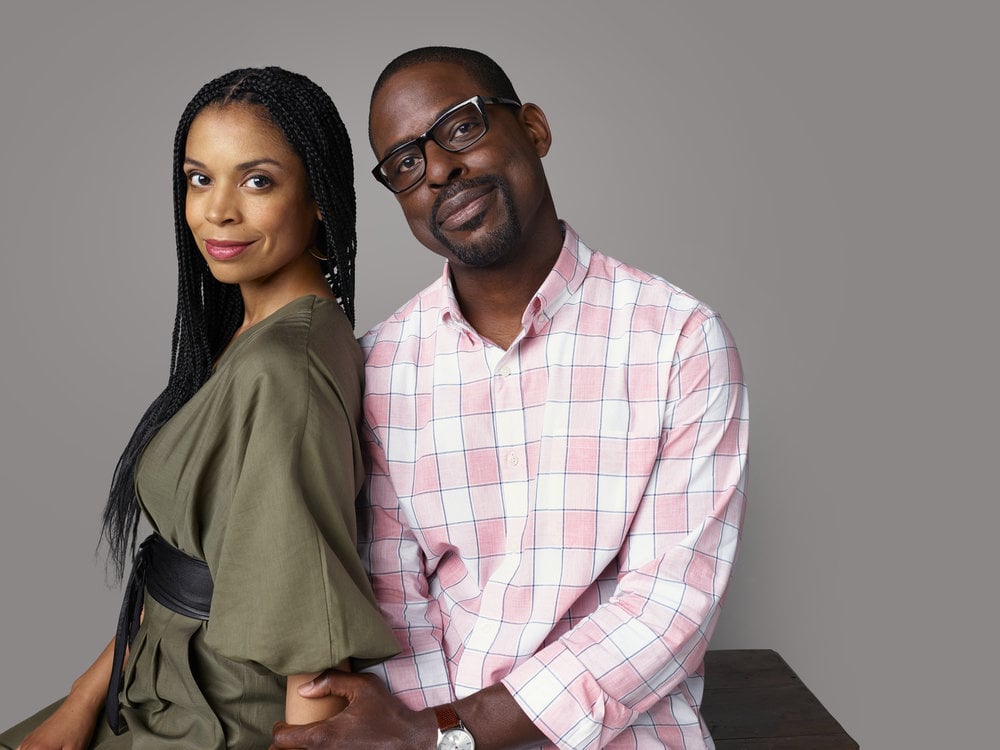 At one point in time, I had to deactivate my social media accounts and stop watching the news to preserve my mental health. I was so tired of seeing Black people headline the news, whether for crime, being disproportionately affected by COVID-19, or as victims of police brutality. Time and time again, my saving grace has been entertainment; it has helped me create my own utopia. It is where I can re-create a world where Black people are safe, celebrated, and belong. Here are a few of my entertainment safe havens.
1. This Is Us
When I want to be vulnerable and live vicariously through an imperfectly perfect modern Black family, I watch This Is Us. Right now, it is hands down my favorite show. There isn't a single episode where the interaction between Randall (Sterling K. Brown) and Beth (Susan Kelechi Watson) doesn't bring me to tears. During those moments, I mourn the Black family and the Black love I never had. I also remember it's possible to bask in that kind of love. It reminds me that perfection is an illusion, but Black love isn't. Seeing as the Black family is often characterized by mass incarceration and systemic poverty, it is refreshing to see a representation that's positive and abundant.
2. Afrobeats, R&B, and Gospel
Music is my lifeline. When I go more than a day without listening to it, my energy feels off. I especially love music by Black entertainers — it keeps me going! Some artists I presently have on repeat are Burna Boy because of the cultural pride I feel when I listen to his songs, and Tems, because she's carved a niche for herself as a female afrobeats artist with an "urban sound that embodies a fusion of alternative R&B and Neo soul genres," as Spotify puts it.
I also find refuge in Black gospel music when I feel lost and need direction, or when I feel peace and want to protect it. Tasha Cobbs, Chandler Moore, and Travis Greene are some of my favorite contemporary artists — they make me feel on days that I'm numb because of life's hardships.
Then, there's '90s R&B. Sometimes I need to sing songs from Brandy's Never Say Never album at the top of my lungs to get myself out of a funk. I'm sure I've heavily contributed to the millions of streams for Boys II Men, Jazmine Sullivan, and Jagged Edge. There is something about Black musical entertainers I deeply connect with. Their music reminds me that I'm seen, heard, and never alone.
3. Real Housewives of Atlanta
When I want to feel the joys of having a Black circle of girlfriends, I watch The Real Housewives of Atlanta. I'm a loyal fan — I've watched every single season and followed the cast members through their individual growth. Why is RHOA an escape for me? I'm almost guaranteed to laugh during every episode, and it shows me what's possible when Black women come together. I enjoy watching the cast members support each other, have difficult conversations, and have fun! It makes me grateful for the true friends I have and the indelible moments we share. My girlfriends have been my lifeguards when the tides of life have tried to carry me away (one too many times). It also reminds me that despite the many friendship heartbreaks I've endured, true sisterhood is possible.
(I have to add that the evolution of Porsha Williams is one of my favorite things to watch. She went from not knowing what the underground railroad was to now being an advocate for Black victims of police brutality; that's dope.)
4. Black Twitter
Sometimes life sucks, and the only thing that helps me see the gold at the end of the end of the rainbow is a belly-aching, back-breaking laugh. And I know without a shadow of doubt I can get that from Black Twitter. They can take the most mundane topics and turn them into pure comedy effortlessly. As the saying goes, laughter is the best medicine. So, Black Twitter is definitely a go-to; it's an epicenter of entertainment for me.
5. Classic Black Sitcoms
There are days I want to feel good and enjoy guilt-free relaxation. On these days I'm binge-watching every Black sitcom I can find, be it Martin, The Fresh Prince of Bel-Air, Girlfriends, or Sister, Sister. These shows made my childhood unforgettable and remind me in adulthood how magical Black people are. I watch these shows with pride because people that look like me are talented, funny, and create timeless art. I also love the depictions of functional Black families in all of these shows, although the dynamic is different in each.
In the future, I hope to see more reality shows that focus on the positive impact Black people are making in communities. I'd like to see more documentaries that move beyond slavery and suffering and look at the strides we're making in the right direction. I want to see the Black family on TV again, but not ones that perpetuate the stereotypes we want the world to unlearn! Finally, I want to see Black entertainment that shows people of color in unconventional settings. We are bikers, travelers, adrenaline junkies, tech gurus, and so much more! I'd like to see Black entertainment used as a medium to shatter stereotypes about Black people and show us as we truly are: multifaceted.
Source: Read Full Article