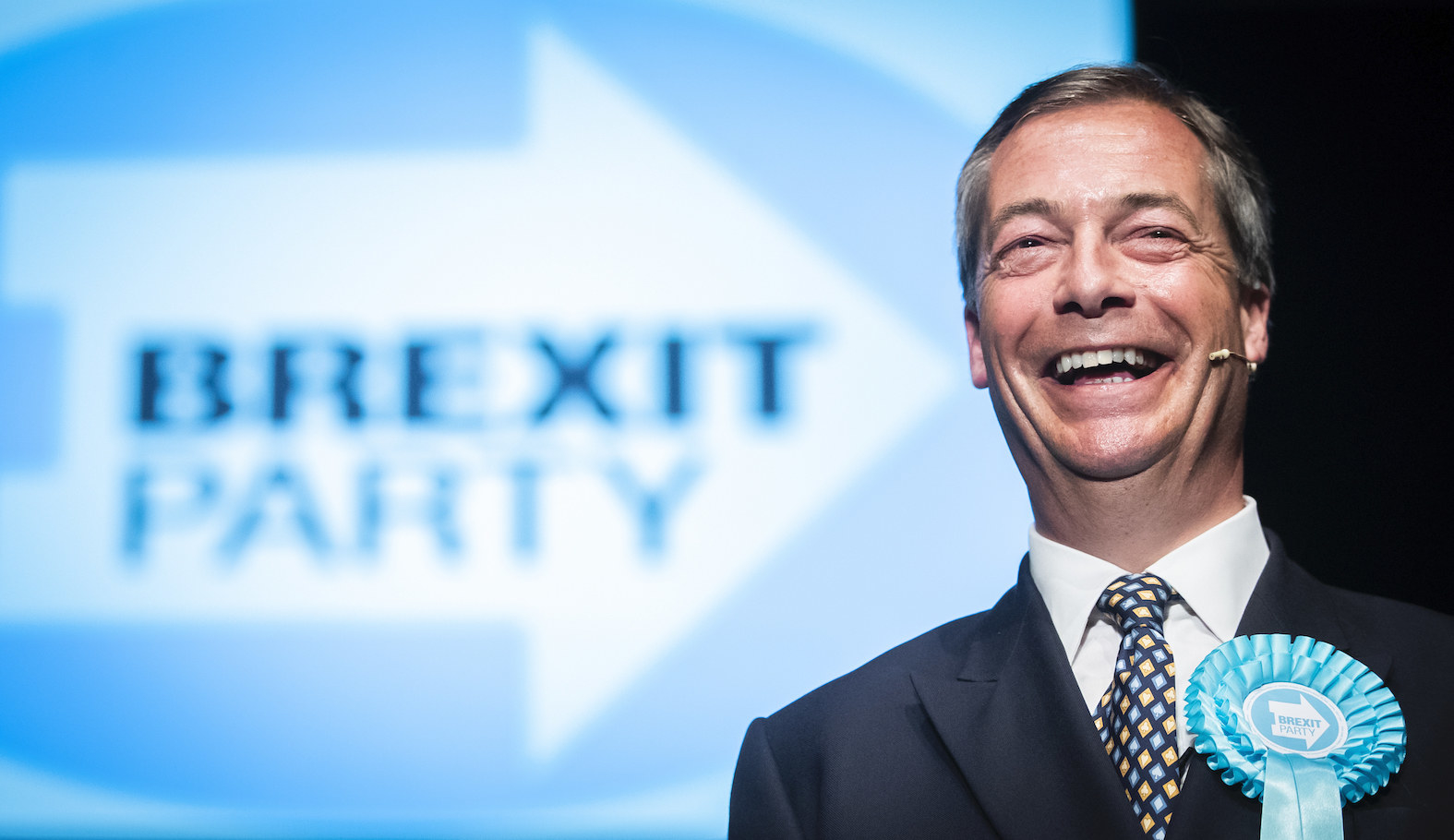 Nigel Farage at a Brexit Party rally in June.
The Brexit Party will reveal the names of 150 general election candidates in the coming days, as it delivers a stark warning to Boris Johnson that it will not stand aside for even the most ardent pro-Leave Tories.
The Brecon and Radnorshire by-election on Thursday will be the party's first test against the Tories, since Johnson was elected prime minister last week.
There is fury among Conservatives in the mid Wales seat that the Brexit Party has chosen to stand against Tory eurosceptic Chris Davies, splitting the Leave vote.
It means the anti-Brexit Liberal Democrats have come through the middle to become frontrunners, helped by the Green Party and Plaid Cymru which are not standing, in order to allow the Lib Dems to pick up more votes from Remainers.
The Brexit Party will unveil the names and constituencies of the candidates amid mounting speculation that a general election is inevitable by the end of the year given Johnson's wafer-thin majority in parliament.
Johnson has promised that to lead Britain out of the European Union by October 31 "do or die", but the Brexit Party is highly sceptical.
Led by Nigel Farage, it is planning to field candidates in all 650 seats and wants to particularly target Leave-voting, Labour-held seats in the north of England such as Hartlepool, where Johnson is not popular.
Party chiefs believe that doing deals with Tory MPs elsewhere will put off Labour voters because it will look like they are "propping up Boris".
The 150-strong list this week will include candidates for both Tory and Labour Leave areas, who have "never touched UKIP with a barge pole but wanted to put themselves forward for this", one source said.
The Brexit Party has not denied a report from BBC News that the Conservatives sought a pact ahead of the Brecon by-election in a bid to prevent the Brexit vote being fractured.
The poll is taking place after Davies, a former Tory MP, lost the seat in a recall petition after he was convicted of two charges of making a false expense claim. The Conservative party then reselected him to stand again in the constituency.
He is up against the Brexit Party's Des Parkinson, a retired police superintendent who stood for UKIP at the 2016 Welsh Assembly election.
A Brexit Party spokesman said it would not give the Conservatives an easy ride. "Every single time Farage has led a charge, the Tories have said 'oh you don't need to do anything more, leave it to the professionals' – well, look at what they've managed to do on Brexit in recent years," he said.
"I'm absolutely convinced that October 31 will just be the withdrawal agreement with a blonde wig and people will feel let down yet again.
"They've got to understand that until we are out of the EU and that referendum is honoured, we will field candidates in every seat. If we were to say we're not going to stand against the Spartans [the most hardline Brexiteer Tory MPs], then it sends a signal to the Tories and Dominic Cummings [senior adviser to Johnson] that we're not serious. We need to hold their feet to the fire."
Johnson is expected to visit Brecon and Radnorshire this week to give Davies a final boost ahead of Thursday's election. If Davies fails to hold onto the seat, Johnson's working majority in the Commons will fall to just one.
Lib Dem candidate Jane Dodds is hoping to win the seat which would be a major victory for new party leader Jo Swinson, and increase the party's number of MPs from 12 to 13.
More on this
How Dominic Cummings Took Control In Boris Johnson's First Days As Prime Minister

Alex Wickham · July 27, 2019

Meet Jo Swinson, The New Lib Dem Leader Who Believes The Brexit Fallout Could Carry Her Into Number 10

Emily Ashton · July 22, 2019
Emily Ashton is a senior political correspondent for BuzzFeed News and is based in London.
Contact Emily Ashton at [email protected]
Got a confidential tip? Submit it here.
Source: Read Full Article