"How can you do something better than a classic? How can you re-design something?" For the Chinese-born designer Feng Chen Wang, it's a recurring question. From a young age, Wang was customizing her first-ever pair of Nikes, because she didn't want her parents to throw them away (as they were worn-out). And ever since then, her design approach has fundamentally been about customization: how to adapt something and give it a new life. 
It's an approach that has served her well in her career as a designer. For her Spring/Summer 2018 collection, titled "Made in China", Wang customized a handful of AJ1s with "Made in China" washing labels and small metal letters that spelled out her eponymous label. While few pairs exist, it kick-started a relationship with the Nike group, ultimately leading to her creating her own pair of Converse Chuck 70s, Jack Purcells and Pro Leathers.
But her appreciation and understanding of the Air Jordan 1 is the same as many other fans of the style: based on a fundamental respect for its legacy, cultural and historical impact, and its timeless design. She didn't want to mess with it. So instead of breaking the rules, she bent them. 
Here, Wang talks about her history with the AJ1, and shares her perspective on adapting an icon. 
Feng Chen Wang
HYPEBEAST: What got you into sneakers?
Feng Chen Wang: I remember when I was a kid, my first pair of sneakers that I had saved a lot of money for over a few months to buy, was a Nike sneaker. I wore it every day to do whatever I was doing. I wore it for such a long time that it was crushed and broken, so my parents wanted to throw them away but they were very special to me. I started to customize that pair of shoes. 
Did customizing these make you want to start designing?
It's a part of that. I like lots of things, but I always liked fashion. Every time my parents took me shopping I always knew what I wanted to pick up. I didn't want my parents to dress me up, I wanted to pick whatever I liked. I always had an idea that I needed one sneaker and they would always come together.
As a fashion designer, not every fashion designer draws clothes and designs a sneaker [alongside it in the look]. Since I was a fashion student, when I design a total look I am always aiming to find a pair of sneakers that match that look, which is something I did at university and in my Masters. When you're a young fashion student you can't work with any brand, so I was making my own. 
So clothes and shoes are cohesive in the design process?
It's very important. I think it's more about people's attitudes. Are you going to wear a sneaker, or a high heel? It shows yourself from your inside.
Feng Chen Wang
What was the experience of your first collaboration like?
My first collaboration was with the Air Jordan 1. I really like classic shoes and that's why I wanted to do that — I always pick up the classics. My first globally available collaboration, available to buy, was with Converse — and that was a very different journey. 
This was your first dual-branded, mass-produced collaboration. How was this different from the SS18 AJ1, and how did you find the right balance in design?
We started from the AJ1 relationship because Nike and Converse are now one company. We all know each other. After two years, we started working with Converse. 
They quite like my designs and me as a designer, so we met together. The thing I like about it is the youth culture — we design for lots of people, not just a young generation, because it doesn't matter about age or gender, it can be anyone who likes the clothes or shoes. 
We have some commonalities. That's why when we decided to design with Converse, I decided to bring in more Feng Chen Wang signatures. Something for creatives, something that breaks the rules. It's not just applying our graphic to the shoe, it's something else. Apply new things.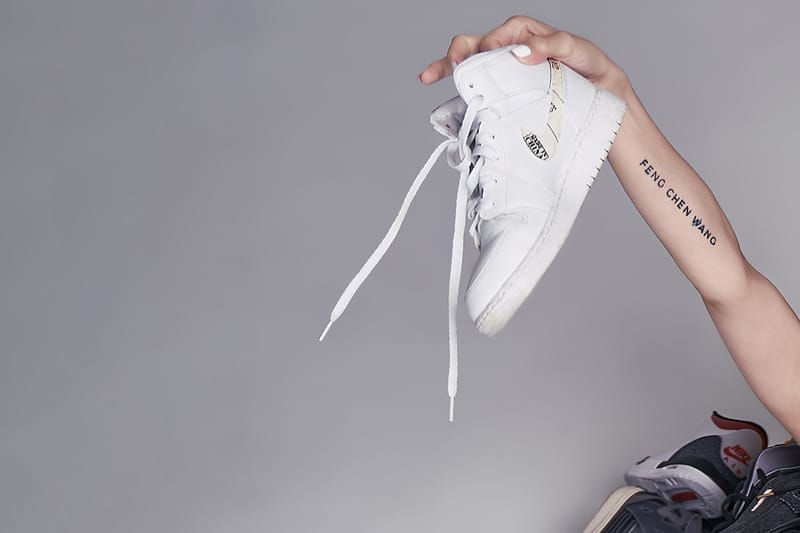 Feng Chen Wang
What is the signature that you wanted to add?
I used reconstruction. I didn't change the classic design, but every single line and point was always there, just reconstructed. But the point behind it wasn't about how I reconstructed it, because other people can copy that, the key point I used in that design was actually based on my personal story, called "My Half." I was half of myself, and that shoe was the other half. 
The story behind the design is always known to you, and that's something different. When I design my own fashion line's clothes, it's always from my true and real story where emotional things come out into garments. This is what I think is super important to bring out, to bring out the insider's story through design. You will stand out and make things different. 
You speak about classic sneakers, so why did you choose to spotlight the Air Jordan 1 for Sole Mates?
It's not just about a pair of sneakers, it's how you relate it to your lifestyle and personality. The other part is about community — you have lots of friends and you can all sit together and talk about the AJ1 all night. It's not about the shoes, it's related to everything together. 
We know that word, "AJ1." 
Because I am a female design, a lot of my [male] friends are surprised that I can talk about the AJ1. They can talk about it to male friends, but every time I talk about it, I am the only girl there. They all think, "oh my god, how is this possible?" It's a different story, but I think it's the future. The line between female and male conversations will become different in the future. Some people think about these things as something that belongs to men, but in the future, it might become less clear, the line might disappear. 
To me, it doesn't matter about male or female. It's something that you love, and people can come together and talk about that. 1 of 2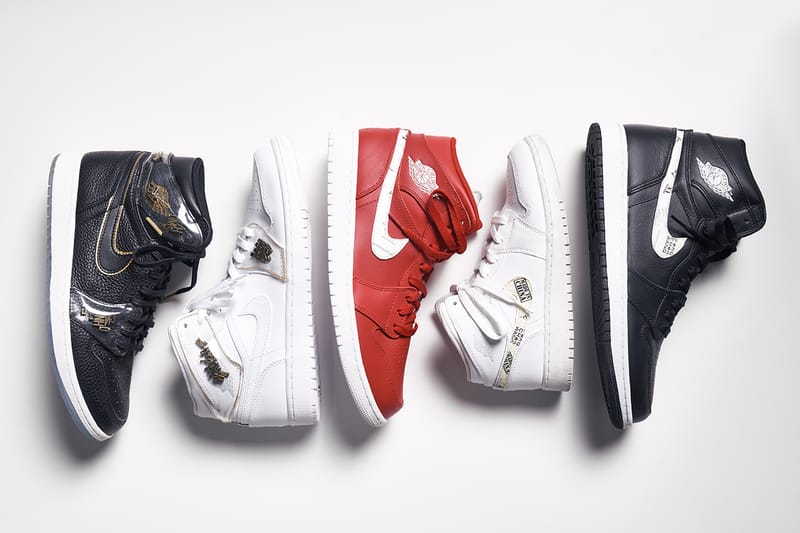 Feng Chen Wang2 of 2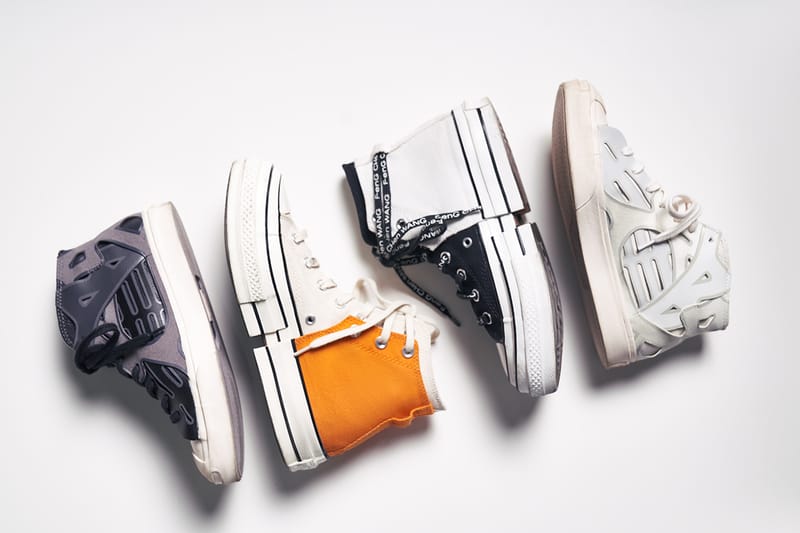 Feng Chen Wang
What makes your AJ1 stand out?
That was my first time putting an AJ1 into a runway show at fashion week. I didn't want to change too much, compared to what I did for Converse (that's a very different story). It's such a perfect pair of Air Jordans.
However, I still wanted to make something "the first." My SS18 collection was called "Made in China," and I used lots of made in China washing labels and stitched them onto the AJ1 and, although there's not much change, you can still see the craftsmanship and design which was quite hard, as you are using all these labels from all different pieces of my collection and garment. I used 3D letters that spelled out Feng Chen Wang as well. 
These were tiny designs, because I wanted to keep the original [elements] but add a small, special thing. I got some requests from friends who wanted to wear them, so I customized some for them. 
It seems — and correct me if I am wrong — that you like to keep the classic sneakers' origin story, which is different from a lot of collaborations right now. What are your thoughts on the sneaker industry as of now?
I don't want to re-design too much on a classic pair of sneakers because they are a classic. It is what it is. It has such cultural and historical importance behind it, with a story for that pair. It's become super iconic. It's the most difficult thing, to keep it classic but to give the sneaker a new life. Some pairs have 100 years of history — how can you do something better than the classic pair, how can you re-design something?
Nowadays, I see lots of people (a newer generation) are crazy about collaborative sneakers. They pay a lot, queue days and days, sometimes you don't even know [what's going on]. I understand if its something the customer really loves and wants to queue for many days, but things are changing. They want to queue to make money. It changed. 
So you don't support the hype?
We want to make shoes for people who buy that shoe and love that sneaker. Not because you can resell it. My collaboration with Converse went.. Wow, just crazy. I didn't wish this would happen, but that's the world now. But I appreciate it and I'm proud I can be part of the fashion-sneaker industry and conversation. 
Maybe something could be changed. What do you want to say, what do you want to communicate to that audience?
Source: Read Full Article