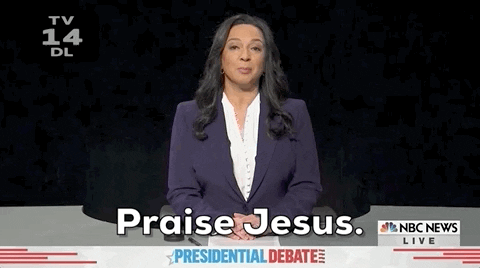 Image Source: NBC via Giphy
We didn't think they could do it, but somehow, Saturday Night Live found a way to top the ridiculousness of Thursday's final presidential debate. During the cold open of Oct. 24's episode, Maya Rudolph switched things up from her usual Kamala Harris impersonation, this time portraying moderator Kristen Welker to Alec Baldwin's Donald Trump and Jim Carrey's Joe Biden.
We're not sure which moment was the highlight of the skit, as Carrey, Rudolph, Baldwin, and even Kate McKinnon as Rudy Giuliani were all in top form. From Baldwin's Trump continuously calling Rudolph's Welker by the wrong name and occupation to Carrey's Biden having a full-on Clint Eastwood moment, we loved it all. Rudolph even hilariously threatened to use the mute button on her microphone, despite the fact that it wasn't connected to anything. Check out the skit ahead.
Source: Read Full Article