You might recall that earlier this month, a shit storm of drama went down between Taylor Swift, her former record label Big Machine and celebrity manager Scooter Braun.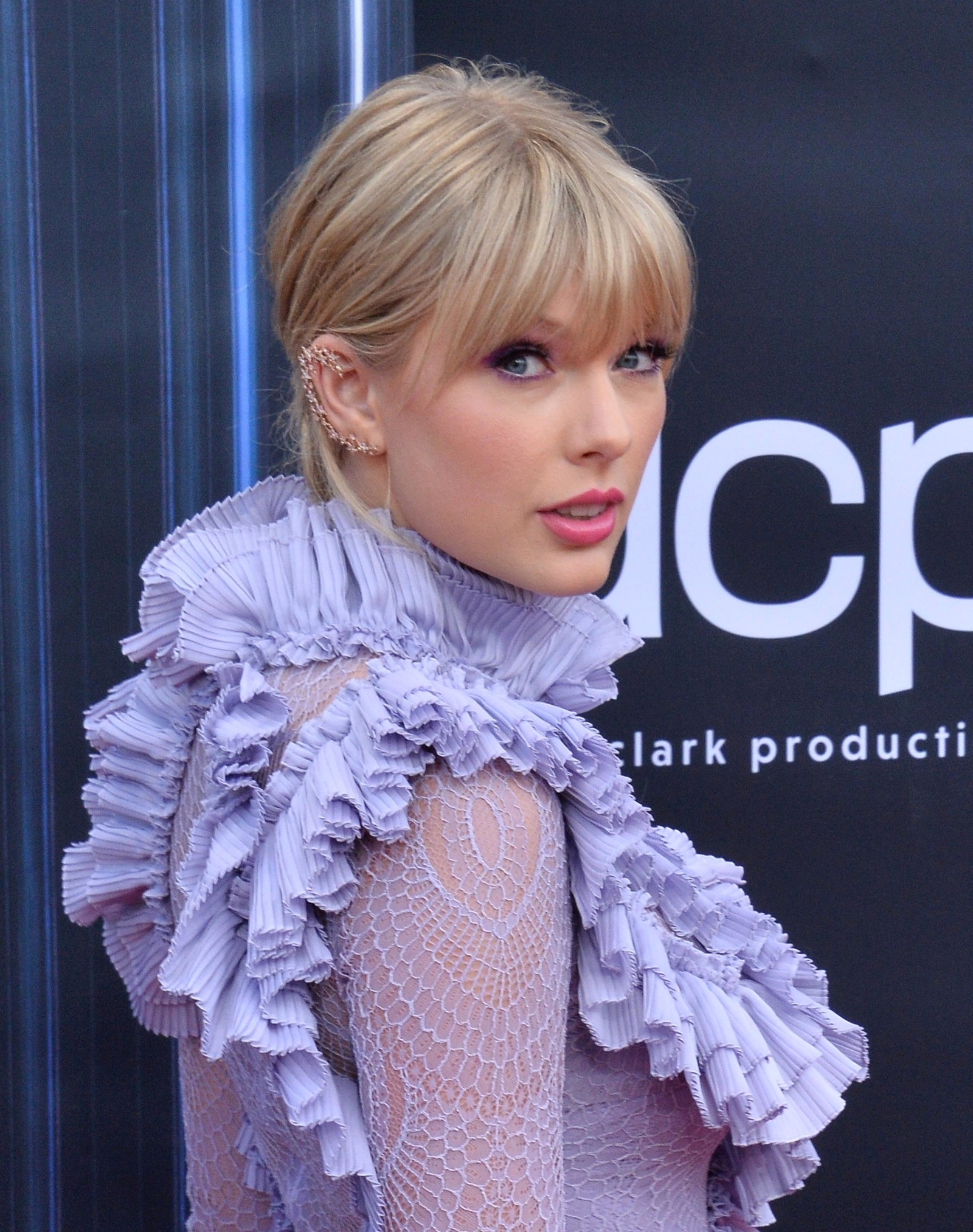 Things began when it was announced that Scooter's company, Ithaca Holdings, had acquired Big Machine Records for $300 million.
Taylor left Big Machine Records in late 2018 when her six album/10-year contract ended. She went on to sign a new deal with Republic Records and is set to release her first album under the label next month.
Later that day, Taylor shared a lengthy Tumblr post in which she expressed devastation at being denied the right to own her master recordings with Big Machine, and described the fact that Scott Borchetta and Scooter Braun would retain ownership of her "life's work in perpetuity" as her "worst nightmare".
In her Tumblr post, Swift claimed that Scooter had "bullied" her for years, pointing to the fact that he was Kanye West's manager at the time of their 2016 feud, which led to her taking an extended break from the public eye. She also referenced a selfie posted to social media in the wake of the feud showing Justin Bieber — another of Scooter's clients — with him and Kanye appearing to mock her, as well as Kanye's video for "Famous," which featured him lying in bed with a naked waxwork depicting her.
"Any time Scott Borchetta has heard the words 'Scooter Braun' escape my lips, it was when I was either crying or trying not to," Taylor wrote in her post. "He knew what he was doing; they both did. Controlling a woman who didn't want to be associated with them. In perpetuity. That means forever."
She continued: "Scooter has stripped me of my life's work, that I wasn't given an opportunity to buy. Essentially, my musical legacy is about to lie in the hands of someone who tried to dismantle it."
Then, things got even messier when it emerged that Scooter had shared an Instagram post from one of his friends which displayed the news of his acquisition alongside the caption: "When your friend buys Taylor Swift!"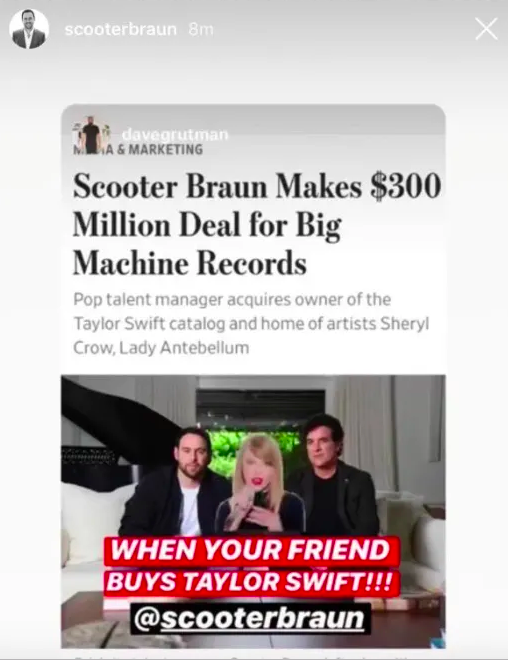 The post was shared after the news of the acquisition broke but before Taylor published her note on Tumblr.
Taylor fans immediately called Scooter out, claiming that the post "proved" that his intentions were never to purchase the label but gain control over the singer. Taylor herself went on to like numerous Tumblr posts to the same effect.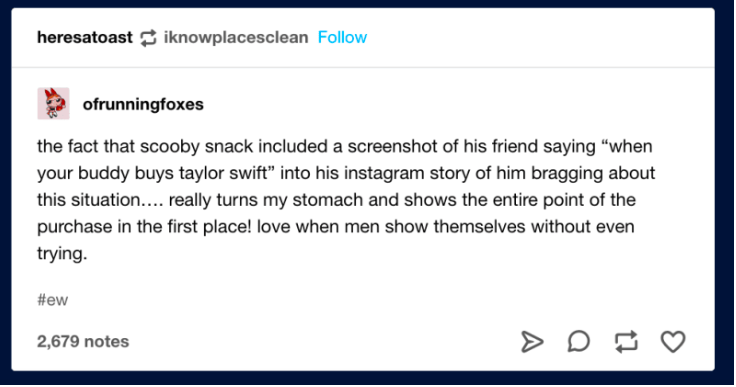 Well, Scooter and Scott have now given their first interview since the acquisition. And while they refused to answer any questions about Taylor's reaction to the news, Scooter did open up about his first impressions of her the first time they met.
Speaking to Billboard, Scooter revealed that he and Taylor first met back in 2010 when Justin Bieber opened a show on her Fearless tour, and he recalls her being "kind".
He explained that he also met Scott Borchetta for the first time that evening, and immediately related to him since he had signed a 15 year-old Taylor to his new label, Big Machine five years earlier. "Our stories were familiar," Scooter said. "Everyone at Big Machine — Taylor was kind, Scott was kind. Everyone was kind to me and Justin when we were doing that show, and you don't forget those things. I never forgot that, and we started a friendship."
Interestingly, Scooter also revealed that he and Scott first discussed the possibility of an acquisition "a few years ago", but the timing wasn't right. He went on to say that they restarted conversations "very seriously" last fall — precisely the time at which Taylor left the label.
He said: "There was a conversation a few years back and it never really got off the ground, but it was fascinating to me even then. There were a lot of things we would throw back and forth — we ended up doing something together with Rascal Flatts and Justin Bieber — and then it got very serious last fall."
And Scooter also revealed exactly why he and Scott decided to go into business together.
He explained: "Scott runs an incredible company, and we're trying to build an artist-first environment and — in a climate with a lot of players — get the leverage we need to help our creators go after their dreams. By combining what Scott had with what we had, we feel like we're in a unique position to fight the good fight."
You can read the full interview with Scott Borchetta and Scooter Braun here.
Ellie Woodward is acting celebrity editor for BuzzFeed and is based in London.
Contact Ellie Woodward at [email protected]
Got a confidential tip? Submit it here.
Source: Read Full Article