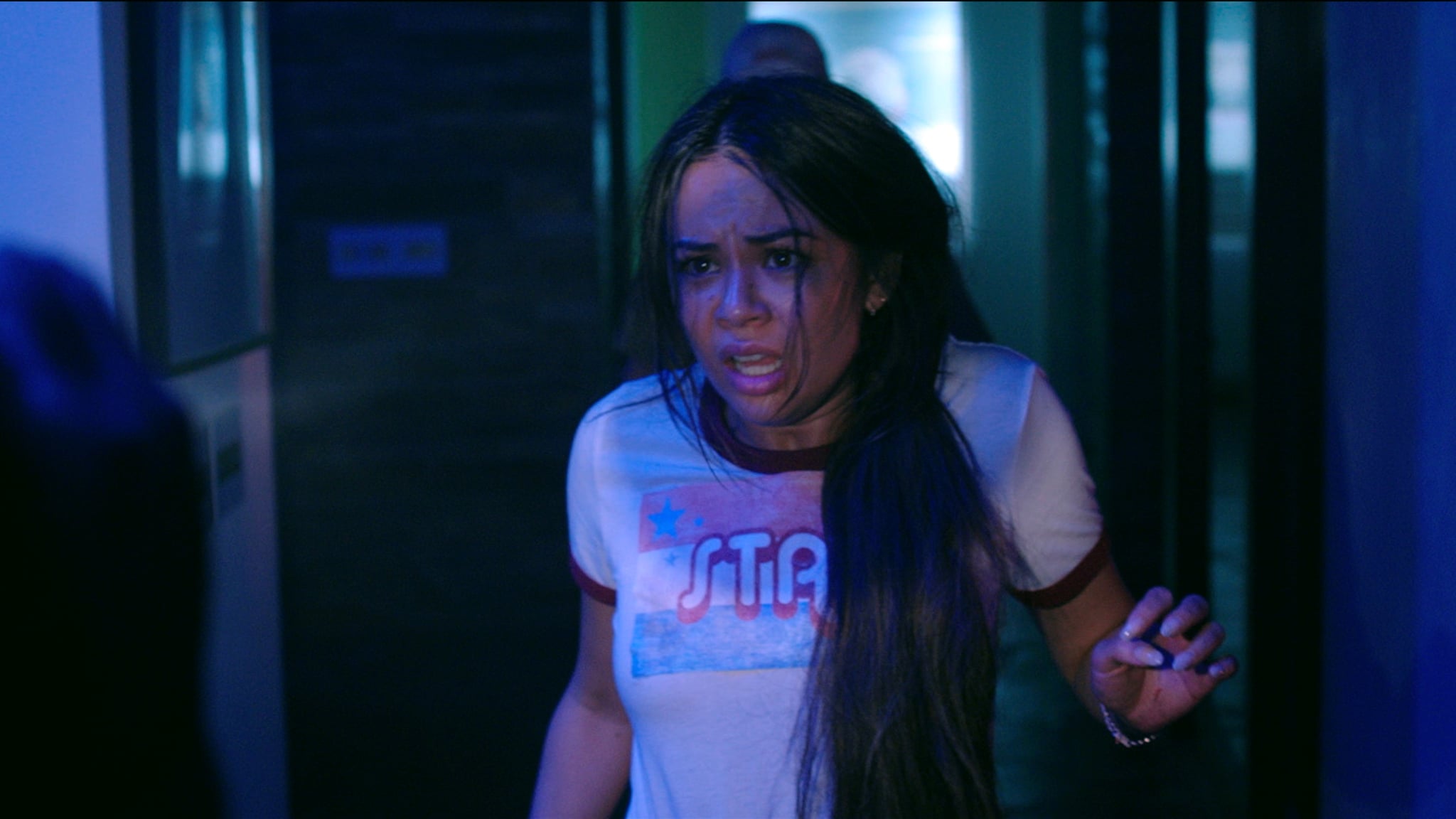 You might be used to seeing Janel Parrish play Mona in Pretty Little Liars: The Perfectionists and Margot in To All the Boys I've Loved Before, but the 30-year-old actress enters different territory in her new film Trespassers. The horror film, directed by Orson Oblowitz, centers on two couples — Estelle (Parrish) and Victor (Jonathan Howard), as well as Sarah (Angela Trimbur) and Joseph (Zach Avery) — who are experiencing relationship problems and decide to rent an Airbnb in the desert for a temporary getaway. But the arrival of a mysterious woman (Fairuza Balk) leads to death and chaos as the four friends are forced to fight for their lives against home invaders.
For Parrish, the dark thriller was easy to get behind after she read the script. "I thought it was really interesting, and the whole Airbnb aspect of it is so terrifying to me," she said. "It could actually be something that would happen in real life." She also received a lookbook from crew members that outlined the visual plans for the movie: gorgeous shots of the desert, the backdrop of a lavish home with sleek interiors, and warm neon lights. Such captivating visuals — mixed with the interlacing of menacing music and techno beats — make for a sensory experience that Parrish could only describe as "scary art."
Another perk of being in the film was getting to work with Balk, who starred in the classic 1996 horror flick The Craft. Parrish was a huge fan of the film growing up, so starring alongside Balk was the epitome of a full-circle moment. "[The Craft] was one of the first scary movies that I ever saw, and it's one of the first films that made me realize that I liked horror," she said. So when she found out she'd be sharing the screen with Balk, she couldn't help but fangirl and feel a tad bit intimidated. "You meet her, and you're like, 'She's not creepy at all. How could this sweet little person be creepy?' And then you start the scene and something changes in her eyes, and you're like, "Oh, you're terrifying.' Her presence is incredible."
Parrish definitely isn't wrong about Balk's aptitude for portraying a spine-chilling character. Her creepy aura as the visitor who sets off a deathly chain of events is hard to shake off, not unlike some of the grisly imagery. "The twists — including the final twist where you realize who's behind everything — are pretty shocking," Parrish said. "We've got some brutal and gruesome moments. I'm not going to lie, I got physically nauseous watching a couple of gags. Being there, I knew it was fake. But the second I watched it, it looked so realistic that I felt physically ill. It's crazy." One particular moment really turned her stomach — and if you watch the movie, you'll know precisely which moment that is.
To some extent, dealing with dark subject matter on Pretty Little Liars and her 2018 Lifetime thriller I'll Be Watching helped prepare Parrish to internally go to a dark place. But she still recalls having to mentally push herself even further to really immerse herself in the role. "I said to myself, 'Can I pull this off? I've never done something this intense.'" she said. "I'm glad I said yes, though, because this was a great challenge, and I had a great time getting myself to go deeper into places that I've never had to go before."
That's something she's particularly excited for fans to see. "They've seen me act kind of dark with Mona, but Estelle is very different," Parrish said. "When you first meet her, she comes across as this free-spirited tough girl who doesn't care what anybody thinks about her. But the moment chaos ensues, you see a different side of her. I got to bring layers to this character."
Above, watch an exclusive clip of Trespassers before it hits theaters and video on demand on July 12!
Source: Read Full Article