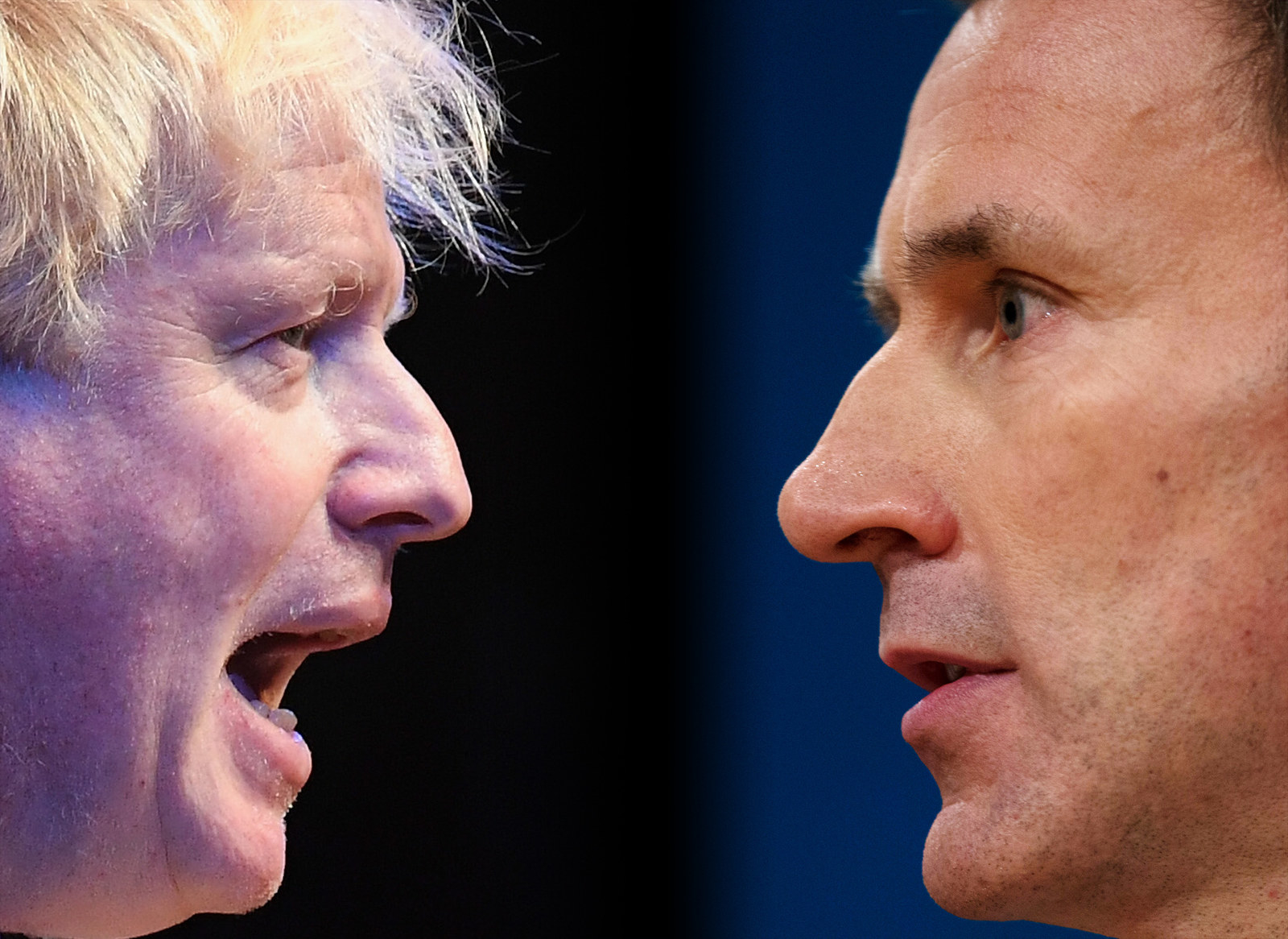 Boris Johnson and Jeremy Hunt
A week ago Boris Johnson used his vast lead at the MPs' stage of the Conservative leadership contest to ensure the candidate he deemed most beatable, Jeremy Hunt, joined him in the final two.
While Hunt only pipped Michael Gove to a place on the ballot paper thanks to votes lent to him by Johnson, the foreign secretary has shown already he will not be a pushover. The man who his own backers agree is a huge underdog has vowed to give the Brexiteer favourite "the fight of his life".
Hunt faces an epic challenge in overturning the deficit with Tory members and proving to a sceptical, largely Leave-voting base that a Remain-backer can take the UK out of the EU.
A ConservativeHome poll published on Thursday underlined the scale of this task, giving Johnson a 36 point lead over his rival with party members — and more than double his support. Johnson's rating is up four points on the previous week despite what was generally understood to have been a bad few days for the frontrunner.
In conversations with BuzzFeed News, Hunt's allies explained why they believe the race is closer than the ConHome poll suggests, what they see as their candidate's path to victory, and their worries about where they think the campaign is struggling to make up the ground.
Hunt feels his only chance of upsetting the odds is a high-octane campaign showing voters "the real Jeremy", an air war based on a Stakhanovite media blitz and vigorous social media activity, and a ground game focussed on convincing members he has the personality to deliver Brexit — and Johnson does not.
But his most senior allies accept that his tilt for the premiership has suffered from internal concerns that his criticism of Johnson has gone too far and alienated the Tory grassroots, that his decision not to commit to leaving the EU on October 31 has cost him with Leave-supporting Tory members, and that his description of that date as a "fake deadline" was a damaging error that has opened him up to suspicions among Brexiteers that he could delay Brexit indefinitely.
Hunt's aides insist the battle for Downing Street is not a foregone conclusion and is in fact closer than the conventional wisdom at Westminster, which assumes that Johnson's Leave credentials all but guarantee him to make it to Number 10. Notably, fears that the contest is tighter than generally believed are shared by some in the Johnson camp.
One member of Hunt's team told BuzzFeed News that the campaign is working on the basis that, of the estimated 160,000 Tory party members who will elect the next prime minister, around 80,000 will have already made their decision and another 80,000 votes are still up for grabs. While the decideds may have split for Johnson, the undecideds are all to play for.
Hunt has attempted to capitalise on media stories about Johnson's private life, believing that, regardless of the ConHome poll, the contest is now more competitive as a result. "They used to talk about it being a coronation. No one's talking about a coronation any more," said an aide.
Allies say Hunt has taken inspiration from Rory Stewart's combative approach during his own short-lived campaign. He has launched a series of criticisms of his opponent including a Times article which branded him a "coward" for dodging a TV debate at the height of media scrutiny about his personal conduct.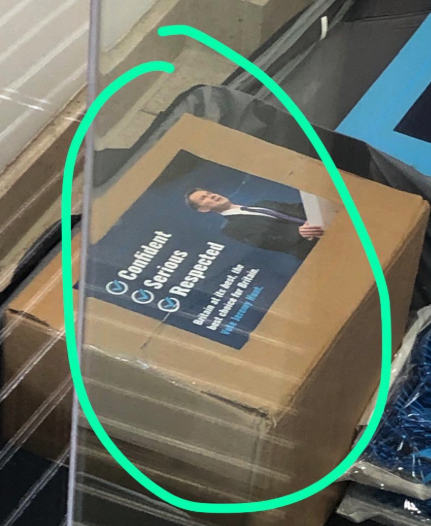 A leaked picture of Hunt's campaign literature.
He has sent barely-veiled tweets warning that while "this contest isn't about personal lives", anyone wanting to be PM must be "held to account". He told the BBC the race was about "personality" and that members should not choose "someone where there is no trust". His campaign literature boasts that he is "confident, serious, respected – Britain at its best", the unsubtle message being that his rival is not.
The decision to go after Johnson so aggressively has divided Hunt's supporters. One senior cabinet minister had previously expressed concerns about backing Hunt because they feared he would go soft on Johnson in the hope of landing a cabinet job. The minister revised their view after Monday's Times article, excitedly telling his team: "God, that was punchy."
Other Hunt backers are uneasy. One MP, who two weeks ago told one Hunt aide that he was too bland and needed to take the fight to his opponents, this week warned that the attacks on Johnson were over the top. They said that Tory members would not look kindly upon him making it personal.
Another Hunt ally said the foreign secretary had "nothing to lose" and was prepared to risk exile on the backbenches under a Johnson government in order to give himself the best chance of landing the top job. Some Johnson aides now believe that Gove would have been a more pleasant opponent to face, as he would have been inclined to keep it clean given the bloody history between the two men.
A Hunt campaign source insisted that personal attacks were not his style and he would "never cross the line". They argued that if he wanted to be personal he could have said a lot worse this week. Hunt's tweets may have proved controversial but he was nonetheless delighted to receive celebrity social media support from Gary Lineker and Piers Morgan.
At a Westminster office provided rent-free by private equity firm Moulsford Capital, Hunt's campaign directors Sue Beeby and Christina Robinson have devised a strategy based on the belief that once Tory members see Hunt "unleashed" on their TV screens and at 16 hustings across the country, they will "take a second look" and be persuaded that only he has the personality, competence, and ability to deliver Brexit.
Beeby and Robinson are assisted off-the-books by Giles Kenningham, the former David Cameron aide and Remain campaign spin doctor who is known for his pugnacious style. Other aides include Hunt's special adviser at the UK Foreign Office Ed Jones, former CCHQ press officer Tim Smith, and ex-Theresa May adviser Ben Mascall.
While the entirety of Hunt staff's are Remainers — a fact not lost on Leave-supporting Tory MPs — he is determined to dispel speculation that his Number 10 would be run by "Gavin Barwell 2.0". If he becomes PM Hunt would ditch May's civil service Brexit negotiating team and put Leave-voting ministers in charge. Penny Mordaunt and Liam Fox would play key roles.
Polling has shown that a key problem is the public perception of Hunt's personality. One of the words that most comes up when his name is mentioned is "boring".
The vanilla charge is one that is recognised by his aides, who say that the loyalty he showed in office and his refusal to leak and brief against other cabinet ministers meant he has not been as exciting to journalists and the wider public as certain colleagues.
But they insist a "let Bartlet be Bartlet" policy and a "carpet bombing" media strategy of never turning down an interview means voters are starting to see the man they themselves know.
Hunt at 10 Downing Street.
His wife Lucia may call him "Mr Big Rice", but Hunt's advisers variously described their boss to BuzzFeed News as "witty", "sharp", "tough", "punchy" and "ballsy". They confirmed that nine out of ten of the "sassy" tweets sent from his account were posted by him, including his view of broadcasters who mispronounce his name: "I think they're all Jeremy Hunts."
The new direct style has not always gone down well with MPs, who have raised objections to his admissions about failed Tory policies on police cuts, social care and mental health services. "He is the longest-serving cabinet minister in the government. It is a bit much to dump on everything we did for nine years and say he didn't do anything about it at the time because he was so loyal," said a Tory MP.
His team admit his campaign had a slower start than Johnson's and that they did not at first realise the scale of what was required to run a national campaign, but say that thanks to Hunt's work ethic they have caught up. "He is an extremely disciplined, military person," said one close confidant, revealing that he works 17 hour days, getting up at 5am and going to bed at 10pm – after which he cannot be reached.
Aides accept he cannot "out-Brexit Boris" and acknowledge that Johnson hammering home Hunt's refusal to commit to an October 31 exit date and his description of it as a "fake deadline" has been a direct hit that "worked". But they argue that framing the leadership election as being between a Leaver and a Remainer, and the party membership as mostly hardline Brexiteers hellbent on no deal, is simplistic.
Hunt is insistent that his Brexit plan is almost identical to Johnson's – he is seeking to renegotiate the backstop and, if that fails, take the UK out of the EU without a deal. A campaign source said: "What is the tangible impact of having ticked a different box in 2016? The truth is they are two salesmen selling the same thing. The question is who do you want to buy it off."
The answer, Hunt believes, is starting to swing in his favour. His speech at the One Nation hustings of Tory MPs was so impressive that it won him the endorsement of Amber Rudd, who had been torn whether to back him or Gove but decided on Hunt straight after that event and called him to confirm her support the next morning.
But his attempt to strike a hard line on Brexit has cost him support among other Tory moderates. It has been noted that Remain-voting no deal opponent Matt Hancock endorsed Johnson, and Hunt has failed to win the backing of Gove or Sajid Javid. Hunt's enthusiastic embracing of Donald Trump has also spooked some centrist MPs.
Tory sources suggest that without much differentiation between the candidates on no deal, and with Hunt deciding not to position himself as an avowedly centrist choice, some moderates have decided to vote with their careers and back Johnson.
Hunt was delighted with his performance at the Birmingham hustings last Saturday, believing he surpassed expectations and was at least level with Johnson among those in the room. "There is no one who has been a better performer over the last month," said an aide.
Allies talk of "red Jag-driving" Tories who run small businesses in Surrey, Sussex, and Bristol being won round by his business-friendly pitch.
His often-repeated backstory as an entrepreneur is mocked at Westminster but in visits across the country, his team say it has cut through with Brexiteer members who tell him: "You wouldn't run a business the way they run the country." One ally drily says there are many Tory members, even Brexiteers, who would rather have a former entrepreneur than a former journalist in charge.
With ballot papers sent out on July 6, Hunt faces a race against the clock to make his case and make sure voters know who he is. The punchy style may not be endearing him to everyone but he knows it is the only way to get the attention he needs to mount a serious challenge and prove that Johnson made the worst mistake of his political career by putting him on the ballot.
Hunt believes that maximising his exposure over the next three weeks will give him the best shot at achieving what most consider impossible: convincing Tory Brexiters that he is more able to deliver their dream than the frontman of the Leave campaign himself.
"Everywhere you go," promised one aide. "You will see him."
Alex Wickham is a senior reporter with BuzzFeed News and is based in London.
Contact Alex Wickham at [email protected]
Got a confidential tip? Submit it here.
Source: Read Full Article