Maya Wang, the founder and designer of eclectic label Fried Rice, doesn't take life too seriously — she's playful easygoing and good-natured. However, Wang plays no games when it comes to her passion and support for the community and cultural narratives that brought her brand to life. Through each collection, Wang celebrates diversity — an ethos that's immediately evident upon viewing the energetic garments, all of which are crafted in the heart of the Lower East Side.
After moving to New York with no formal design or artistic background, Wang was immediately drawn to the infectious vibrations of the city. Every aspect of her neighborhood, from the street-style fanatics parading their boldest looks to locals manning their own fruit carts, reminded her of the intricacies that make her who she is: a courageous, style-driven streetwear designer. Eager to immerse herself in the downtown creative scene, Wang purchased her first sewing machine and the rest was history.
In recognition of AAPI heritage month, Hypebeast sat down with the effervescent creator to discuss her origin story and what working amongst New York's tastemaking designers means to her.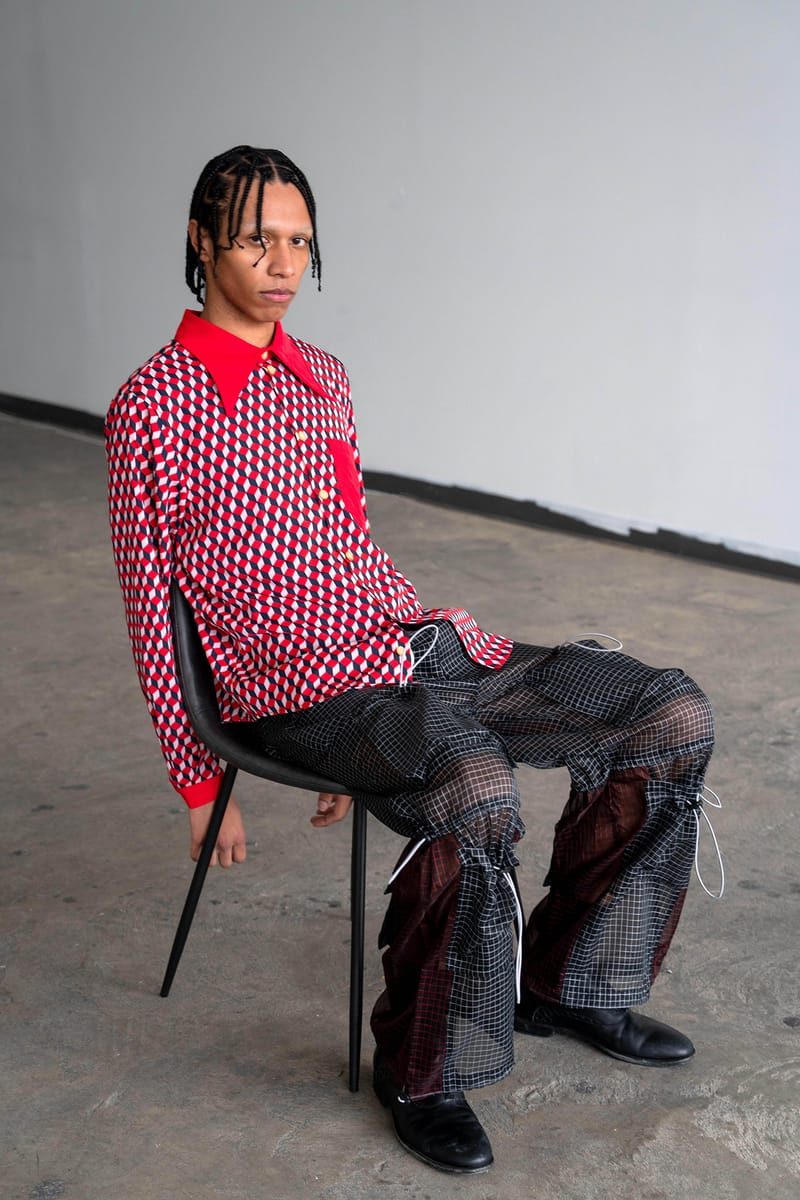 Fried Rice
Hypebeast: Your brand was named to honor the fact that it represents diversity and a multitude of experiences — in the same way that as a dish, fried rice is a mixture of different parts that all balance each other out. Tell me about all of the disparate elements that make up who you are.
Maya Wang: When I'm at our shop, I always ask customers how they feel about our brand and our style. They always ask me the same question in return: "Why's the brand called Fried Rice?" As you said, Fried Rice is a metaphor for diversity, and spotlights people with different kinds of cultural and creative perspectives — in New York City and also all around the world. I'm a completely self-taught artist with no fashion background. So for me to start the brand and get this far due to all of the support and love I get from the community means a lot. I also want to give that energy back to the community so we can grow together. It's not just about the concepts and designs, but it's about connection.
What originally inspired you to begin designing clothing?
I was originally a teacher, and if you asked me if I'd ever become a designer, I would have said, "Absolutely not." But at the same time, I think everyone knows what they belong to or what they're looking for deep down. I've always had the biggest obsession with textiles. When I was little, I'd collect candy wrappers because I loved the colors or the graphic design of the paper, which my parents obviously thought was crazy. I always knew that design that was my thing, but I didn't really know what to do with it.
When I was teaching, I was something of a fabric hoarder. I started bringing fabric back to my tiny apartment in New York and eventually, I was thinking, "Okay, I might have to do something about this." I was at Target one day while they were having a huge sale, and I bought my first sewing machine for $50 USD. I still didn't know what to do with it. People had to push me and, at the same time, I had to push myself. I had no design skills, but I always had that fire in my chest, so I think buying the sewing machine was that trigger. Little by little, I started making my first design, which was a dress. I would wear that dress around and get approached by different people who'd ask about it, and I think that was when I realized, "Ok, I can keep doing this."
What were some obstacles or challenges that you faced as a self-taught designer?
I can go on about this forever, especially since I am still learning. In the beginning, a pretty obvious one was learning how to sew. When the business got off the ground, my team and I would travel to buyer shows. The first question we were ever asked was "Do you have a line sheet or lookbook?" I'd just give a big smile and say, "Oh yeah, absolutely!" And then after they were gone, I had to ask my neighbor, "Can you tell me what a line sheet is?" He looked at me and burst out laughing, saying "Maya, how are you going to be here doing this if you don't know what a line sheet is!" So to sum it up, the actual design process as well as the business logistics were difficult at first. But at the same time, I think it doesn't matter what we do — we will always have challenges. It's more so about, "How do I deal with them?" I'm always going to make it happen.
What have you learned from the Lower East Side, and how is that represented in your designs?
I'm learning from my neighborhood every single day. You get up in the morning, drink your coffee and walk around. You'll see some people playing basketball and they'll be speaking three languages at the same time. Where we live is a microcosm for the whole globe. I feel so fortunate that I am able to take inspiration from all of the people around me.
"There is space for everyone here. Even though we don't speak the same language, even though we have different perspectives, it doesn't matter."
I remember a long time ago when I first came to New York, the first thing I ever did was jump on the subway to Spring Street. I was just taking the ride and observing everyone in my car. Everyone was so different. However, everyone has great harmony here, you know? It was then, at that moment, that I felt like this was my home. There is space for everyone here. Even though we don't speak the same language, even though we have different perspectives, it doesn't matter. So I want all of that to be incorporated into my design elements.
How does your cultural heritage manifest in your designs, and how do you continually champion your upbringing through your craft?
I always start with a different kind of mindset.I'm an immigrant but I'm also a self-taught artist. So for me, intuition is really important. The expression of one's personality through not only textiles but also colors and shapes — that's always the fun part. I always want to make fun pieces. I want my pieces to be interactive. When I create pieces, I create as if I'm having a conversation with the wearer. And it's just like when I listen to music. I listen to all kinds of music, from heavy metal to punk to classical. I don't want to restrict myself to just one type of music, just like how I don't want my designs to only speak to one certain audience.
I love that there are all these different places that you draw from in your process. It yields pieces that so many people can resonate with. In that way, you're inherently championing diversity.
Yes. I think there's no doubt that this brand is a reflection of who I am. I want to express who I am, but at the same time, I think who I am also represents a lot of people. Fried Rice is a celebration of creative souls. Whoever you are, I want you to find a space here. Everything I design is also genderless because I want anyone to be able to wear any of my designs. And once you put on one of my designs, it becomes a collaboration between us. It's an ongoing relationship. It makes me really happy to see all the different ways people wear my clothes, even ways I hadn't thought of myself.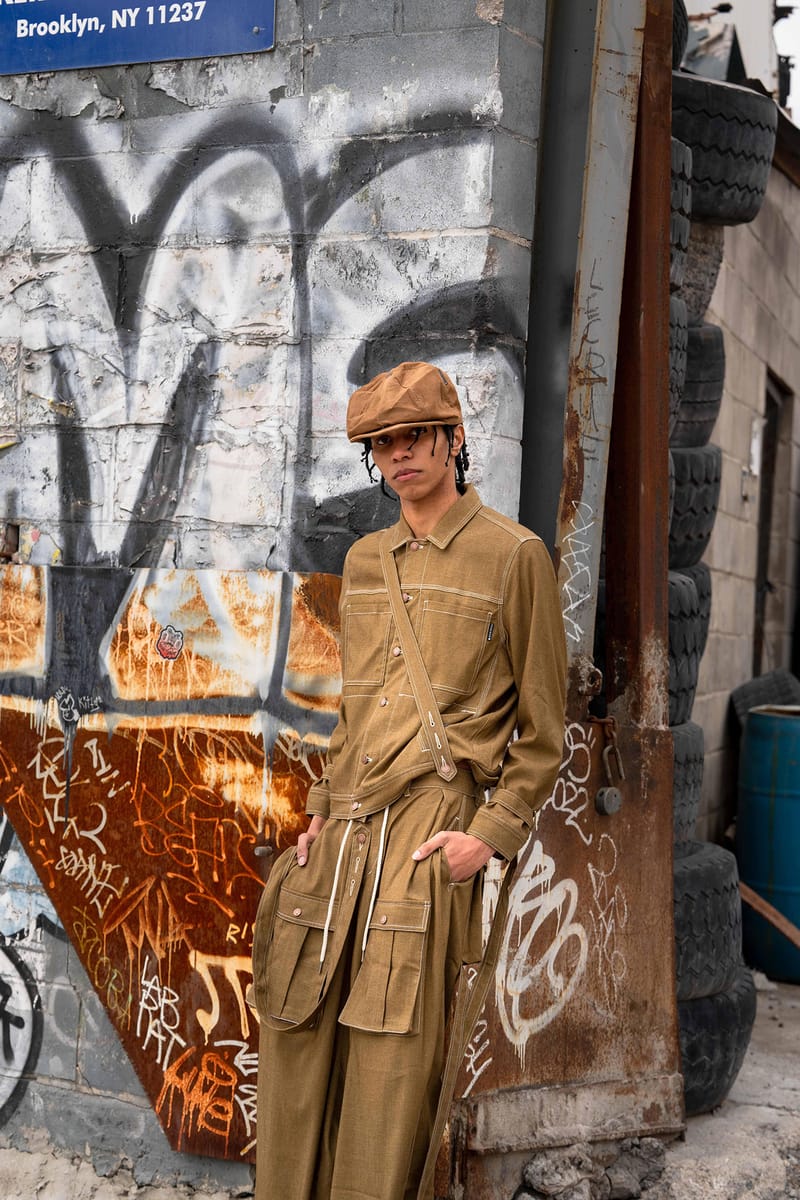 Fried Rice
Your pieces are whimsical at times, but still incorporate practical utilitarian elements, like cargo pockets or bungee fasteners. How do you balance this dichotomy in your designs?
Those two things can be very different, right? But with Fried Rice, that's my purpose. I do want to create a harmony that's not only about beauty but also about universal wearability. Your body type, your gender, your sexuality — it doesn't matter. It's all about having fun to me. And at the same time, I want people to feel like they can wear each piece every day.
"I want everyone to feel a sense of belonging and to celebrate that."
Could you give us a few insights into your latest Spring/Summer 2023 collection?
The general message is the same: we're celebrating diversity and celebrating life. We are here to share that positivity. That's the general rule for every single collection. For Spring/Summer 23, I focused more on contrast. One example is the Hooded Rave Jacket. It's reversible with two very different prints. It's very wearable and it has a beautiful hood, but you can choose how you want to express yourself through the prints.
How would you describe the Fried Rice community and in what ways do they continually inspire you creatively, as well as personally?
There's just so much desire to create and to be creative. It doesn't matter how long I've been living in New York, I'm still constantly inspired. Artists are a huge audience for Fried Rice, as well as entrepreneurs. It's anyone who has a creative soul — which is pretty much everyone. I think we're all mutually inspired by each other. Usually, when people go shopping, they pick a piece, make the purchase, and then the deal is done. But for me, that moment is actually when we get started. I don't want people to wear my pieces because they think, "That'll make me look cool." I want them to wear the piece to represent who they are so they can continue in their creative journey. People are constantly stopping by the shop, and I love that we have built that bond. And my team is amazing. Every single person I get to surround myself with is so amazing.
What do you hope is in store for the next chapter of Fried Rice?
New York City is the place I love the most on Earth. And I think this city is the best representation of the brand. But at the same time, what we do is a metaphor for the diversity of people from all around the world. So I want Fried Rice to continue to carry on this message and to amplify it. I'd love to make it more global. I want people everywhere to wear Fried Rice, no matter where they are. That's the key. I want everyone to feel a sense of belonging and to celebrate that.
Source: Read Full Article