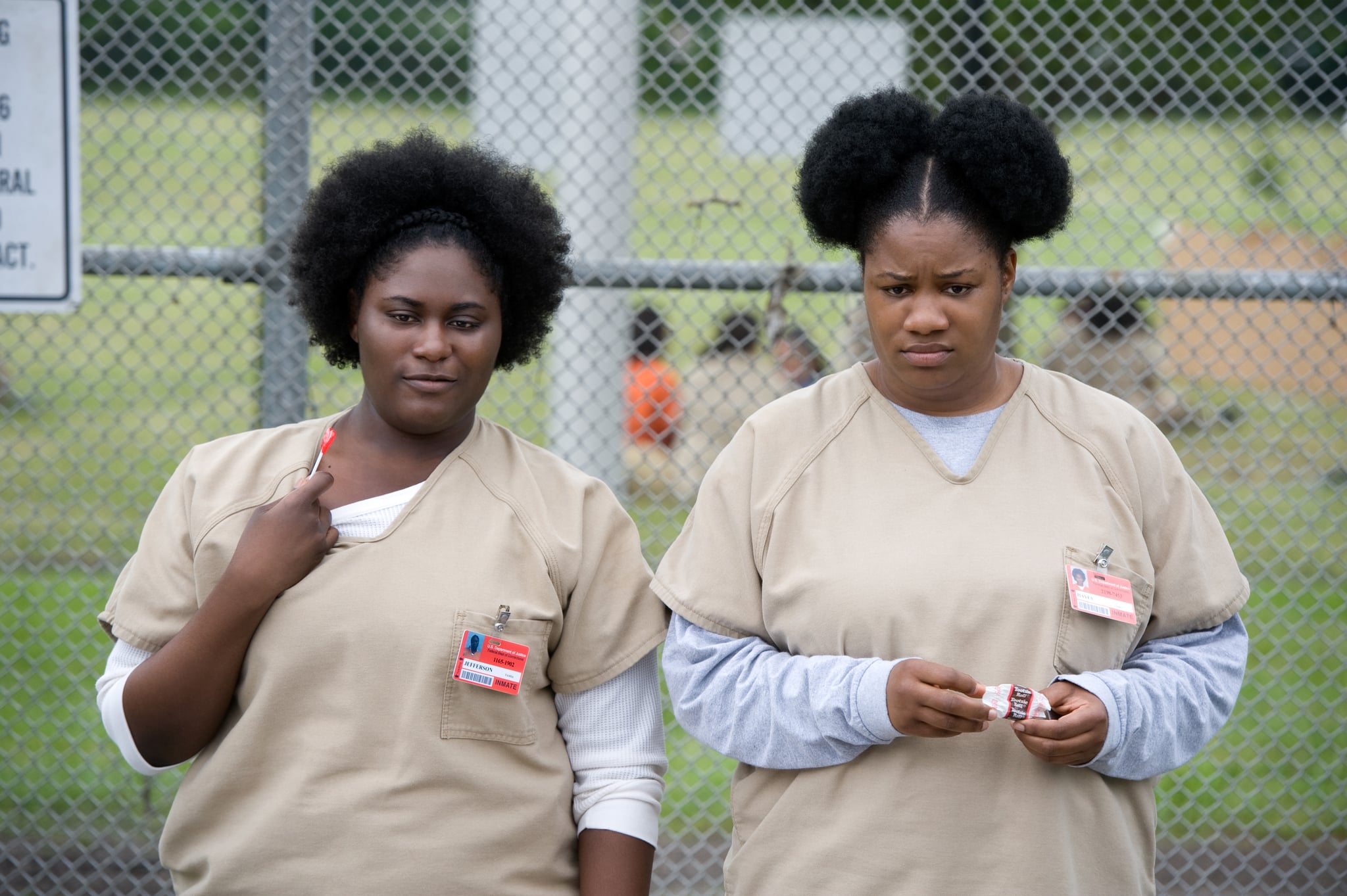 The riots may be over, but the ongoing aftershocks continue to rock the ladies of Litchfield, following season six's heartbreaking finale. A guilty conviction, a crumbled friendship, and a cold plate of hard injustice serve up the opening of Orange Is the New Black's seventh and final season. Two of its most prominent original characters, and arguably a fan-favorite duo, remain at odds. The beloved friendship between Tasha "Taystee" Jefferson (Danielle Brooks) and Cindy Hayes (Adrienne C. Moore) is seemingly no more. But is it really done for good?
Taking us back to season five, one of the prison's most infamous guards, Desi Piscatella (Brad William Henke), is accidentally shot by his own men. In an effort to clean up the mess, the heat turns to the inmates during an FBI investigation, ultimately leaving Taystee sitting in the hot seat. Two of her closest friends, Cindy and Suzanne Warren (Uzo Aduba), also known as "Crazy Eyes," are two of the only witnesses who can potentially save her.
All season six long, Cindy faces conflict between saving her friend and saving herself. Flashbacks of a young Cindy, pregnant with her daughter, Monica, remind her of what's out there on the other side of the prison walls: her reason to keep fighting and get out of Litchfield. When the pressure turns to Cindy, with fear of rattling the FBI's shady attempt to put the shooting to rest, she quietly gives an altered testimony. The testimony earns her immunity but also incriminates Taystee — a double-edged sword for the price of freedom.
Originally, Cindy believes Taystee will forgo the trial and take a plea deal. Taystee's fighting spirit and faith in her own innocence motivate her to do the opposite, forcing Cindy to eventually have to take the stand and testify against her friend. Cindy continues to champion for Taystee and support her through her ongoing legal battle to prove she's innocent, all while harboring her secret confession. Cindy struggles with agonizing back pain, brought on by the stress of lying to her friend. Apparently stabbing your friend in the back comes with a back pain of its own.
All comes to a head when Cindy faces Taystee in the courtroom. Cindy, prioritizing the chance to be part of her daughter's life, is riddled with guilt. Taystee's heartbreak at the betrayal of one of her closest friends is on full display. Even with a field of supporters from the Black Lives Matter movement and Caputo (Nick Sandow) by her side, Taystee feels completely alone.
In the end, Taystee is found guilty of shooting Piscatella. Even more painful for her is sitting with the idea that not only is she falsely accused by rigged system, but her best friend took part in it and lied to her face all trial long. Taystee remains stuck in Litchfield with her freedom floating away in the wind like a balloon until it's completely lost in sight.
Now, in the series' final season, the two old friends remain at odds. Only time will tell whether or not Cindy and Taystee can put the past behind them and reignite a relationship between them. Or did the betrayal cut just a little too deep for forgiveness in Litchfield?
Source: Read Full Article