To celebrate adidas' Members Week, the sportswear brand brings its CONFIRMED platform to real life for the first time as it hosts five golden ticket treasure hunts.
Taking place across five major cities — Tokyo, Berlin, London, Paris and New York — adidas will direct users to its immersive pop-up spaces where they can enter a draw to be in with a chance to get their hands on an exclusive golden ticket. Those who win will be granted automatic wins to every adidas CONFIRMED raffle for one month, starting April 11.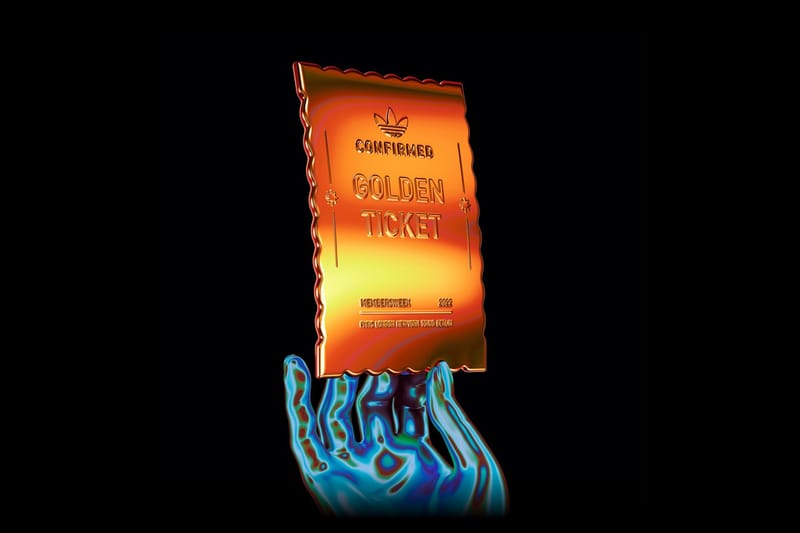 For the rest of the participants, the brand will be gifting individually numbered and signed illustrations made by Ukrainian artist Vasya Kolotusha. With 2,000 pieces available at each of the adidas Originals flagship stores, the artworks exhibit various objects of luxury adorned in his signature digital surrealist aesthetic.
Check out the CONFIRMED app for more details on how to take part. Alternatively, you can follow the coordinates below on the given dates and local times to discover the immersive experiences curated by adidas:
Tokyo
Latitude: 35.6662738191306 | Longitude: 139.7055157696563
April 7: 10am – 7pm
April 8: 10am – 7pm
April 9: 10am – 7pm
Berlin
Latitude: 52.527778 | Longitude: 13.401306
April 7: 11am – 11pm
April 8: 11am – 11pm
April 9: 11am – 11pm
London
Latitude: 52.527778 | Longitude: -0.073556
April 7: 10am – 7pm
April 8: 10am – 7pm
April 9: 10am – 7pm
Paris
Latitude: 48.856458 | Longitude: 2.3605219
April 7: 2pm – 8pm
April 8: 2pm – 8pm
April 9: 11am – 8pm
New York
Latitude: 40.723200 | Longitude: -73.992700
April 9: 12am – 6pm
Source: Read Full Article