Prince William returned to work on September 9 after a span that involved a seriously rocky road, to put it mildly. By that, we mean a pandemic-related lockdown, an alleged COVID-19 diagnosis, homeschooling three young royals, and family drama involving his brother, Prince Harry. That's not to mention the loss of his grandfather, Prince Philip, and other (usually high-profile) events and issues.
Indeed, while William has been handling quite a bit, the father and second-in-line to the British throne has now (like millions of other parents) sent his kids back to school and has (unlike most other parents) also gotten back into the swing of public appearances by marking his first stop to visit a few people who are doing some pretty notable work.
In fact, the Duke of Cambridge chose to both support and highlight the efforts of a cause that happens to mean a lot to him. Why is that? Well, it has to do with something from the past that is still very important to the prince. Read on to find out more!
Prince William visited with people doing work that's special to him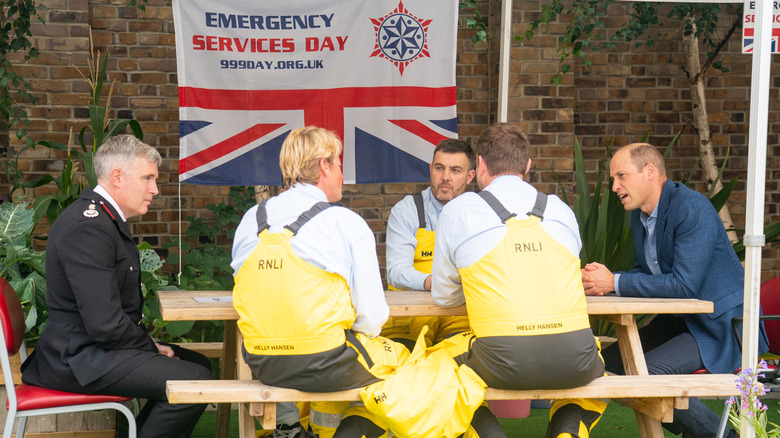 When it was time for Prince William to return to work — which, for him, involves visiting organizations, events, and community members — he chose to meet up with firefighters on what happened to be the date that the U.K. marks as Emergency Services Day, according to People. It's also known as #999Day (999 being the U.K.'s version of 911).
The group that the royal visited also included people who had been helped by the first responders, such as, per the Duke and Duchess of Cambridge's Twitter account, "5-year-old Lila, who was successfully resuscitated by ambulance technician Charlotte Speers, along with fire-fighters Marc Rustage and James Knight, after she collapsed."
It's not too surprising that this is how William opted to spend his first day back at his duties as a senior royal. That's because, before he settled into his current role and responsibilities, he worked as an air ambulance pilot. Of course, that means that he knows firsthand what emergency workers face and the kind of incredible work that they do. The duke's Twitter account added a message, saying, "This #999Day we're saying a huge thank you to everyone working and volunteering in the emergency services and the [National Health Service]." We're sure many share that sentiment.
Source: Read Full Article