Donald Trump's youngest child, Barron Trump, is no stranger to making waves when it comes to schooling. It was revealed in 2017 that Barron would be bucking the trend of where presidential children go to school while living in the White House, as Donald's administration confirmed a few months after he took office that Barron would not be heading to Sidwell Friends School.
Sidwell Friends School — located in Bethesda, Maryland and Washington, D.C. — is where children of the president had been educated for more than three decades before Donald took office, though Barron instead headed to St. Andrew's Episcopal in September 2017.
Then First Lady Melania Trump confirmed the news to Town & Country, saying in a statement on behalf of herself and Donald, "We are very excited for our son to attend St. Andrew's Episcopal School. It is known for its diverse community and commitment to academic excellence. The mission of St. Andrew's is 'to know and inspire each child in an inclusive community dedicated to exceptional teaching, learning, and service,' all of which appealed to our family. We look forward to the coming school years at St. Andrew's."
Well, things have changed a lot since then. Not only had Barron outgrown Sidwell Friends School, but the Trumps are also living completely different lives in a completely different state after President Joe Biden put an end to Donald's hopes for a second term during the 2020 election. So, where is Barron being educated now?
Barron Trump will be attending a private school in Palm Beach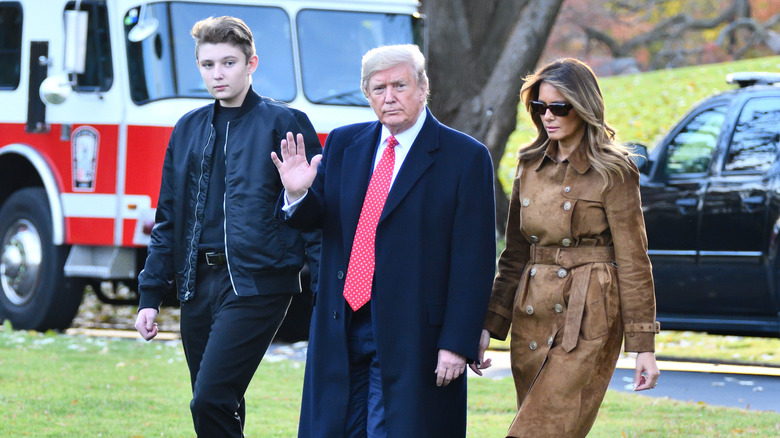 As kids across the country prepare to head back to school, it's been confirmed where Barron Trump will be getting educated during the bulk of his teen years. As confirmed by People, Barron will be attending Oxbridge Academy in West Palm Beach, Florida. Oxbridge Academy's Director of Advancement, Scott Siegfried, confirmed the news, saying in a statement, "We look forward to welcoming him into our school and community."
Barron will be starting in 10th grade, according to The Palm Beach Post, and will graduate alongside the class of 2024. But he won't be alone, as Barron will have the protection of the Secret Service, which the school confirmed in an email to parents that was sent out with the permission of Melania and Donald. "A small contingent of [Secret Service] agents will be present during each school day. We are working directly with the Secret Service to ensure that logistics and security work smoothly and discreetly with little impact on students, faculty, staff, or day-to-day operations," school head Ralph Mauer told parents.
Siegfried added to The Palm Beach Post, "I think it's a great environment for [Barron], and we're excited for him. We're pleased to have him as a part of Oxbridge." Oxbridge Academy is just over a 15-minute drive away from Donald's Mar-A-Largo resort, where he and Melania have been spotted since leaving the White House.
How much is Donald Trump paying for Barron Trump's new school?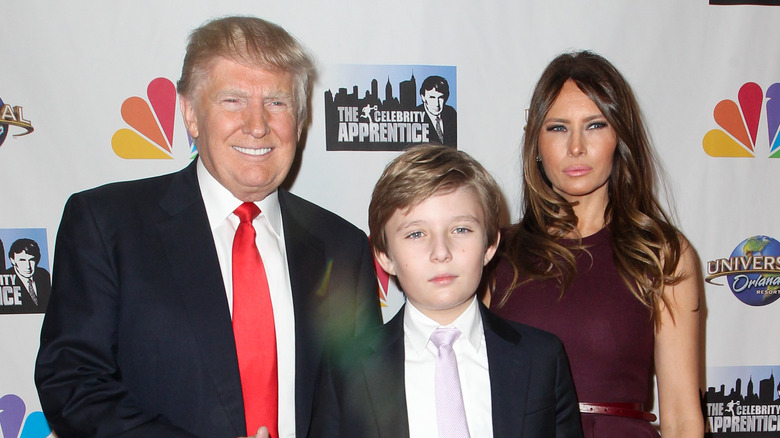 As for how much sending Barron Trump to the Oxbridge Academy could set Melania Trump and Donald Trump back? Well, its official website reveals that tuition for high school students is $34,800. There are also a few other fees the Trumps will likely have to pay, including a further $2,000 annually for health and wellness services, laptops, transportation, and security, plus a one-time new student enrollment fee of $1,250.
Barron Trump's new school was founded back in 2011 with a donation from William "Bill" Koch, who has made no secret of his support for Barron's dad, Donald Trump. Page Six reported in 2016 that William hosted an event at his home in Cape Codd at which Donald was the guest of honor. Tickets reportedly cost from $2,700 all the way up to a whopping $50,000 and the money raised went towards supporting Trump's presidential campaign.
William is the brother of fellow billionaires Charles Koch and David Koch, who have been very vocal Republican donors over the years, but reportedly did not support Donald's bid for re-election. Charles and David are also not thought to have funded his initial bid for the White House (per CNBC).
Source: Read Full Article