Kylie Jenner is out here living her best life and twinning with her BFF Anastasia (Stassie) Karanikolaou, talking about cutting Jordyn Woods out of her life (womp, womp), allegedly copying other people's Instagram poses, and rolling around in next to nothing in celebration of her new Kylie Skin collection. She's had a busy week, and it looks like she's continuing her eventful Kylie Skin Summer Trip by….wearing a really effing old bikini.
Seriously, there's wearing something you've had since grade school and then there's this. Kylie posted a few photos of her in Turks and Caicos wearing a Chanel bikini that is legit 25-years-old, which means it was around before she was even born. Lord only knows where it's been, but it's with Kylie now, so that's for her to think about between throwing it in heavy-duty wash cycles.
As Page Six noted, Naomi Campbell originally wore the bikini back in 1994 for Chanel's spring ready-to-wear collection, only the logo on Naomi's suit was black. (Kylie's is currently available on a resale site for a cool $1,690, but no shame if it takes you another 25 years to save up.)
summer lovin'
A post shared by Kylie (@kyliejenner) on
Kylie didn't share if Naomi made it on her infamous mood board, but this makes this another instance of the Kardashian-Jenner fam taking inspiration from the iconic supermodel. Remember when Kylie wore the same sparkly sunglasses and bib she did? Or when Kim Kardashian wore the same black catsuit? In their defense, though, who isn't obsessed with Naomi Campbell!?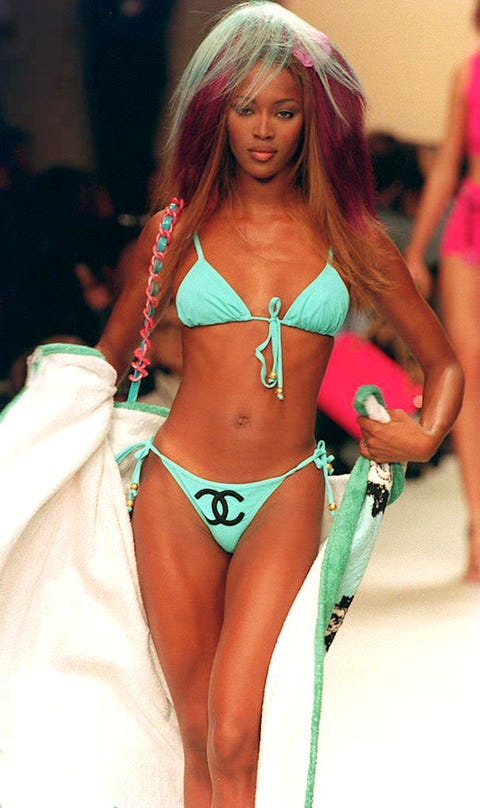 Also, it seems like Kylie's family is obsessed with vintage undergarments and swimsuits because Kim wore a '90s Gucci g-string designed by Tom Ford back in August.
I mean, as long as they're not used, it's all Gucci, right?
Source: Read Full Article