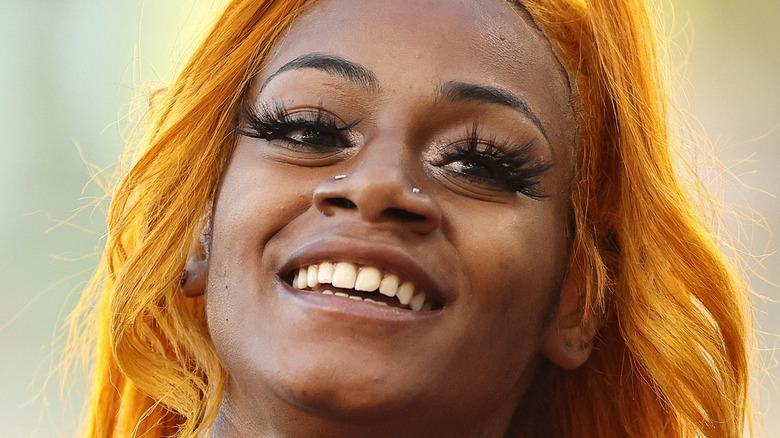 Sha'Carri Richardson, with her striking bright orange hair and long nails, made headlines when she won with her 10.86-second time in the finals of the 100 meters at the U.S. Olympic track and field trials in June. That made her the fastest woman in America and second fastest in the world (from Runner's World). Richardson had secured herself a place on the U.S. Olympic team headed for Tokyo and a shot at a gold medal. Or so the world thought.
Richardson failed a drug test for marijuana after the qualifying event (from The New York Times). That disqualified her results from the trials, and she received a one-month suspension. Richardson went on the "Today Show" to give some context to what happened. It turns out that a few days before the trials, she found out that her biological mother had died, which was a "triggering" event for her. She said, "[I'm] not making an excuse or looking for any empathy in my case, but, however, being in that position in my life, finding out something like that, something that I would say is probably one of the biggest things that have impacted me … that definitely was a very heavy topic on me."
Sha'Carri Richardson apologized for using marijuana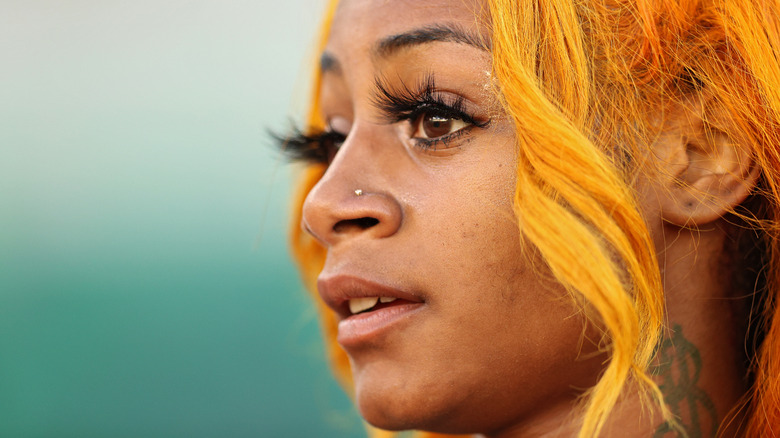 Sha'Carri Richardson owned what happened, saying, "As much as I'm disappointed, I know that when I step on the track, I don't represent myself. I represent a community that has shown me great support, great love, and I failed you all. So I apologize for the fact that I didn't know how to control my emotions or deal with my emotions. … Don't judge me because I am human. I'm you, I just happen to run a little faster" (via Today).
Marijuana is legal in Oregon, where the trials took place; however, it's federally illegal and banned by the U.S. track team (via NBC Chicago). While testing positive for marijuana usually holds a three-month ban, the USADA stated that,  "Richardson's period of ineligibility was reduced to one month because her use of cannabis occurred out of competition and was unrelated to sport performance, and because she successfully completed a counseling program regarding her use of cannabis."
With the one-month ban, there was hope she might be selected for the 4×100 meter relay Olympic team, since the ban started on June 28, and relay events are the beginning of August (from ESPN). However, the USA Track and Field organization didn't put her on the final Olympic roster, and said, "while our heartfelt understanding lies with Sha'Carri, we must also maintain fairness for all of the athletes who attempted to realize their dreams by securing a place on the U.S. Olympic Track & Field Team."
Many see the ban of Sha'Carri Richardson as unfair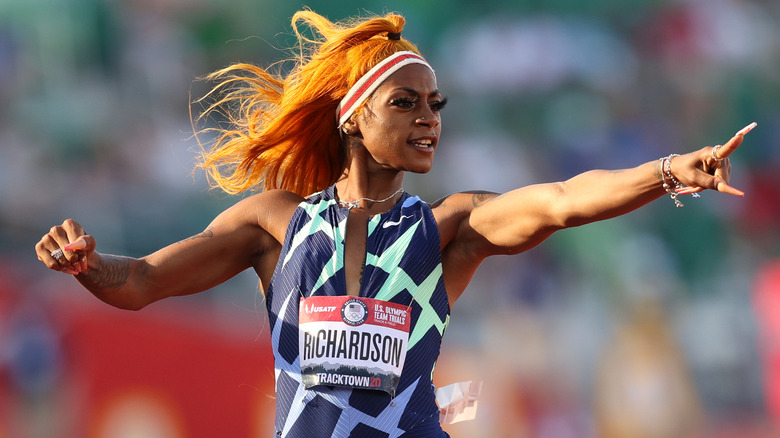 The decision to ban Sha'Carri Richardson has garnered quite the reaction, bringing up the question of whether marijuana should be prohibited for athletes. Rep. Alexandria Ocasio-Cortez tweeted, in part, "The criminalization and banning of cannabis is an instrument of racist and colonial policy." When asked about it at an event, President Biden said he was proud of how she handled the aftermath by taking responsibility but that "The rules are the rules. Whether they should remain the rules is a different issue, but the rules are the rules" (from CNN).
Celebrities in the sports world and Hollywood took to Twitter to vent their frustration at the situation. Patrick Mahomes, quarterback for the Kansas City Chiefs, tweeted about it: "This is so trash man … just let her run!" Megan Rapinoe, American soccer superstar, tweeted, "This is trash. Standing with @itskerrii 100. This has BEEN outdated." And Seth Rogen also took to Twitter, writing, "The notion that weed is a problematic 'drug' is rooted in racism. It's insane that Team USA would disqualify one of this country's most talented athletes over thinking that's rooted in hatred. It's something they should be ashamed of. Also if weed made you fast, I'd be FloJo."
Source: Read Full Article