Prince Charles rolled with the punches this year. Prince Harry blasted him in his bombshell Oprah Winfrey interview with Meghan Markle and claimed that Charles had cut him off financially after leaving The Firm, as noted by CBS. Harry alleged that had it not been for his inheritance from his mother, he and Meghan Markle would not have been able to move to California. 
Then, Charles had to deal with the loss of his father Prince Philip in April. And not long after, Harry spoke to Dax Shepard and claimed Charles and the royal family had passed on "genetic pain" and "suffering" to him. In May, though, Charles clapped back by providing receipts, per Town and Country, that he had lined Harry's pockets with a "substantial sum" of money when the redhead prince and his actor wife had stepped away from their royal duties.
Of course, Harry's swift departure brought on a new set of problems for the crown prince. Charles, who apparently dotes on his grandchildren, would no longer see Archie Mountbatten-Windsor regularly. Camilla, Duchess of Cornwall, gushed (via Irish Mirror), "He will get down on his knees and crawl about with them for hours, you know making funny noises and laughing." As if that isn't endearing enough, she also added, "He reads Harry Potter and can do all the different voices and I think children really appreciate that." So, how does he feel about Lilibet Diana, the grandchild he's never met? Keep scrolling to find out. 
Prince Charles is a 'brilliant' grandfather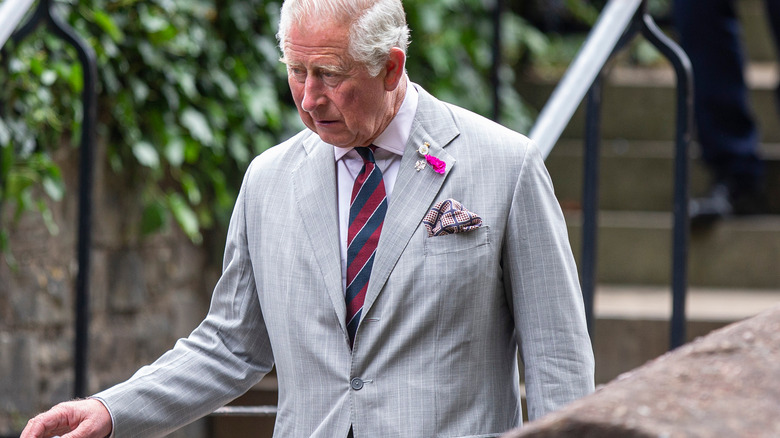 Prince William described his father as a devoted grandfather. He said in a BBC documentary, (via Irish Mirror), "Having more time with him at home would be lovely, and being able to you know play around with the grandchildren. Because when he's there, he's brilliant…" And while many may think that Prince George, as the future monarch, may be his favorite grandchild, Prince Charles knows the value of having a granddaughter. After the birth of Princess Charlotte, he raved (via Express), "I was hoping for a granddaughter — someone to look after me when I am very old."
Now that Prince Harry and Meghan Markle's Lilibet Diana made her arrival in June, Charles has a second granddaughter and potential caretaker for when his age catches up to him. Unfortunately, royal expert Nick Bullen believes that the heir to the British throne is struggling because he has not met her yet, per Us Weekly. "I think Prince Charles really wants to meet his granddaughter," he said. 
He went on to reveal how he thinks the crown prince feels about the situation as it stands. "Prince Charles is incredibly sad about everything that's gone on. So the family will want to meet each other," he shared. Perhaps, Charles will meet Lili if she attends Queen Elizabeth's Platinum Jubilee celebration in 2022. Until then, Charles can lavish his other grandchildren with all the affection they deserve. 
Source: Read Full Article