In case you're desperately wondering (or, just, like, mildly curious) how the Cambridge kids spent their Easter Sunday, apparently it was a day full of chocolate, crafts, and surprises for the Queen. Relatable! According to an Us Weekly source, Prince William and Kate Middleton's three children had a "fun" day surprising their grandma "with personalized Easter eggs, which they made and decorated themselves."
Meanwhile, Kate helped her lil' ones bake "a delicious chocolate cake covered in mini Cadbury eggs" and everyone partook in an Easter Egg hunt. As the source mused, "They don't allow George, Charlotte and Louis to have chocolate and sweets every day, so it was a real treat."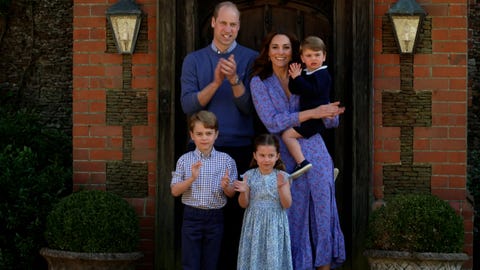 Apparently, George and Charlotte are on a school holiday at the moment, so Kate "has been busy keeping them entertained," which involves going on "family bike rides, playing tennis and George and Charlotte are taking horse riding lessons. Charlotte is obsessed with horses, just like her great-grandmother. It's her favorite activity."
Again, relatable!
George, Charlotte, and Louis have stayed pretty out of the spotlight recently, and apparently Kate is being extra protective of them in the wake of the media-storm surrounding Meghan Markle and Prince Harry's recent interview with Oprah.
The good news is that William and Harry have reportedly managed to put aside their differences and agree on a design for Princess Diana's statue, which is being unveiled at Kensington Palace this summer. TBD on if both of them will attend the event (especially since Meghan's due date is around the same time), but that's the plan!
You love all the deets on royals. So do we. Let's overanalyze them together.
Source: Read Full Article