After testing positive for the coronavirus, the Broadway actress says she's 'grateful' to Kathy Voytko, who steps in for her role as Marian Paroo in the musical theater, which also starred Hugh Jackman.
AceShowbiz –Sutton Foster has revealed that she has gotten sick with COVID-19. Taking to her social media platform, the Broadway actress confirmed that she will miss her performance in the long-awaited "The Music Man" revival due to her coronavirus diagnosis.
"Yesterday I tested positive for COVID," the Liza Miller depicter on "Younger" wrote in an Instagram Story on Friday, December 24. The Broadway star then praised actress and "The Music Man" swing Kathy Voytko, who stepped in for her in the role of Marian Paroo and helped prevent the production, which had just begun previews on Monday, December 20 at the Winter Garden Theater, from having to cancel the performance.
Sutton penned, "At noon Kathy Voytko found out. And last night she went on for Marian Paroo and smashed it." She added, "Grateful to Kathy and our incredible company. Grateful to all swings and understudies who keep all the shows going, now and always."
In her post, Sutton added a line about Hugh Jackman's post-show speech as well. "And Hugh Jackman…you are a class act." She concluded her post by urging people to get tested and vaccinated as saying, "Get tested, get vaccinated, get boosted!"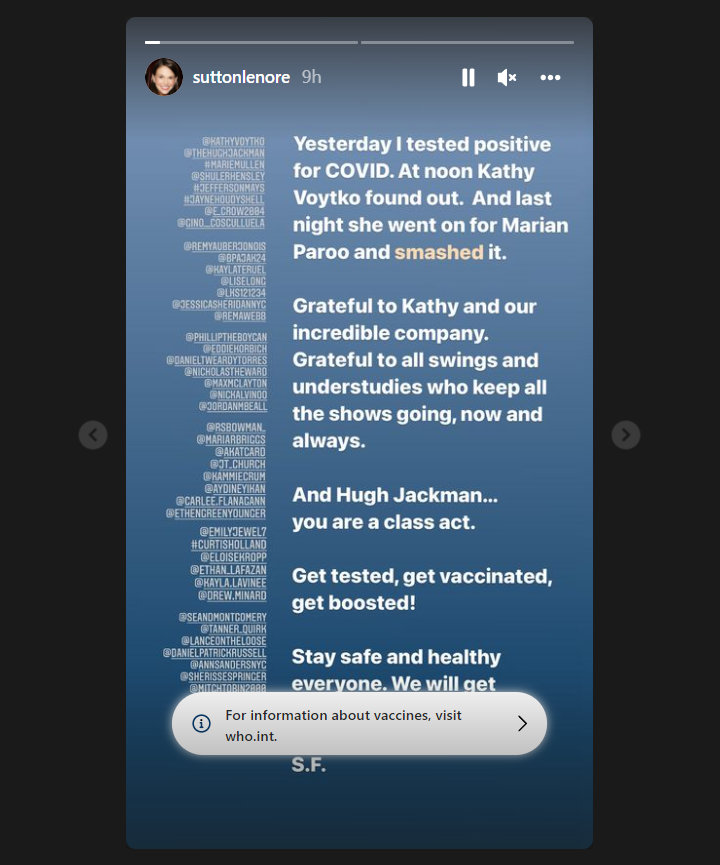 Sutton Foster revealed that she's tested positive for COVID-19.
In a speech given post-show, Hugh applauded Kathy, as well as the show's other swings and understudies, who have allowed Broadway performances to go on amid the pandemic. In the post-show speech, the 53-year-old actor, who plays Harold Hill, brought attention to Kathy's talent and dedication. "They all know 10 roles. Kathy, when she turned up at work, could have had any of eight roles, and it happened to be the leading lady," so said the two-time Tony Award winner.
Hugh also revealed that Kathy hadn't rehearsed the role of Marian until the day of the show, which will be officially opened at the Winter Garden Theatre on February 10, 2022. She received a theater-wide round of applause and appeared to get emotional as the crowd cheered.
Hugh's speech continued to show gratitude for the understudies and swings who have balanced multiple roles throughout COVID. "I'm emotional because it humbles me. Their courage, their brilliance, their dedication, their talent," he said. "The swings, the understudies, they are the bedrock of Broadway."
Source: Read Full Article