Giada De Laurentiis makes a simple frittata loaded with vegetables and cheese that will be the star of any brunch gathering. De Laurentiis' dish takes just 25 minutes to pull together and earns rave reviews.
Giada De Laurentiis makes an easy frittata
De Laurentiis shared her recipe on The Giadzy website. "This is such a great simple breakfast to make during spring and summer," the recipe intro explained. "You can use pretty much any melting cheese for this frittata, but I love the flavor and texture of fontina."
De Laurentiis demonstrated how to make the frittata recipe on an episode of Everyday Italian. "We used to have eggs for breakfast, lunch, dinner," she explained. "Frittatas are very versatile. My mom used to leave it on the counter, cut into little wedges, and we'd have it for snack after school or if we were running out the door in the morning. So I love making them and just leaving them around."
The Food Network star added, "They're good hot, cold, in a sandwich [with] a little salad for light lunch."
De Laurentiis' frittata recipe comes together quickly
De Laurentiis beat eggs in a bowl and added salt, pepper, and heavy whipping cream. "And the cream just makes this dish light and fluffy," she said while she whisked the ingredients together.
She melted butter in a skillet "just for a little extra flavor" and added olive oil so the frittata wouldn't stick to the pan.
The Food Network host cut the asparagus into small pieces and cooked them in the butter and olive oil. "And the smaller you cut them, the quicker they'll cook," she said. I like to dice my asparagus about a quarter to half-inch pieces. And I want to sauté them before I add the eggs. Otherwise, the eggs will cook faster than the asparagus."
She added chopped tomatoes and salt to the pan and sauteed the ingredients for a couple more minutes. "Already you can see the vibrant colors," she said. "Green asparagus, ruby red tomatoes."
De Laurentiis diced fontina cheese, noting it's "a mild semi-soft cheese. Sort of has a grassy fruity flavor to it. And what I love about fontina cheese is how easily it melts … it's creamy and delicious."
She added the eggs to the skillet, pointing out, "Frittata is not like an omelet because it's firm in texture and the eggs are completely cooked through."
Then De Laurentiis added the cheese to the top. "You don't want to add the cheese too early because you don't want it to settle to the bottom of the pan because it'll stick," she explained. "You can start to see that the sides are coming away from the pan, it's starting to cook."
She placed the frittata under the broiler and cooked it for 4 or 5 minutes.
The full recipe is available on the Food Network website.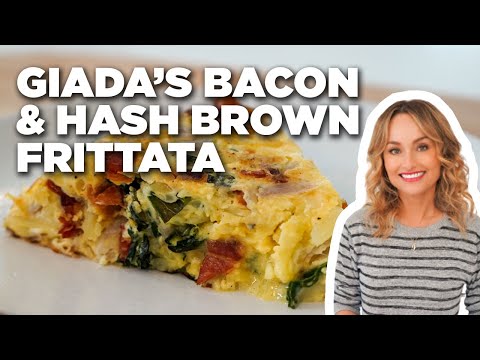 Giada De Laurentiis' frittata recipe earns rave reviews
The frittata recipe earns glowing reviews on the Food Network site with comments such as, "Delicious and super easy," "Good quick meal after a busy day at work," and "Simple to make and the entire family cleaned their plates."
Other people commented, "Wow. I don't really have a lot of time to cook so this dish was quick easy for me" and "Love love love it! Easy to make for when you're pressed for time."
Another reviewer raved, "This is a favorite our entire family loves! Start to finish, this recipe is simple yet so flavorful! Perfect for Sunday brunch. Thank you, Giada … This is a 'go to' recipe for sure!"
Source: Read Full Article