Floribama Shore star Candace Rice recently welcomed a baby boy into the world. Maxwell Michael Hardy arrived on Dec. 25, 2021 after Rice posted about her pre-term labor on Dec. 24. Now, the MTV reality star is sharing an update on her son's health. 
Candace Rice and Denzel Hardy's maternity photos 
Rice has kept her relationship with Denzel Hardy, also known as DJ Skar, and their child under wraps. On Dec. 23, 2021, Rice shared photos from a maternity shoot with Hardy on Instagram, writing:
"I didn't want to post these yet, but unfortunately yesterday I went into pre term labor at 24 weeks. Dr. Tosha Muse in addition to all the wonderful doctors & nurses have been doing all they can to keep baby Maxwell Michael Hardy inside the womb as long as possible. It's wayyyy too early for him to enter." 
Rice thanked her friends and family in the caption as well as Hardy, who helped the Floribama Shore star through what she called "the worst HG [Hyperemesis gravidarum] possible." She also gave a shout-out to all the "mommy-to-bes:" 
"I don't care what you think you have to do, the only thing you actually HAVE to do is let that baby bake, stress-free in peace." Two days later on Christmas, Rice announced the birth of Baby Maxwell. 
"Maxwell Michael Hardy arrived at 2:30am," she shared on Instagram. "We have a Christmas baby and another Capricorn! He's so strong! Currently in NICU and hopefully I can take him home in a few months."
Candace Rice's baby remains in the NICU for now
Rice shared a video on YouTube video on Jan. 2, 2022 with an update about Baby Maxwell. In the footage, she visits the hospital for the first time since her son's birth.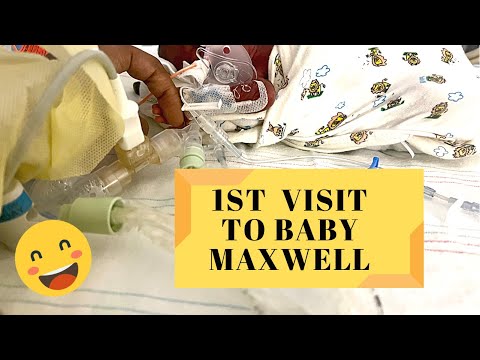 "I've been an emotional wreck, but I can finally see him and I'm sooo happy," Rice captioned the video. "Having your baby in the NICU is hard but I am keeping Jesus first. Thank you all for the prayers, the thoughts, and I'm taking you all on this journey with me."
"You're gonna be home soon," Rice tells her son in the video. "I've got all these clothes for you, and so much love." Rice was also able to hold Maxwell.
On Jan. 3, 2022, Rice shared another Baby Maxwell update with fans. "Y'all he's opening his eyes… I'm so overjoyed!" she tweeted. "The nurses also said he's stable enough to where I can start skin to skin bonding."
'Floribama Shore' fans sympathize with Candace and her baby
Fans of the MTV series have offered their support and prayers to Rice on social media. "God bless Candace and this angel," wrote a Reddit user. "As a mother, you feel completely helpless on top of all the hormonal changes that happen postpartum. I hope her strong faith gets her through this difficult time."
"I have been praying for you and your cute little family since you announced Max's early arrival to us fans," a fan replied to Rice's tweet. "He's such a warrior… I hope He continues to fight so he can come home to you soon!"
Stay tuned to Showbiz Cheat Sheet for more updates on the cast of Floribama Shore and Baby Maxwell.
Source: Read Full Article