• Algee Smith plays Chris McKay on HBO's Euphoria.
• He's already had an impressive filmography.
• Outside of acting, Smith is also a recording artist.
Sunday's Euphoria episode kicked things off as every one does—with Zendaya's narration focusing on a new character-of-the-week; this week, it Chris McKay's turn. McKay, as he's referred to on the show, is the college freshman dating (and also sometimes not dating) Cassie Howard.Referred to primarily by his last name in what can only be the result of, well, high school sports, McKay is played by Algee Smith.
Smith starred alongside Anthony Mackie in The Hate U Give, based loosely on the police shooting of Oscar Grant. He also appeared in Kathrine Bigelow's Detroit, based on the 1967 riots spurred by a police raid. Which means Smith has no shortage of intense historical dramas under his belt. His role on Euphoria thus far has been of the wavering, conflicting boyfriend type, a character also slowly drifting away from the very toxic friendship he maintains with series sociopath, Nate.
Outside the twisted world of the show, Smith maintains much healthier success as both a singer and an actor.
Algee Sings
Like co-star Alexa Demie, Smith splits time between the acting and recording studio. His father is also a musician and Smith began singing at 9. In 2017, Smith released his first album, Listen, and later that year, after appearing in Detroit, released a song he performed with his real-life character, Larry Reed.
His career began at Disney
Smith's first role was as "Da Boss" in Disney Chanel's hip-hop TV film Let it Shine. Before the movie, Smith had also auditioned for Radio Disney's Next Big Thing singing contest. Though, he didn't land the role, his part on Let it Shine helped him score future roles. Smith was just 17 when the TV movie aired.
He replaced the original Euphoria McKay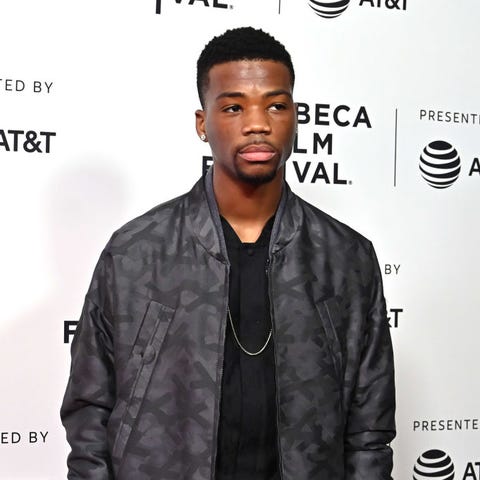 Brian Bradley

Astrid Stawiarz Getty Images
Before Smith, Euphoria had cast actor, rapper, and former X-Factor contestant Brian "Astro" Bradley in the role of McKay. According to The Hollywood Reporter, Bradley left the show after filming the pilot; he was apparently uncomfortable while shooting some of the scenes. (The pilot features a scene in which McKay and Cassie first have sex and McKay—thinking girls like what hardcore porn girls like—begins choking her.) Bradley was replaced with Smith. The choking scene was shot again. And the rest is uncomfortable television history.
He'll be back for season 2!
Q: How excited are you both to start filming season 2!! #askeuphoria
– @caroldanrvs
A: pic.twitter.com/mwyMdJTIgA
In an #askeuphoria twitter video, Smith said he's excited to get back to filming. The series was officially renewed for a second season last week. No word on when shooting starts, but since we know McKay appears, it's safe to say that inevitably tragic death scene we know Euphoria has been waiting to pull off won't be involving Smith's character (at least for now).
Source: Read Full Article