If your day was anything like mine, it involved eating a lot of chocolate and watching The Last Song on loop in an attempt to cope with the devastation that was Miley Cyrus and Liam Hemsworth confirming their split yesterday.
The couple got married less than a year ago, so the news came as a shock to the general public/Twitter, which really lost it's shit over the news of the celeb breakup. However, a source tells People that Miley and Liam's decision to end things wasn't too surprising to those who had actually known them as a couple. The source says, "This split isn't shocking to people who are actually with them every day…After they reunited, everyone thought they were this 'perfect' couple, but they still had a lot of issues…It's not surprising at all."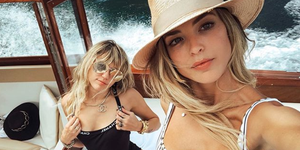 The source also shares why Liam and Miley decided to end their marriage, saying, "They're not on the same page when it comes to a lot of fundamental things that make a relationship work." Interestingggg.
Miley seems to be taking the breakup in stride, and she recently posted on Instagram saying that "change is inevitable" and writing, "My dad always told me 'Nature never hurries but it is always on time'…. it fills my heart with peace and hope KNOWING that is true. I was taught to respect the planet and its process and I am committed to doing the same with my own …."
So, good luck with your process, Miley, and if anyone needs me I'll be watching The Last Song for the fifth time today!
Source: Read Full Article