Emma Stone is an Oscar winner, but she'll never forget her early days in the business. In a recent interview with Jimmy Fallon on The Tonight Show, the La La Land alum reminisced on her early years in Hollywood, like the time she was seated next to Brad Pitt and Angelina Jolie at her very first Golden Globes.
Stone had brought her mother with her to the award show, and there ended up being a hilariously cheeky moment between Stone's mother and the famous former couple.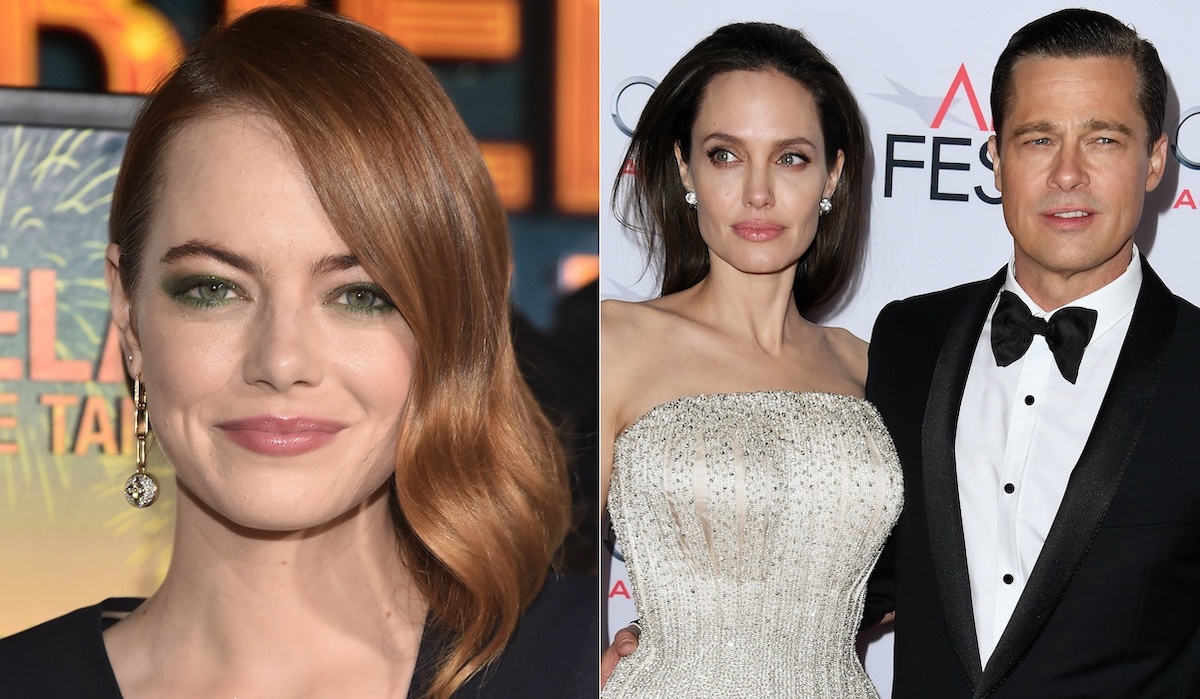 Emma Stone got her first Golden Globe nomination in 2011
Stone was nominated for Best Actress in a Comedy or Musical at the 2011 Golden Globes for her performance in Easy A. She and Fallon talked about the film in their interview, which got Stone talking about the matching tattoos she and her family got the same year the film came out.
"It's been 10 years, which is so surreal," she said, then joking about how her tattoo has bled out over the last 10 years.
Fallon then pivoted the conversation to Stone's first Golden Globes.
"I went with my mom. That was my first time going to the Golden Globes. It was very, very, very exciting, and so I took my mom with me."
Emma Stone's mom struck up conversation with Brangelina at the 2011 Golden Globes
That excitement quickly turned to nerves when Stone, a relative Hollywood newcomer, was seated next to one of the most famous couples in Hollywood. As the Crazy, Stupid Love star told Fallon, her mom then pretended not to know anything about Brangelina.
"We sat next to Angelina Jolie and Brad Pitt. We were like, 'Of all people to be sitting next to at that kind of a show, whoa,'" she said. "And my mom never drinks and she had champagne that night, which was probably not the best idea, but she was having a wonderful time. She started asking Angelina Jolie like, 'Do you have kids?' I was like, 'You have got to be out of your [mind].' She completely knew! But she was like making small talk, 'How old are they? What are their names?' Knew everything, but they were so nice."
Despite her mother adorably playing dumb with Brad and Angie (which, honestly, they probably loved), Stone loved every minute of the experience.
"We had a blast, we had a really good time," she said. "That was a really fun night."
Stone has made a habit of taking her family to award shows. In fact, she has frequently brought her brother, Spencer, as her date. The siblings attended the 2015 and 2017 Golden Globes together, as well as the 2018 Oscars. And while they didn't have any funny run-ins with Brangelina, Spencer was to thank for a hilarious speech Stone gave at the 2015 Guy's Choice Awards. (Yes, that's a thing.)
The two had a deal that if Stone won the "Hot and Funny" category, she had to read the remarks her brother (who's a Hollywood stunt man) wrote. And she did, indeed, win.
"You guys are idiots. I am neither hot nor funny," she said in her brother's speech. "And Spencer… Oh God, do I have to say this? Spencer Stone is the f*cking coolest. He is fly as hell. Do people even say fly anymore? And he could have a professional rap career if he wanted to, but he's too chill and wants to lay low. Also if Mila Kunis is here, he will be backstage for the next 45 minutes."
Source: Read Full Article