When announcing that he and his wife Maria Cahill are expecting another baby, the 'Wizards of Waverly Place' star reveals that he is 'overwhelmed with gratitude.'
AceShowbiz –David Henrie is soon to be a father of three. Taking to his social media account, the actor portraying Justin Russo on "Wizards of Waverly Place" announced that he's "so excited" to have another baby.
On Wednesday, December 29, the 32-year-old actor shared an adorable family photo, which was taken during his son James Thomas Augustine Emanuel's 1st birthday. Along with the sweet snap, he wrote, "Maria and I were really racking our brains on what to get our son James for his first birthday… #3 #bigbrother." He added, "We are going to wait until birth for the gender reveal. Couldn't think of a better gender reveal then that am I right?!"
David also took to his Instagram Story to express his joy. "Marie and I are so excited to have another baby!" the soon-to-be father of three penned over a clip that saw his daughter and son sitting on a chair on a balcony overlooking the sea.
In a following Story, David added a heartfelt message over a calming video of the beach. He detailed Maria's motherhood journey as he noted, "As I sit here overlooking the ocean I am a bit overwhelmed with gratitude for how awesome my wife has been the past couple years."
David went on to share that Maria endured several miscarriages, one of which took place on Christmas Day in 2019. At the time, his wife "suffered her 4th miscarriage and thought from then on that Christmas would be a day of mourning." He added, "However, God had other plans."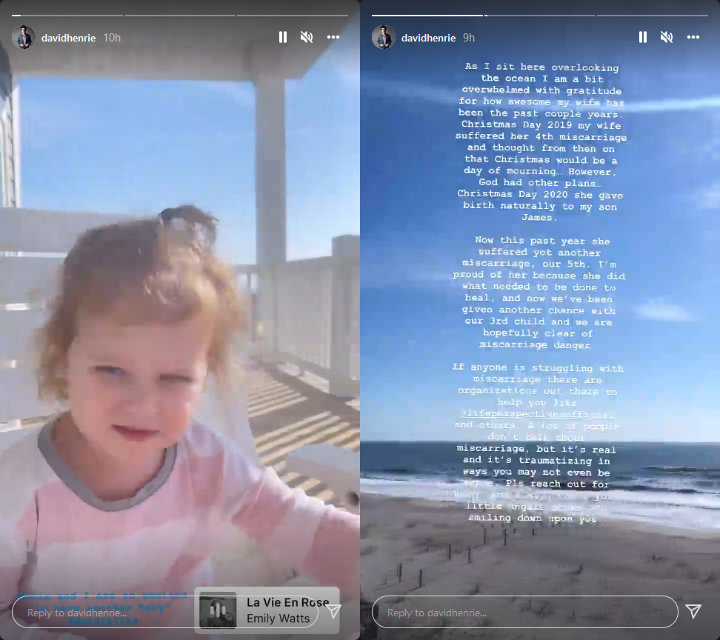 David Henrie detailed his wife Maria Cahill's motherhood journey via Instagram Story.
Then, one year later he said, "She gave birth naturally to my son James." But before becoming pregnant again this time around, Maria suffered yet another miscarriage. "Now this past year she suffered yet another miscarriage, our 5th," he explained, before praising his wife as saying, "I'm proud of her because she did what needed to be done to heal."
"We've been given another chance with our third child and we are hopefully clear of miscarriage danger," David continued. He went on to share a message to parents who also suffered the same situation, "A lot of people don't talk about miscarriage, but it's real and it's traumatizing in ways you may not even be aware of. Pls reach out for help and always knows your little angels above are smiling down upon you."
Source: Read Full Article