The wife of Ice-T claps back at social media users who criticize her parenting skills after she shares a picture of her daughter using a stroller during the family's shopping trip.
AceShowbiz –Coco Austin isn't into the attention social media users are given to her family amid the many crises in the world right now. The glamor model has fired back after people criticized her for pushing her 6-year-old daughter Chanel in a stroller.
The unsolicited negative comments came after the wife of Ice-T shared pictures from the family's recent shopping trip. Earlier this week, the mother of one posted on her Instagram account several images of her, husband Ice-T and their daughter taken at Atlantis Bahamas.
In one of the snaps, the couple posed for a selfie while their daughter Chanel, who was sitting in a stroller, looked bored. Her expression changed in the second image as she and her mother took a picture in front of an iceberg display.
"A stroll through the @atlantisbahamas shops…," Coco captioned the photos. She additionally noted, "Chanel is so over it unless theres something cool to see.. Her face transitions instantly."
Her followers soon came at her parenting skills, with one commenting, "She looks like she's over being in a baby stroller." Another exclaimed, "Wtf is she in a stroller?" A third wondered, "Why she is in a stroller at 6 years old?" while another criticized her, "I love you coco but .. a stroller…"
Noticing the negative feedback, Coco took Twitter to counter the "ridiculous" backlash. "Oh lord!! Really people? The world loves to criticize literary everything i do!" she tweeted on Tuesday, May 24 along with a headline about the issue.
She added, "This stroller thing trending right now about me using a stroller to push Chanel around is ridiculous! Isnt there a war & mass shootings going as we speak & you'd rather mess with my mothering? SMH," seemingly referencing the ongoing conflict in Ukraine as well as the recent mass shooting in Uvalde, Texas.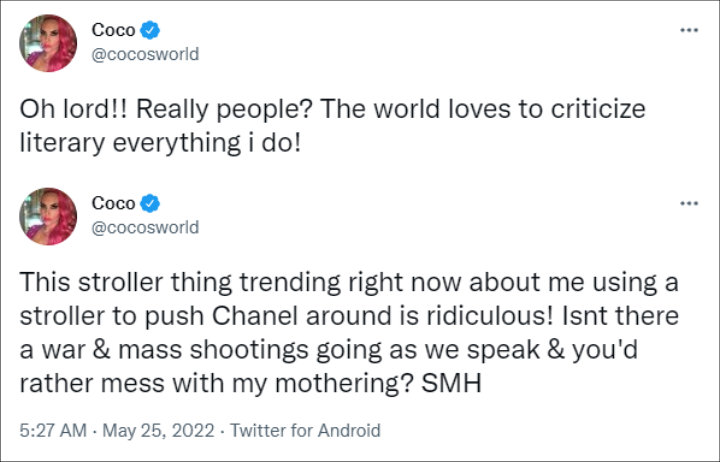 Coco Austin clapped back at criticism for pushing her 6-year-old daughter in a stroller.
Many fans have also come to Coco's defense, with one writing back to the critics, "Why are people complaining about the stroller? You going to pick her up when she gets tired? Its not like she has a bottle and a pacifier. Relax."
Another agreed as explaining, "Everyone needs to shut up w the stroller crap who cares – it's so much easier to let your child just have a place to sit when they get tired then dragging them along. She's clearly shopping – why have the child dragging along when she can sit comfortably. I have a 2 year old in a stroller and his 6 & 7 year old cousins hop onto the stroller SO quick when we're out places and they're tired of walking."
Source: Read Full Article