If you're wondering what very fancy man Bennett Jordan has been up to since leaving The Bachelorette, he appears to be…*checks notes*…shooting his shot with former Bachelor star Kelley Flanagan.
Over the weekend, "someone" who remains "mysterious" sent Kelley a bouquet of peach-colored flowers. Behold: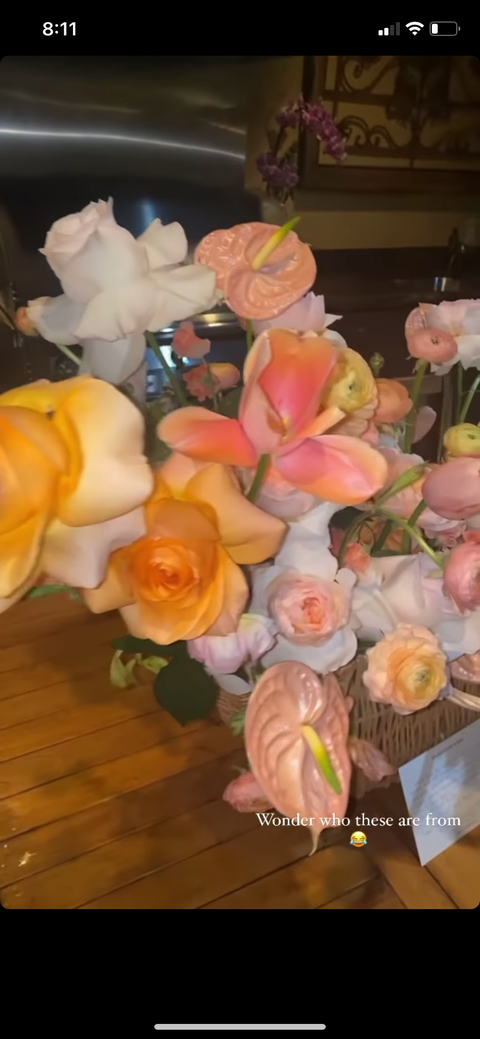 And as Reddit notes, Bennett went ahead and posted a video of himself 1) wearing a peach suit, 2) dancing to "Peaches" by Justin Bieber, and 3) using the somewhat unsubtle caption "In my absence from Georgia this Easter, I thought it was only appropriate to give loved ones 'Peaches' from New York. 🍑🗽"
A post shared by Bennett Jordan (@bennettandrewjordan)
I mean…he went for it! Unfortunately for Bennett, though, Kelley appears to be in a relationship with someone very much not from Bachelor Nation. Speaking on the Off the Vine podcast with Kaitlyn Bristowe, Kelley—who broke up with Bachelor Peter Weber a few months back—mused, "I'll be honest with you, here we go, there's a guy that I've been on a couple dates with."
She added that her new boyfriend is not an influencer, and doesn't even have Insta downloaded on his phone. "It literally makes me feel so great, and I was like, 'Thank god you don't know this show that I'm on, you don't even have the app.' He's like, 'I'm not a weirdo, I have Instagram, I just don't have the app because I could, like, be reading emails, or I could essentially be, like, reading news.' And I was like, 'Man you're such a nerd, I love that.'"
Sorry, Bennet! Also, TBD if Kelley's new relationship status means she's opting out of Bachelor in Paradise, but stay tuned.
You love Bachelor Nation news and updates. So do we! Let's overanalyze them together.
Source: Read Full Article