The NBA star acknowledges there's 'no excuse' for him or anyone to use that offensive language after he landed in hot water for posting a video of shirtless men embracing each other on the sidewalk.
AceShowbiz –Anthony Edwards (II) has acknowledged his mistake after sharing a homophobic post. The professional basketball player has apologized after he came under fire for making controversial comments on his Instagram Story.
The Minnesota Timberwolves guard expressed his regret via Twitter on Sunday, September 11. Admitting that what he said "was immature, hurtful, and disrespectful," he wrote, "I'm incredibly sorry. It's unacceptable for me or anyone to use that language in such a hurtful way, there's no excuse for it, at all." He added, "I was raised better than that!"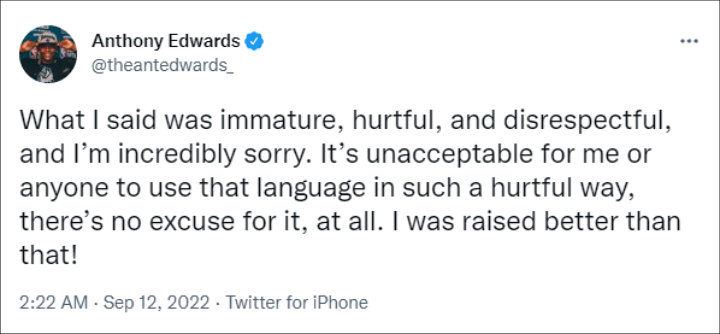 Anthony Edwards apologized for his homophobic post.
Anthony previously offended people with his recent Story, which he filmed in a car. Passing by a group of shirtless men sharing hugs on the sidewalk, he said in the video, "Look at these queer ass n****s, man. Look at the world I came to." There's a woman with him laughing in the passenger seat. He added in the caption, "Dese n***as different."
The 21-year-old athlete soon caught backlash for his controversial remarks, with one baffled user asking, "Man why the hell would he post that?!" Another weighed in, "Nah, a lot of these guys absolutely know that it's wrong. They just think they are untouchable."
A third critic claimed, "He's an NBA player, they're all like this, and most of them – I guarantee- are much much worse." Another chimed in, "I always felt like he was gonna say some wild s**t eventually… I just didn't think it would be this." Someone else blasted Anthony, "Bro from Atlanta, you should have known better. always fumbling the f**king bag dammmit."
The Star Tribune's Chris Hine reports that Anthony could face a fine for his homophobic post. Back in 2021, the league fined Kevin Durant $50,000 after actor Michael Rapoport shared screenshots of offensive and derogatory statements the Brooklyn Nets star had made toward him. Rajon Rondo and Kobe Bryant have also both been fined for using anti-gay slurs during games.
Source: Read Full Article